The Plight of MBBS Admission Test Examinees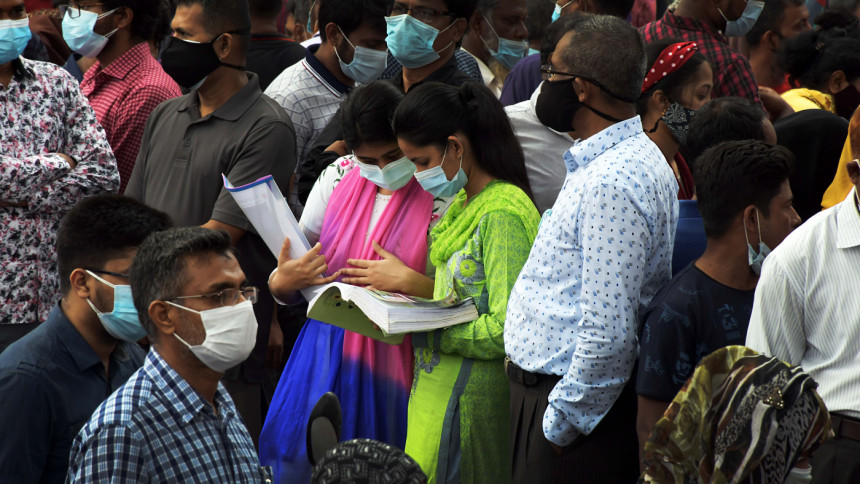 On April 2, 2021, the number of new Covid-19 cases was 6,830, the rate being the highest in the last seven months. The number of deaths reported due to Covid-19 that day was 50. The week also recorded the highest ever seven-day moving average of daily deaths ever since the pandemic broke out, peaking at 46.43. The number of students who took the MBBS admission test that day was approximately 122,761.
Ever since the lockdown was officially announced in March last year, students have been continuing their education online from home. To conform to a wholly different learning style in the middle of a pandemic that mercilessly takes lives even at the slightest slip of precaution, is treacherous. Considering the uncertainty regarding board exams of those students who were meant to take their HSC and A Levels last year, the abnormality is immense. Thus, it is no surprise that most of the students had an extremely hard time preparing for the medical entrance exam as well.
Safa Haque* from Nilphamari wanted to be a doctor her entire life. It was especially essential for her to be able to prepare well for the admission test. However, due to the pandemic and the lockdown, she faced certain difficulties. "I think students who were preparing for the medical college had it the hardest," she said, stating the pandemic had gotten her downtrodden in the midst of all the medical coaching classes which she took online. "Oftentimes, we would receive calls from the staff at the coaching centre. They would try to motivate us over the call. However, I don't think that alleviated the mental pressure we faced due to the pandemic."
She further went on to explain the lack of time management opportunities despite having been sent OMR sheets (sheets that digitally mark MCQ style questions) home to take at-home tests for preparation, "It's not possible to always accurately time yourself for tests like this, thus, we never really got the hang of it either."
Farhana Rahim*, hailing from a well-reputed college, also lamented this particular issue. Given it was her first-ever admission test, in-person model tests might have been effective in order to cure her evident stage fright. She commented, "Taking exams in real life and taking them over the internet are so different, the latter cannot compensate for the former. The uncertainty of whether we would even get to take the admission tests due to the pandemic was immense."
Rafsan Al Aksir Anaf, a candidate who took his admission test in Chattogram, had similar apprehension in the online format. "The pandemic had its effects (on our preparation). It was a time full of confusion and uncertainty. As a medical aspirant, it was necessary to remain focused, which was difficult."
However, students like Fabiha Taskin Khan who completed her secondary and higher secondary education from Chattogram Cantonment Public School and College, noted that she faced no such difficulty due to the pandemic, "I like online classes more than physical classes, thus, it was not more taxing for me. I saved up a lot of time just by staying at home and studying, since commuting eats up a lot of time and also makes me exhausted. I did not face problems learning through online classes either."
Compliance with health guidelines was promised to the examinees. Upon scrutiny, many candidates have said health protocols were not consistently maintained throughout the 55 centres across the country. This caused a lot of anxiety and confusion amongst students who were present at the venue, they said. When asked, Farhana said, "No hand sanitiser was provided at the entrance, our temperatures were not checked, and three candidates were seated on a desk as usual."
The pandemic has been hard on everyone, which could explain many of the parents' empathy toward their children. Fabiha said, "I have always wanted to be a doctor and my parents wanted that for me, too. However, it was my own decision to take the exam." On the other hand, even though students like Farhana were agitated, they still chose to put their dreams first and take the exam given there could be no other safer alternative.
Whilst everyone agrees that the pandemic instills fear and expresses concern for the parents present, they also note the little perks that come with it. Fabiha noted, "Whilst conducting an entrance exam during a pandemic is risky, those who get into their desired medical college will be spared from the total uncertainty of the past year."
Rafsan urged the students who may not get into a medical college to not lose hope, "Since it was only the first of all admission tests, there will be plenty of time to explore and figure out what else works."
4,350 students had been selected for the 2020-2021 medical session out of the 48,975 who have passed the entrance exam; the pass rate being 39.86 percent.
*Names have been changed for privacy.
References
1. bd.ambafrance.org (April 02, 2021). Covid-19 Bangladesh Update, 02 April, 2021.
2. dhakatribune.com (April 02, 2021). Bangladesh records highest ever 7-day moving average of Covid-19 deaths.
3. bdnews24.com (April 02, 2021). Bangladesh students take medical college entrance exam amid pandemic.