The meteoric rise of Newcastle United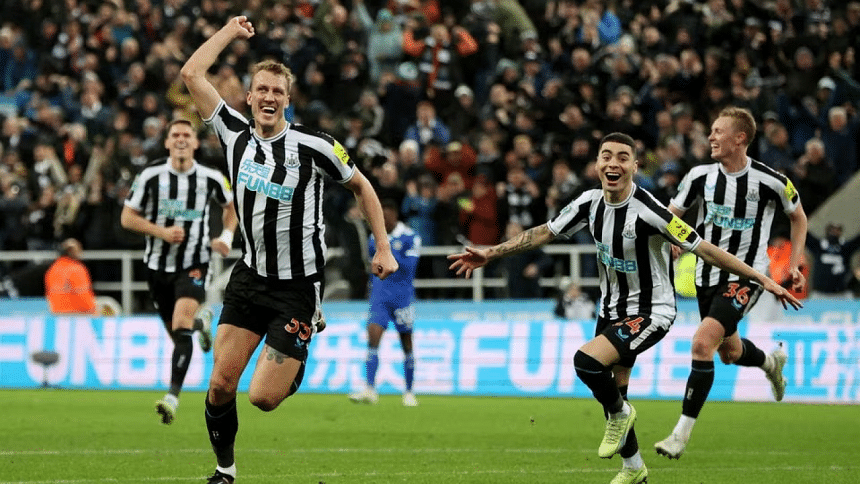 Halfway through the 2021/22 Premier League season, Newcastle United were in shambles. With ten losses, eight draws, and just one win to their name, they were marooned at 19th in the league table and dangerously flirting with relegation.
Fast forward 13 months and Newcastle sit 4th in the Premier League. This time, they have ten wins, eight draws, and an unfortunate injury-time loss to Liverpool after 19 games.
Newcastle United's turnaround this season has been remarkable. Yes, they are state-backed. Even so, we must not forget the desperation Newcastle have been through. Success had deserted them since Kevin Keegan's "Entertainers" of the mid-90s.
The new owners, Saudi Arabia's Public Investment Fund (PIF) certainly did their homework when taking over the club. They realised that the club needed its soul and identity back. So, bringing Eddie Howe as manager and properly backing him cemented their commitment to Newcastle United.
It was palpable from the onset. They could have spent £200 million in the January 2022 window without breaking Financial Fair Play (FFP) regulations. Instead of bringing in football superstars, they focussed on bringing identity and leadership to the dressing room.
In came Kieran Trippier, Chris Wood (currently on loan at Nottingham Forest), Bruno Guimaraes, and Dan Burn. Of them, Bruno Guimaraes has been a standout. It didn't take long for him to show his class and become one of the Premier League's best central midfielders.
Trippier complemented Guimaraes' buccaneering performances with his leadership, while Chris Wood gave them a prolific outlet. But, arguably the most impactful of them has been Dan Burn. As a Tyneside native, he knew exactly what the badge meant.
In the summer 2022 window, Newcastle again remained cool. The acquisitions of Matt Targett, Alexander Isak, Sven Botman, and Nick Pope for a combined £123 million show their transfer team's competence.
Sven Botman was an amazing buy. Getting one of Europe's best young centre-backs for just £35 million in this climate is never easy. Together with Nick Pope, Trippier, Matt Targett, and Burn, Botman helped transform Newcastle into the Premier League's best defensive side this season.
The impact of numerous warm weather training camps has been priceless in Newcastle United's success. They not only helped the new players gel with the squad but also helped them get fitter both physically and emotionally. Training in the desert heat also helped increase their endurance, making Newcastle one of the most physical teams this season.
Eddie Howe, for his part, deserves massive credit for his tactical setups. Depending on their opponents, Howe shapes his tactics accordingly. Fans have seen The Magpies at their devastating attacking best in games against Brentford, Manchester City, and Aston Villa, and their pragmatic, physical side against Manchester United, Arsenal, and Liverpool.
Howe also deserves credit for the manner in which the new signings managed to adjust to the team. Watching Newcastle play, it's hard to believe that these players haven't been playing together for ten years. He also turned a few careers around. Under his tutelage, Joelinton has reinvented himself as a combative midfielder, quickly endearing himself among the fans. Miguel Almiron has turned from being the butt of Jack Grealish's jokes to Newcastle's talisman. Fabian Schar has also moved up a notch performance-wise since Howe's arrival.
With a megarich owner and one of Britain's most talented coaches at the helm, Newcastle United's future is bright. Although eliminated from the FA Cup, they still have a realistic chance of winning this season's Carabao Cup. Based on their current form, Newcastle United should be looking to at least bring Europa League football to Tyneside next season. If they continue their upward trajectory, it won't be long before trophies also start raining down on St. James's Park.
Inqiad is a passionate Bucks fan and Giannis stan. Contact him at [email protected]