For the Artsy Types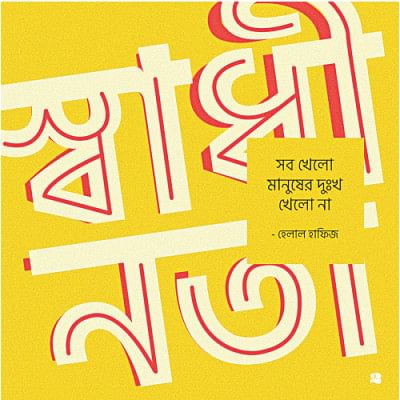 @helikontypes
If you appreciate typography, follow this profile. With all its loops and edges, @helikontypes highlights a letter, word or short phrase that reflects something much bigger most of the time. Sometimes, the simplicity of their art serves as the message.
They regularly post different Bangla letters, of which one of the most detailed pieces were for "dho"which depicted Dhaka at a glimpse. Another post depicts the Bangla letter "ro"in the shape of a woman's nose and a woman's face instead of a nose pin. The art itself with the black and white colour scheme beautifully highlights elements, beauty and simplicity.
They also capture the essence of events through familiar terminologies, such as, the artwork depicting an old-timey radio that was used to listen to news during the war with the words "Shadhinota'r Awaaj" scribbled in Bangla on top to resemble a small story denoting Independence Day.
@the_minimalist09
The Minimalist, as his username suggests, produces minimal art. Using clean solid colours for backgrounds and clear illustrations, The Minimalist does a splendid job of portraying the different aspects of life.
Out of all the artwork, my favourite is the one with a clear image of the earth on fire—the fire in the shape of the lungs. This was posted on August 22, 2019, representing the incident of the Australia bushfires. He also posted two pictures in one of his posts where one depicts the scene from Snow White where the evil queen converses with the mirror to confirm herself as the fairest, and the second picture shows the situation now where people have Siri as the new mirror.
Another one of his notable artworks include a tri-post series containing some of the most common scenarios that we observe only in Dhaka during the football World Cup. Those include the flag of Argentina on a rickshaw, the flag of Brazil painted on the walls of a building, and one about the record-holding 5.5 kilometre long German flag.
@_bangla_typography_
BANGLA TYPOGRAPHY with its unique fonts and familiar phrases will take you for a nice walk down memory lane. With words and phrases all too familiar to the Bengali people, this page brings back memories from our children.  Be it the telephone in which we've all pretended to ask for Bela Bose or the hangouts with friends like in Manna Dey's Coffee House or even the times we've thought about Arnob's Hariye Giyechi while feeling lost, BANGLA TYPOGRAPHY does not fail to conjure the nostalgia that comes with the lyrics and photography that accompany the posts.