The 2023 F1 season starts off with a thrilling race at Bahrain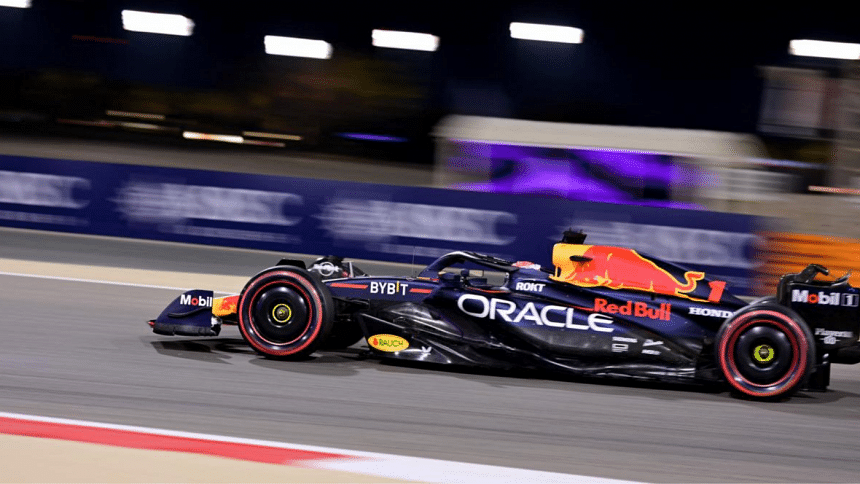 The 2023 Formula One season kicked off with a thrilling race at the Bahrain International Circuit yesterday. The race was eagerly awaited by fans as it was followed up by one of the silliest seasons of driver and team principal transfers, with new rookies, slightly adjusted regulations, and as suggested by the pre-season testing, several changes to the grid order.
The winner of the race was reigning world champion Max Verstappen, and his teammate Sergio Perez was the runner-up. Surprisingly, the third-place podium was secured by the 41-year-old Spaniard Fernando Alonso.
One of the biggest stories was about the two-time world champion Alonso and his new team Aston Martin. To everyone's surprise, Aston Martin has developed a car capable of competing with the best, and Alonso is most certainly pushing it to its limits. His teammate Lance Stroll had unfortunately met with a cycling accident before the pre-season test, which left him with both his arms and his right toes broken. However, he was able to make an incredible recovery and perform superbly.
In qualifying, Red Bull still had the edge over their rivals. Max Verstappen secured pole position, while his teammate Sergio Checo Pérez lined up alongside him to lock out the front row. Ferrari's Charles Leclerc was third on the grid, followed by Sainz, Alonso, Russel, Hamilton, Stroll, Ocon, and Hulkenberg in the top ten.
At the start of the race, Verstappen lead the field into turn one and built a comfortable lead. Checo's not-so-stellar launch put him in a Ferrari sandwich, enabling Leclerc to jump him. The two Astons made early contact which benefited both Mercedes cars, and Bottas and Lando made up places subsequently.
Ocon and Hülkenberg both encountered front-wing damage forcing them to make early pitstops. Moreover, Ocon was also guilty of starting grid infringement, awarding him a five-second penalty.
As the race progressed, it became clear that the Bulls had much better tire degradation that they capitalised on with their bold tire strategy. Leclerc was matching Checo's pace in the first stint but was overtaken eventually. His race, however, came to an end on lap 41 after a power unit failure. Alonso pulled back-to-back mega overtakes on Hamilton and Sainz, and Lance managed to get past Russel to finish P6. Lewis was catching Sainz near the end but was unable to snatch P4.
The midfield made quite the shift and was even more closely packed together. Haas had good qualifying pace but were lacking in race pace. On the contrary, Williams looked much better as they climbed their way into the midfield. Alphatauri were comparable to the Williams for the most part whereas Alpine and Alfa Romeo could position themselves as best of the rest. It was difficult to understand Mclaren's pace as neither of their cars ran a proper race.
The winners of the race – Red Bull and Aston Martin – deserved it. Their drivers performed exceptionally in contrast to the set expectations. Pierre Gasly saved grace for Alpine by running a sensational race, jumping from P20 to P9. Bottas also made gains which placed him at P8. Zhou ran the fastest lap, which did not translate to a championship point for him but was enough to snatch away the point from Gasly. Both Williams drivers performed well. Albon scored a point, and rookie Logan Seargeant finished P12.
There were several losers from the race, including Leclerc and Hülkenberg, who had a difficult debut for his new team due to front wing damage, finishing in 15th place. Mercedes and Sainz's Ferrari failed to match Red Bull or Aston Martin's pace. Mclaren had a reliability disaster class – an early DNF for coveted rookie Oscar Piastri caused by an electronic malfunction and a pneumatic pressure leak on Lando's car which forced him to pit every ten laps.
Arguably the biggest sufferer of the race was Esteban Ocon, who could not catch a break from receiving time penalties.
The Bahrain Grand Prix was exciting while also being clean with only one virtual safety car deployment. At the moment, Red Bull seems like the team to beat. However, the season has 22 races remaining and the development cycles of other teams look promising. Both Jeddah and Melbourne circuits are vastly different in nature, which might favour some teams and expose the weakness of others. Fans will be eagerly looking forward to the next race, as the battle for the championship heats up.