Taorem Sananu wins the Thesis of the Year Golden Award at ARCASIA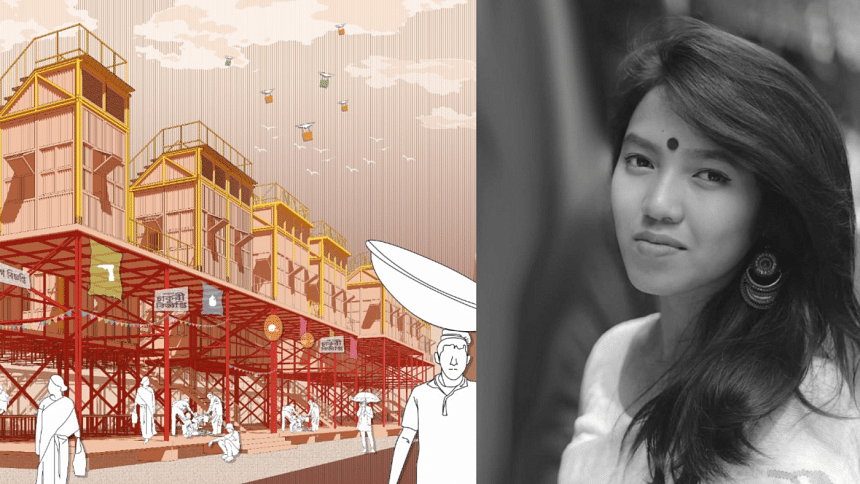 Taorem Sananu, an Architecture student at Bangladesh University of Engineering and Technology (BUET) won a gold medal at the Architects Regional Council Asia (ARCASIA) and represented Bangladesh in the annual global conference held in Mongolia. The ARCASIA consists of members from 22 Asian countries and is an extension of their institute's regional programmes and relations. They organise several architectural competitions and seminars, intending to unite architects in this region and provide them with a platform to maintain professional networks. It is a worldwide forum for ARCASIA member countries and architecture schools to display talent and ideas, to boost the quality of architectural education in Asia as a whole. It appreciates the idea of honouring thesis work from graduating students to create the ground for cross-border sharing of educational methods in the field of architecture.
Students are encouraged to submit their final year thesis and the top three projects are forwarded to the Institute of Architects of Bangladesh (IAB). These are selected as the winners of the national round and are submitted to ARCASIA. Finally, three thesis projects are honoured with the Thesis of the Year (TOY) Award. "Winning this prestigious award has been an amazing experience and nothing short of a dream come true. I enjoyed the ceremony and made friends with people from diverse cultural backgrounds," shared Taorem Sananu.
Sananu, who hails from Homerzan Village in Moulvibazar, was the youngest member of team Bangladesh. She participated in the conference wearing the traditional clothes of the Manipuri community, thereby staying true to her roots.  Her thesis, entitled "Blurring the Line", focused on rejuvenating entrepreneurial potential to develop the socio-economic scenario of urban slums. This project was supervised by Dr Khandaker Shabbir Ahmed, Professor, and Md. Mizanur Rahman, Assistant Professor, of the Department of Architecture, BUET.
The flexibility of slums combined with the static nature of urban structures tends to create a fine line that distinguishes the two areas. This conspicuous divide is just a reflection of the contrast between urban poor and city inhabitants, which is ultimately the result of more significant economic and social inequalities between these populations. The differences in economic level lead to a difference in social standing, which results in the tangible segregation of this demographic of people. Such economic, social, and physical barriers have hampered the expansion of the slums, leaving little room for socioeconomic progress and eventually forcing them to become a burden to the development of the city.
Sananu's project addresses this problem by harnessing the spirit of slum entrepreneurs, from the Sattala slum. In her model, economic redevelopment is achieved by redistributing this existing market layout and integrating entrepreneur-friendly approaches within the existing scenario. She designed three types of modules, all at different thresholds, to blur all sorts of lines thereby, constructing an interdependent relationship between these two communities.
Maisha Islam Monamee is a student of IBA, DU, and a freelance journalist who likes reading, scribbling, and blogging. Write to her at [email protected]