Tales of Tutoring Amidst the Pandemic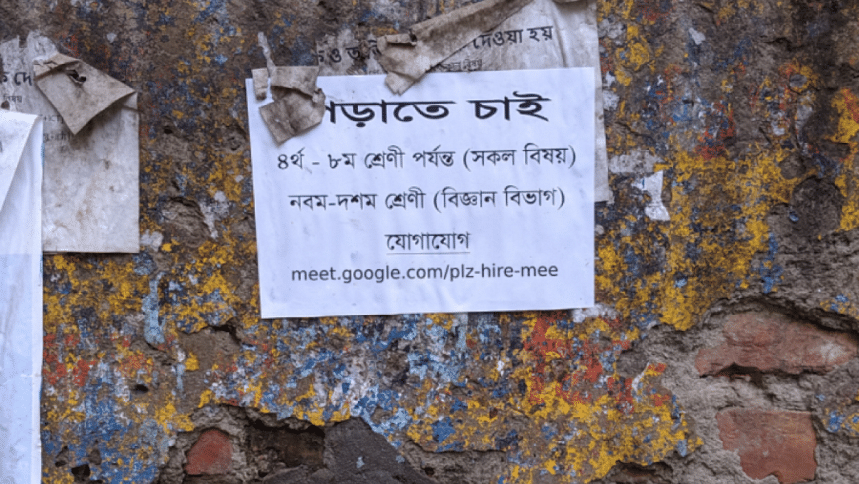 Tutoring is the most popular form of side-hustle among students to earn some quick money, whether it be for financial independence, personal savings, or pocket money.
Amidst the pandemic, the tutoring scene in Bangladesh has gone through considerable changes. While some struggled to make ends meet, others had their financial goals compromised. To compensate, online tutoring became a norm, although not without its own set of challenges both on the students' and the tutors' side.
While some are opting for offline tutoring despite the pandemic, others are forced to do so. Many parents, due to financial strain during the pandemic, prefer offline classes. Others, because of their lack of understanding or experience, tend to think online classes take less effort. So, they insist on paying the tutors less.
Ayesha Sumaiya, a final year English Language and Literature student at Bangladesh University of Professionals, says, "I tutor four students because I am financially independent and need the money to pay my bills and tuition fees. During the pandemic, however, it has become harder to do so. Due to the confusion regarding online and offline classes, I had to keep the room I rented in Dhaka close to my university when I went back home around March last year.
However, because I earn my tuition fees and living cost through tutoring, I had to come back and tutor amidst the pandemic. What is even worse, despite having to give more effort and time in online tutoring than offline ones, the student's parents insisted on paying me less than they used to. So, I had to go back to offline tutoring."
A lot of tutors' stories are similar to Ayesha's. However, others have found online tutoring to be easier and less time-consuming.
A third-year Economics student, Nishat Tasnim Anika from the University of Dhaka, says, "I prefer online tutoring over offline because it saves me the time spent commuting. I also like the flexibility it gives, allowing me to carry my side-hustles on with more ease. However, I do find tutoring online challenging in the sense that it is difficult to explain complex concepts. It is also difficult to gauge whether my student is understanding the things I am trying to teach. Especially with younger students, it is difficult to tutor online. I have been receiving half the payment I used to while tutoring offline, but I do not mind as the money I earn from tutoring is not essential for me and I only do it for personal savings. Besides, I think it is fair as I am saving money and time previously spent commuting anyway."
Among students who are taking lessons from their private tutors, the experience varies depending on the mode of tutoring, technological adaptability and age. For younger students, it is difficult to pay attention in online classes, hence they often get distracted. If the student is a little older and comes from a financial background that allows the use of multiple devices easily, the experience is not that different from physical lessons.
Tahmid Safi, a student of standard four at Playpen says, "I have not faced any problem in receiving lessons from my private tutor online. It is not very different from physical classes."
This is not the case for most students as they find it difficult to communicate and understand through online lessons.
A first-year college student, Tamzeed Abid from Rajuk Uttara Model College says, "I do not think online and offline tuition experience is the same. I have observed a lack of effort from the teacher's side. Often my tutors will keep their camera off, draw on applications like Paint or Notepad which makes it very difficult to understand certain concepts and it also creates room for miscommunication. Other than that, internet connectivity issues are a problem on both sides which makes the whole process lengthier and often frustrating."
During the pandemic, a lot of parents chose to go the more reasonable and safer route which is switching to online tutoring. Some parents have prioritised their children's education over health.
Mohammad Mahmud Abbasi, a doctor and parent to two, says, "Initially I made my children switch to online private lessons to prevent the virus from spreading and harming my family. But my son is an SSC candidate and finds it very difficult to understand Physics and Chemistry online. So, I had to make him switch back to offline tutors for these two subjects. We make sure that they remain physically distant and use sanitisers."
While this parent can afford to equip his children with devices and a stable internet that allows them to take private lessons online, a lot of parents do not have the same ability which leads them to choose offline tutoring over online, even amidst a pandemic. Regardless of ability, it is worth questioning whether prioritising potentially dangerous private lessons over safety from Covid-19 is a reasonable choice to make.
Students, both as students and tutors, depend on private tutoring in our country. But the struggles and risks on each side regarding online tutoring including financial strain and technological barriers are very much real.
Although some struggles are inevitable depending on context, understanding and compassion from parents who act as employers for the tutors and guardians to their children can make things easier on both ends.
Tazreen is busy critically binge-watching Korean movies from the early 2000s. To have nerdy conversations about the metaphorical implications of color palettes and what not, reach her at [email protected]
Read more youth content on SHOUT.