Sunset Studios is making Bangladesh's first "anime-style" project
Sunset Studios is an animation studio based in Bangladesh that has recently announced its new project, Dead End, which has been gaining traction as Bangladesh's first "anime-style" project. Irfan Chowdhury, the co-founder and director of the studio, alongside the technical director and sound designer Ali Arman, and 2D artist Humayra Kabir sat down with SHOUT to give insight into this ambitious project.
Sunset Studios was founded over 2 years ago by Irfan Chowdhury and his co-founder, Jiewon Hong, both of whom have backgrounds in the animation field. Seeing the absence of an animation industry in the country, they decided to take the initiative of starting an animation studio themselves.  
Irfan originally has roots in theatre arts and Jiewon Hong is quite knowledgeable about 3D modelling. The amalgamation of their artistic and technical backgrounds resulted in the concept of Dead End being born.
Set in the year 2100 in a futuristic city of Bangladesh, Dead End will follow a brilliant engineer, Zayn Khan, as he becomes involved with a street racing gang. Sunset Studios is promising a story packed with action that is still poignant and meaningful. The concept draws inspiration from a real place dubbed Dead End in Dhaka.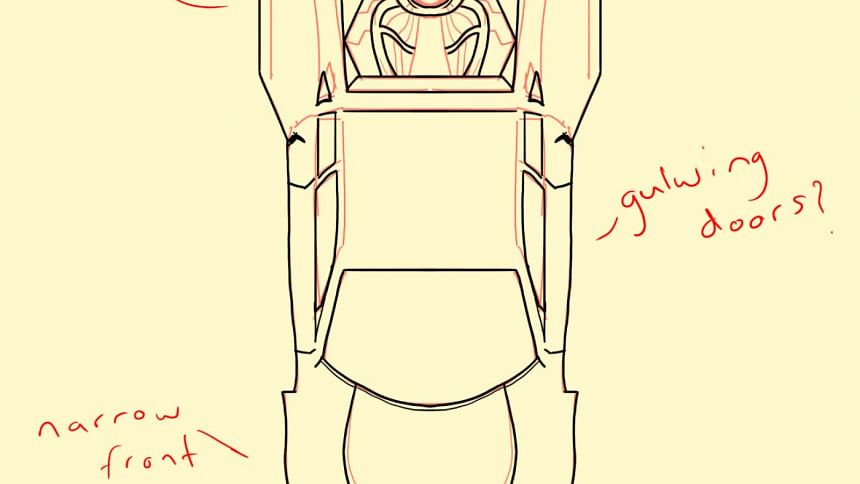 Once the initial idea was mapped out, they began working on the project in August and, as of late November, which is when the interview took place, it is in pre-production. They are hoping to make large advances on it by next year.
"It is a very personal project to me and I want to make sure that all aspects of it are preserved," said Irfan Chowdhury on his duties as a director. He is overseeing all areas of the production, ensuring that the story, the atmosphere, and the themes are being translated well in the animation.  
Ali Arman, the technical director and sound designer, is playing a crucial role in the project. From animation to lighting and rendering as well as visuals and sound design are being handled by him. He is also in charge of the animators in the 3D and 2D department, with 2D artist Humayra Kabir working on the character design.
As for their animation style, the team said that they are drawing inspiration from anime aesthetics, with the street-racing anime Initial D largely influencing their project.
The team also hinted towards the involvement of Bangladeshi animator and YouTuber Antik Mahmud in the project. "Although he won't be a part of the animation aspect, he is playing a role in the making of Dead End," said Humayra.
Sunset Studios also spoke about their hopes of achieving a theatrical release once the project is completed.
Animation isn't a booming industry in Bangladesh at the moment and it's very rare to come across people who are brave enough to pursue it as a career. However, these individuals are passionate enough to work in an environment without much support, as Irfan testified to the difficulty of finding people who are knowledgeable enough or even willing to work on the project. It required quite a bit of research and they had to dig very deep to find the right people. Keeping all of this mind, their commitment to their initiative is laudable.