A show as ridiculous as its name
It's called 'The Woman in the House Across the Street from the Girl in the Window'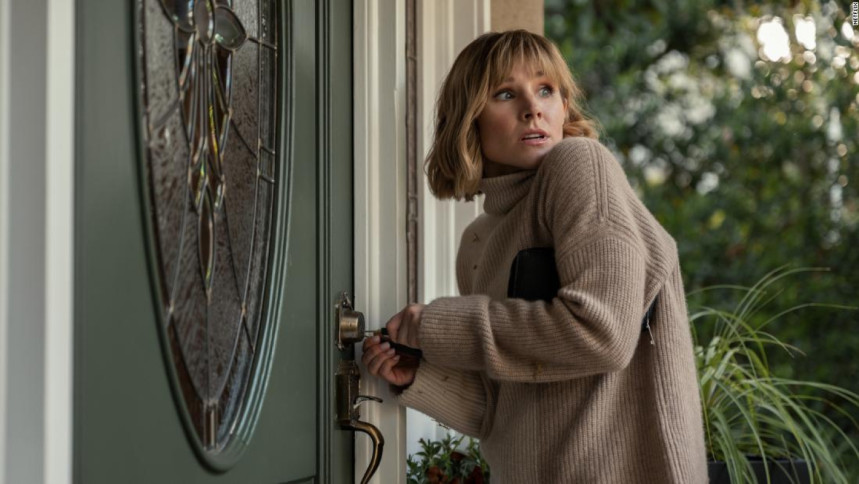 Because of how ridiculous the title is, I won't be typing it out again. Netflix's newest eight-part series is a spoof of one of its own originals, The Woman in the Window (2021), which itself is based on Hitchcock's Rear Window (1954), but let's not keep on opening this Matryoshka doll of references. 
In this movie, Kristen Bell effortlessly plays the role of an unhinged wine-mom who struggles to survive each day because of tragic incidents in her past. This show treads lightly along the lines of being an absurd psychological thriller to being a comical mockery of all the 'wine mom solves mystery and saves the day' movies. 
If you go into the show without watching The Girl in the Window, you might be confused and anxious just as I was. From the first hour of the show, it becomes implicit that our narrator is unreliable because of her clouded judgment. She drops her dead kid to school in PJs, hoards bottle corks and speaks in an obnoxious British accent even though she's not British. 
She seems to see the light at the end of the tunnel when a handsome single dad moves in next door with a girl her daughter's age. But to her utter disappointment, her potential love interest ends up making a girlfriend, Lisa, who single handedly manages to get Anna out of her prolonged depressive state and turns her into a manic sleuth.
Anna witnesses Lisa's murder from her window but no trace of the killing remains, nor does anyone believe what Anna has to say. As the story continues, she finds herself in sticky positions, uncovering secrets and clues.
This show is not a comedy per se but it definitely takes a stab at the genre. It does a great job of portraying how these kinds of murder mysteries always have the same predictable plotlines and terrible dialogue delivery. 
Although the movie has some quirky reasons behind all the gruesome deaths, I liked how the serious tone of the show made it hard to comprehend if it was meant to be interpreted seriously or as a comedy. The show is full of twists and turns, and I can't deny that it kept me at the edge of my seat.
But for a first time watcher of the genre it is intended to parody, the show became somewhat confusing. The reveal of the murderer was ludicrous and I found the fighting annoyingly hilarious. The deadpan overtones make it hard to spell out the satire since the movie keeps switching between being covertly factitious and pensive. I did catch on towards the end, but I see how it can be hard to decipher because it lacks balance.
All in all, it is a good show. It accomplished what it set out to do. It is, without a doubt, entertaining to watch.
Farnaz Fawad Hasan is a disintegrating pool noodle wanting to stay afloat. Reach her at farnazfawadhasan@gmail.com