Satyajit at 100: A Guide to the Maestro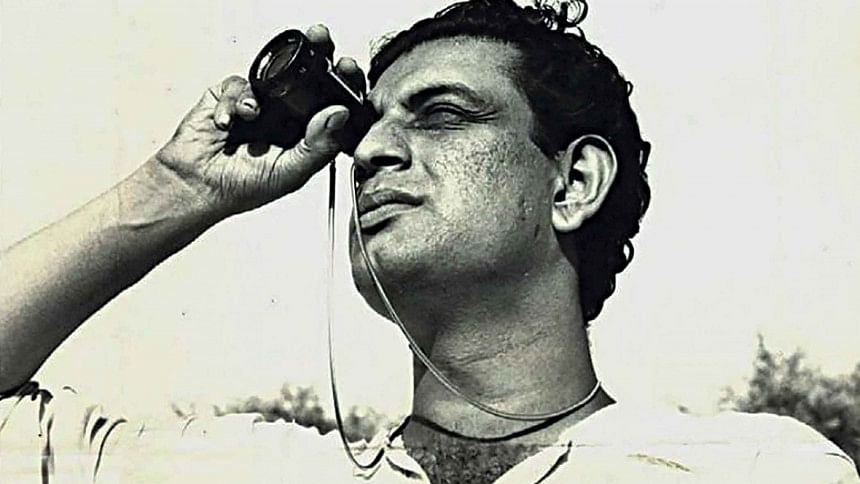 You might be wondering why I'm guiding you into the world of an already world-renowned filmmaker. There are three reasons. Firstly, because Satyajit Ray's birth centenary is on May 2 of this year, just next week. Secondly, Ray was much more than a filmmaker; he was a writer, illustrator, music composer and more. Thirdly, perhaps you've never had a chance to delve into his vast body of work before, so thank me later for giving you some recommendations.
FILMS
Any discussion about Ray's films is incomplete without mentioning the Apu Trilogy, which brought him worldwide acclaim. Hence, if you're new to his filmography, a good starting point could be watching all three films in chronological order: Pather Panchali, Aparajito, and Apur Sansar. Of course, Ray has left behind many other beautiful works of art.
If he were writing this piece, he would probably recommend Charulata since it was his favourite work on film. If you're into slow-burning romance full of longing, this adaptation of Rabindranath Tagore's Nastanirh will suit you just fine. Like Charulata, Ray was adept in making outstanding films about female protagonists. If you want to watch more movies with feminist narratives, then you'll definitely enjoy Devi and Mahanagar. If you love complex psychological character studies, Nayak will certainly be up your alley.
Apart from feature-length movies, Ray has made a number of documentaries and short films as well. As for documentaries, you might pick the controversial Sikkim to learn about the titular Indian state. Among Ray's short films, I highly recommend Two, which packs heavy social commentary with no dialogue in only about twelve minutes.
LITERATURE
The wider world is perhaps largely unaware of Ray as an author, but there is no doubt that he is the creator of two of the most enduring characters in Bangla children's literature: Feluda, and Professor Shonku.
If you haven't discovered Feluda's magic already, then dive right in! Allow Feluda and his sidekicks — his cousin Topshe, and his friend, the popular thriller writer Jatayu — to take you along in their adventures. Although Feluda's practice is based in Kolkata, his cases usually take him far beyond the environs of the city, including Kathmandu in Joto Kando Kathmandute, and London in Londone Feluda. Most of the stories have been adapted to film and TV. Ray himself adapted Sonar Kella and Joi Baba Felunath in the seventies.
Let's not forget Ray's foray into science fiction either. Professor Shonku also deals with cases like Feluda, but unlike the detective, his cases are not firmly rooted in reality. This mad scientist's explorations take him from his abode in Giridih, Jharkhand, to far-flung places that are not necessarily tourist-friendly. For instance, in Byomjatrir Diary, Professor Shonku builds a rocket that takes him to Mars. Then, in Professor Shonku o Roktomatshya Rahasya, he spends some time underwater to investigate mysterious red fish. As a cat person, Professor Shonku's pet feline, Newton, is probably one of my favourite fictional cats. Unfortunately, Ray couldn't adapt his fantastical creation on screen during his lifetime. Nonetheless, the power of our imagination is enough to visualise this wonderful creation of his. So, depending on whether you prefer watching or reading, celebrate Satyajit Ray's 100th birth anniversary with one of his timeless works.