A Plebeian's Guide to Dark Academia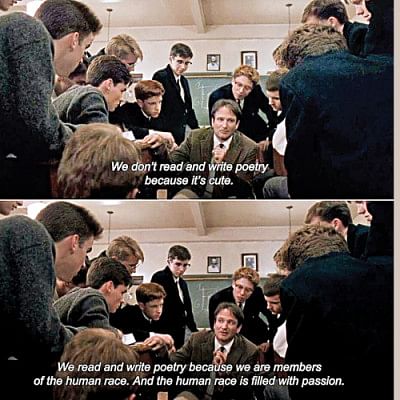 For a person who has never consciously adhered to any subculture, I sure like learning about them. One subculture that has recently captivated my attention is "dark academia". The name may sound like it has something to do with a cult of Faust-like individuals learning about the occult, but it's not that dark.
THEMES
Dark academia is about the idealisation of everything intellectual and scholarly: the smell of old books, candlelit libraries, classical music, fountain pens–that sort of thing. A typical dark academia fan is obsessed with classic literature and philosophy, everything from Greco-Roman scholars to modern English masterpieces. Their soul is full of wanderlust for knowledge, tormented by existential dread at times. Due to this blend of romanticism and existentialism, Urban Dictionary characterises a fan as "essentially a knowledgeable, vintage emo". Above all, they have an intense passion for learning; not the nerdy aspiration to get good grades but to seek emotional fulfillment through knowledge.
STYLE
Like any other aesthetic, fashion and activities make dark academia stand out to outsiders. It is associated with dark and earthy colour schemes, with enthusiasts finding inspiration from the wardrobe of a vintage prep school student: sweater vests, dress pants, Oxford shoes and overcoats being common clothing items. Among dark academia circles, the movie Dead Poets Society and Donna Tartt's novel The Secret History are a few common points of reference. When it comes to their favourite haunts, fans prefer libraries, bookstores, coffee shops and museums.
DRAWBACKS
This aesthetic seems quaint for its old-fashioned way of intellectual pursuit. However, dark academia is a bit too Eurocentric for an aspiring enthusiast in this part of the world. Imagine wearing tweed coats in this climate; I can't either. While there's nothing wrong with idolising the English Romantic poets, seminal works from non-Western authors often go overlooked and are rarely discussed.
Moreover, this aesthetic predominantly consists of literature nerds. Although I can identify with that aspect to some extent, it leaves out people who are interested in other disciplines, e.g. STEM and business. If you haven't read literary classics or know much about Greco-Roman mythology, you might feel out of place.
Some dark academia fans are aware of the lack of diversity within the aesthetic, hence they are attempting to make way for inclusion by promoting books about a broad range of subjects from writers all around the world.
HOW TO EMBRACE DARK ACADEMIA
As mentioned before, being a fan in Bangladesh is difficult, at least on the outside. With this pandemic, I can't even suggest loitering around Nilkhet. Don't be disheartened that you can't wear preppy clothes all year round. If you're a massive bookworm and are passionate about learning, then congratulations, you've already captured the spirit. Transform your room into a mini library. Keep a journal where you gush over the new things you've learned. Last but not least, stay curious.
Adhora Ahmed daydreams too much. Send her reality checks at [email protected]