TV SHOW REVIEW
NOT JUST FOR KIDS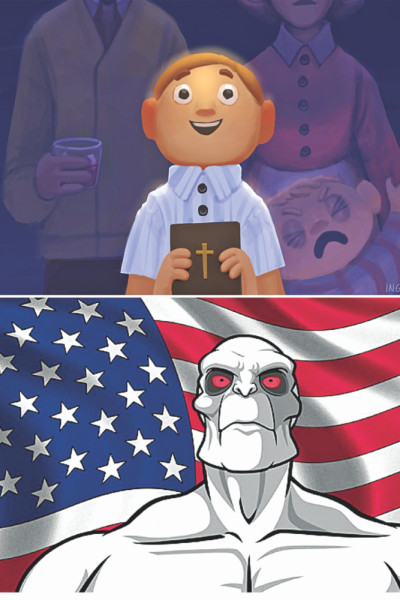 Moral Orel
Moral Orel was a claymation show on Adult Swim that ran for three seasons from 2005 to 2009. Dark, depressive animated shows like BoJack Horseman and Rick & Morty are incredibly popular these days, but Moral Orel pushed boundaries of adult animation at the time when the world wasn't as receptive to such shows. The show centres on an eleven year old boy, Orel Puppington, who is naïve and enjoys life. He's respectful to his elders, and like all kids, is deemed to ask too many questions. In fact, his inquisitiveness acts as the crux to a major plot device, where the adults lie to him just to shut him up.
The show starts out as a hilarious parody with hints of darkness before nosediving into some of the most depressive television out there after the first season, considered to be too formulaic by the show's creator Dino Stamatopolous (who you might remember as Star-Burns from Community). During the later seasons you would be excused for not knowing whether you should laugh or cry. It's done well and the character development is on point, especially when they start focusing on the whole town and not just Orel's family.
Frisky Dingo
Frisky Dingo might be one of the most bizarre shows you've never even heard of. Lasting only two seasons from 2006 to 2008, the show was a parody of the superhero and action-movie clichés. The main character, Killface, is a supervillain hell-bent on using his invention, "The Annhilatrix", to destroy the planet. His arch nemesis, Xander Crews is a chauvinistic, dull-witted womaniser who leads a double life as a billionaire tycoon and superhero called Awesome-X, and comes with his own army of minions called The Xtacles. The humour is extremely random and demented, often gleefully obscene and outrageously violent. Characters are often killed without any warning, and the plot lines and dialogue are all very stream-of-consciousness.
The show does exceptionally well at using the corporate structure to laugh at superheroes. While the superhero Xander Crews is an incompetent billionaire CEO, the supervillain Killface is the owner of a struggling business. Killface even goes onto forfeiting his health insurance to help keep his business afloat.