The Most Unforgettable Humayun Ahmed Novels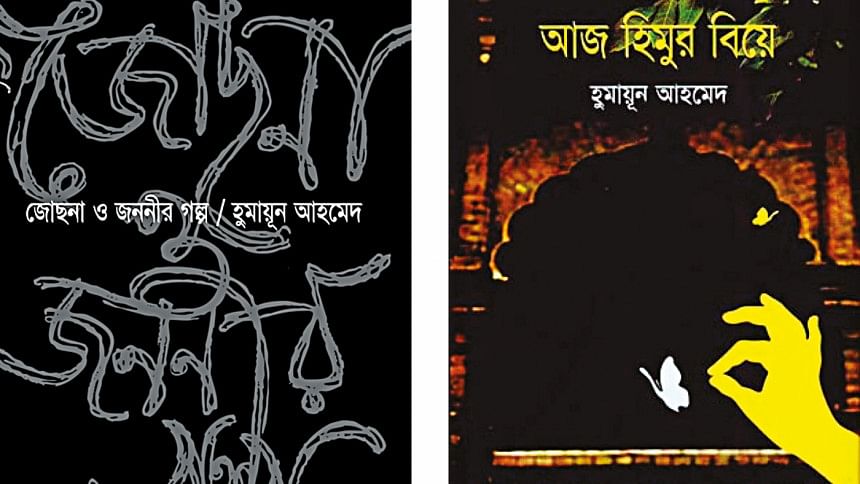 Ten long years have passed since Humayun Ahmed's demise but his novels still tend to intrigue readers. Listed in this article are six novels by him that could provide an impressive gateway to Humayun Ahmed's literary achievements.
AMI EBONG AMRA
Ami Ebong Amra is a chilling tale of a mysterious man who confides in Misir Ali to having committed two cold-blooded murders. Misir Ali decides to tackle this unnerving mystery, backed by details of the man's own childhood. As Misir Ali delves further into the conundrum, he discovers the man's lies and truths.
This novel is an endeared classic, having all the elements to spark one's interest and sustain it throughout.
AAJ HIMUR BIYE
Aaj Himur Biye starts with Majeda, Himu's aunt, having unceremoniously set him up with a rather temperamental and spirited young girl. Himu decides to help out the bride-to-be-but-in-distress, getting himself into implicating situations.
Released well into the 2000s, this novel proves that our beloved writer never lost his spark well into his writing career. As always, one cannot but crave more once the novel has been read.
KOTHAO KEU NEI
This heart-rending tale follows Muna, who lives with her idealistic uncle and his family, and Baker Bhai, a bike-gang leader. With the progression of the novel, Muna takes on more dire responsibilities while Baker Bhai devotes himself to helping out other people.
This novel is raw and heart-breaking. Baker Bhai is an immortal character in Bangla literature, whose kindness and morality never fail to intrigue readers. Muna is dignified and sensible, whose misjudgements and oft-stated uptight behaviours fail to tamper her charm and poise. The novel leaves an everlasting impact on every mind.
JOCHNA O JONONIR GOLPO - MATAL HAOWA – DEYAL
These three books are Humayun Ahmed's brilliant attempts to represent our history by means of fiction.
Jochna O Jononir Golpo is the first of three, released back in 2004. Based on the Liberation War of 1971, the story begins when a high school teacher visits his brother and recounts various incidents relating to the characters. One of Humayun Ahmed's bests, it is a moving and beautiful tale. This novel spans over 500 pages, yet cannot be recommended enough.
Matal Haowa is a novel written in 2010, set around the time of the mass uprising of 1969. Though dubbed as historical fiction, it speaks more of the people of that time. The story kicks off when Nadia visits her home on vacation and is arranged to be married to a handsome and respectable man. With its progression, the novel gets rather unsettling and ends on a melancholic note. The book leaves readers feeling downhearted for every major character. Due to the writer's attempt to incorporate his own experiences in the novel, it becomes even more riveting.
Deyal, published in 2013, is the last novel written by Humayun Ahmed. It centres around the post-war political unrest with imaginary incorporations within real life events. The first five chapters were published separately before the release of the unfinished novel itself. While many complain about the novel being average compared to his previous works, it still provides quite an interesting picture of our well-known historic events.
Humayun Ahmed's contribution to Bangla literature is unparalleled since the birth of Bangladesh. All his books are available nationwide, so it is never too late to get your hands on them.
Aysha likes her coffee bitter and her tea sweet. Send in prayers at [email protected].