Modern-day Davids and Goliaths on the race track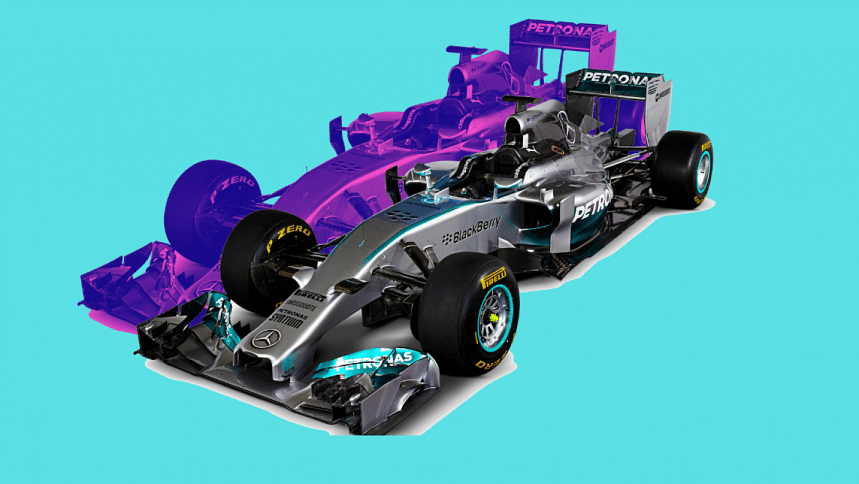 Formula One. The most prestigious motorsport in the world. Going 160 kilometres faster than planes taking off, it's the world's top car manufacturers (and Red Bull) fighting on the most glamorous circuits to see who built the best race car in the world.
Formula One is the highest class of international car racing where 10 teams, with two drivers each, race around the world to claim the championship. The drivers face off in potentially life-threatening conditions, sporting open-wheel single-seater cars, inches away from each other. And being an F1 driver comes with its own set of risks as it's deemed one of the most dangerous and physically intensive jobs out there.
Although F1 is not as popular in Bangladesh as other sports, the Bangladeshi populace's interest in racing series has seen significant growth in recent years. As a kid, I'd always seen one driver dominating almost every track of F1. Winning races and championships in style, and setting world records, Lewis Hamilton single-handedly made F1 predictable.
However, with so much that happened last season and after binge-watching F1: Drive to Survive, I got a sneak peek into the sport's true magic and all that goes on behind the scenes.
Like many other sports, F1 has a jaw-breaking intensity and excitement to it. Your favourite driver overtaking another feels like a boundary in cricket; getting a podium makes you feel triumphed — almost as if your team won the El Clasico. But, the adrenaline rush you feel seeing cars zoom past, taking risky turns, making sub-2 second pit stops while they chase time itself is something exclusive to the sport.
There's more to the blood, sweat, and tears drivers put behind to compete on such a level. Their hardship, redemption arcs, and dreams to race for their favourite teams are enthralling. The fierce rivalries, teammate turning on teammate, and new tales of Davids and Goliaths being constantly made on the track — the sport comes with its own set of climaxes as each season unfolds.
Under all that rivalry, though, drivers share compassion and respect. Once in a while, they leave their differences aside and celebrate their mutual love for the sport and, of course, speed.
All of that paired with unpredictable factors costing teams entire races and millions of dollars, will make you bite your nails on race weekends. As teams start to put their faith in new and young drivers, this is the beginning of a whole new era. Your respect for the sport and its drivers only increases with time as you learn its rich history and imagine the unthinkable achieved by legends like Fangio, Senna or Lauda while they gave their lives on every press to the throttle.
Formula One is the pinnacle of motorsport. It has inspired generations of rivalries, and brought generations of people together. It has given us heroes, and also taken them away, and there really is nothing like it.
Eahsan is unsure if his experiences generated his personality or is it the other way around. Send him help at [email protected]