Let's control our consumption this Eid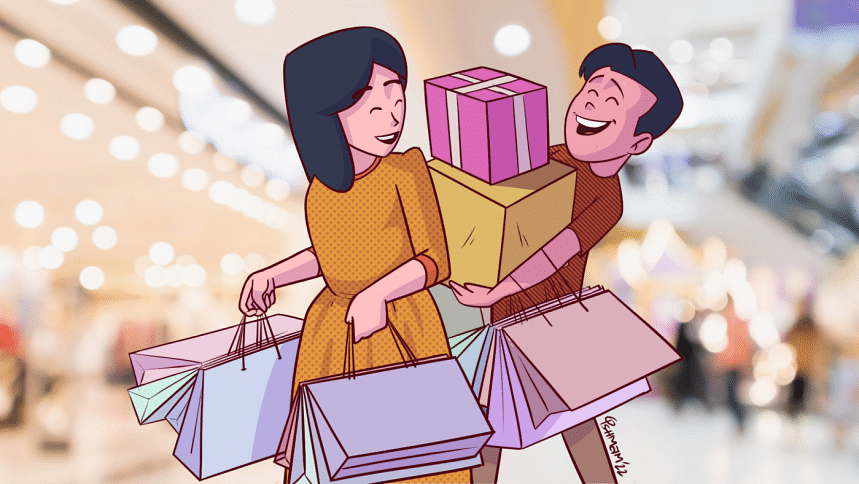 We live in a hyper-consumerist hyperreality where materialism reigns supreme and excessiveness is a glorified norm. This phenomenon is tragically more obvious during the time of celebrations, particularly when the long awaited Eid holidays come around.
Though Eid should be a time of celebration with our loved ones after a long month of fasting, it has instead transformed into an excuse to load up our shopping carts to the brim. With too many new outfits to count and with countless plates piled up to the stars with an egregious amount of oily, rich food, we've branded Eid as a capitalist fever dream that is vastly distant from the true tenets of the celebration.
During chaand raat, hordes of people will rush to malls in hopes of getting all the items on their wish list. Shopping bags fill every corner of our bedrooms and plastic packaging litters the entirety of our floors. All this culminates in a mountain of clothes, accessories, and shoes we perhaps don't need, but buy anyway in a bid to satisfy our intrinsic desire for more, more, and more.
I'm almost certain that we all know someone who undergoes at least three outfit changes on Eid day. While everyone wants to look like their fabulous self, throwing all caution to the wind and giving into superfluous overconsumption only distances us from the core idea of Eid and the overarching values of practising moderation.
While many people rush to do charity during Ramadan, most forget about it as soon as the calendar flips to Shawwal. Eid, too, is supposed to be a time of giving to those who need it the most. It's a time that signifies charity, community, and celebration, yet many of us concentrate heavily on the latter while forgoing the first.
This year, Eid can be a little different. We can try to end the unhealthy cycle of an outlandish number of dawats, clothes, and feasts by letting go of the intense excessiveness that clings to Eid culture. Instead of buying five unnecessarily expensive outfits, we can opt for one or two that will last us a long time.
Instead of teleporting from Puran Dhaka to Uttara via Banani, we can try sticking to a few choice meetups with our loved ones. Not only does this allow us to spend quality time with those who are actually important to us, but helps us avoid multiple feasts and saves our digestive tracts heavy food immediately after an entire month of fasting.
The unequal system that allows us to hoard so much wealth and gorge on numerous feasts a day is the same one that leaves millions without a proper meal, even on Eid. Those of us who have the means can try to change that, even if it's just for one person.
This Eid, we can make it a point to consume with more awareness and give with less parsimony. Our bodies, wallets, and spirits are bound to thank us later.
Afia Ibnat is judging all six of your Eid outfits. Prepare for annihilation at [email protected]