Hiding Your Online Shopping Spree from Your Parents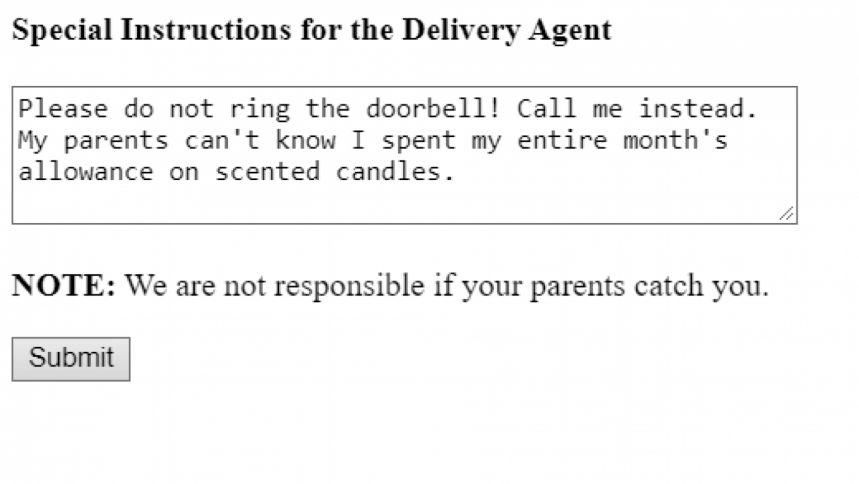 While waking up to "Good Morning" texts feels good, waking up to texts from delivery companies about my latest parcel containing knick-knacks that I spent my money on happily, is a whole nother thing. However, my parents don't exactly agree.
So, over the last year, I've mastered the art of hiding all the online shopping I did, only because I had nothing better to do than to sit around and purchase pretty things online that I absolutely didn't need. And now, the time has come for me to unveil the wisdom for the rest of you.
The Initiation
While sneaking back to your room after receiving your precious parcels gets better with practice, too much of it might make mom suspicious. Therefore, spend whatever you want to, but touch one shop at a time. Raid all that you need from that place at one go so that you can get them delivered all at once. That way, you don't have to deal with the bother of sneaking in parcels every two days.
The Intermission
As the tentative delivery date inches closer, make sure to keep an eye on your phone for calls from the delivery agent. In no way can you leave it lying around while your parents are near.
The Arrival
This is when you're supposed to bring your finest skills into play.
Carefully choose a specific time for the delivery, preferably when your parents are working or resting. After lunch is the best time as almost everyone retires to their rooms. Make sure to tell the delivery agent not to ring the doorbell under any circumstances. Instead, have them call you when they're at your door.
The Change Game
When the delivery agent is here, do your dealings as fast as possible. The best option is to pay digitally beforehand as it's also safer during the pandemic. However, if that's not possible, at least make sure to keep some loose change with you so that you don't have to run back inside to hunt for some while the agent is still at your door. And if both the delivery person and you are as bad at calculating how much change to give back as I am, keep a calculator at hand. I'm not kidding.
The Reception
Run back to your den quietly with your parcel. Smile with glee only when you're inside the safety of your room. Once there, sanitise and dispose of the outer package immediately and stuff it as discreetly as you can in the trash. 
Finally, you're free to obsess over your new, absolutely unnecessary valuables before stuffing them in a cupboard or a drawer. 
Also, start working on creative excuses for when your mom inquires about your miraculous feat of running out of allowance by the first week of the month.