FOUR STRINGS ATTACHED
The tragic tale of a washed up ukulele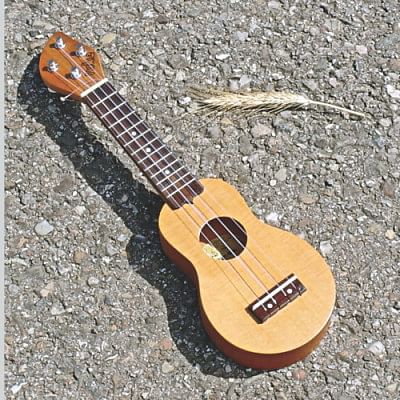 I woke up with dust in my mouth. The streets hadn't been kind since last Christmas.
It's been almost two years since my career went down the drain, and my long-time collaborator and lover, Michelle Osama, dumped me for my cousin Giveson. She said she wasn't feeling it anymore, told me I lacked depth and didn't have enough stamina. Those words still echo in the hollow of my chest.
She was starstruck every time she saw Giveson with his sturdy strap, his baritone voice and his perfectly chiselled physique. Some days she would come back home late at night, gushing over how he showed her some cool new chord that I could never replicate.
Last I heard, they were cruising around the town doing shows at our old joints. The other night while I was playing our once fan-favourite cover of Can't Help Falling in Love, down at the corner of Lounge Commode, I could hear teenagers screaming "Michelle and Giveson! Michelle and Giveson!" as they started playing the same song. All I could do was sigh and lament over what once was.
I am now spending my days scavenging for money, playing outside the same places where I used to be welcomed as a star. I live in a shabby old music store down at Commerce Lab. My landlord often berates me with unkind remarks like, "You aren't even good looking enough to get any gigs." Sigh.
Sometimes he would throw me out for a few days after he realised I was using all the varnish he sells in the store. Those nights I would wander around the streets, playing a few songs, making a few bucks, just to get a little bit of shoe polish from the local shoe-shiner. Then I would keep varnishing until I passed out.
I awoke that morning to a rancid taste of dust flying around this unforgiving city. Before I could gather my belongings and get up, the sky turned dark, as a bony figure emerged from the periphery. He picked me up and I struggled to breathe as he smelled like a heavy dose of AXEL body spray. He then said in a squeaky voice, "You're coming with me."
The rest of that day is a haze. I am now a forced associate of a man named Jamshed, who spends his afternoons loitering around Eve College, trying to pick up a date by playing the first half of Ore Nil Doriya.
He provides me with an ample supply of varnish, as payment for my services. He told me I often cry out "Michelle, my belle!" in my sleep and suggested I stop doing that or he'll throw me out too. I take another heavy dose of varnish and try to comply.