Everything I love about long distance relationships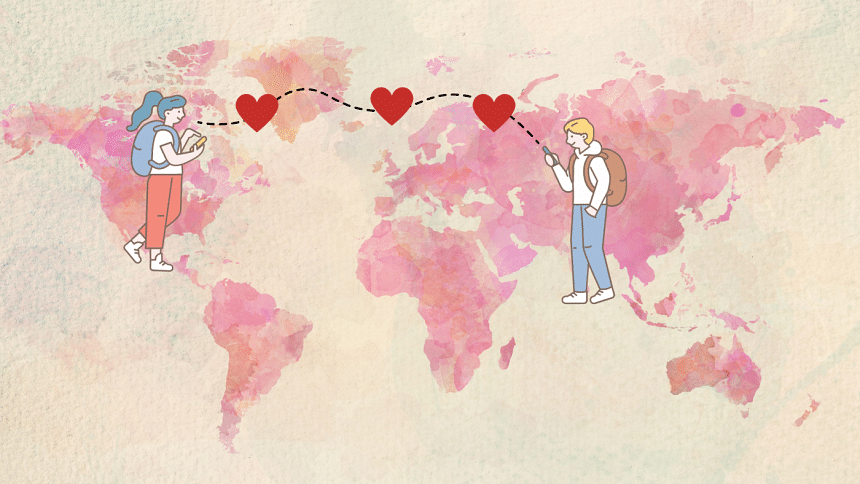 Gone are the days of long-awaited letters and telegrams and yet, the mention of a long distance relationship (LDR) is still met with gasps and looks of disbelief. The people who embark on this journey are considered to be either crazy or super brave.
When my peers and I were about to go off to university in different parts of the world, a relationship was the last thing we thought about. I rode the roller coaster of emotions, bad communication, and elaborate ideas about the future. It wasn't until the COVID-19 pandemic, which delayed everyone's life plans and threw some of us into an LDR simulation with its prolonged lockdowns, that I understood it doesn't have to be that complicated. I took a leap of faith when the world reopened and decided to continue with the relationship even though we were set apart by a distance that we could only overcome once a year. I quickly realised that despite how bad people make out LDRs to be, there are silver linings to it as well.
The most important thing to remember is that love and attraction fizzles out with time and it is the friendship that remains. In my experience, LDR has strengthened the foundation of friendship between my partner and I more than anything. When you are separated by miles and time zones, talking is the only tool at your disposal. With different schedules and ways of life, interactions are limited, but these interactions tend to be deeper and more meaningful. You get to know each other very well and unlock a bond that is stripped off superficial layers. In short, you get to build a foundation of emotional intimacy and shared values.
With the all the technology available to us today, it is also easier than ever to experience something together. Video calls may have replaced long handwritten letters but the functionality of video calls does not have to be limited to talking. Eating, cooking and working together and going on sightseeing walks are some of the things that I find are great bonding experiences over video and definitely more engaging than just plain conversations. Playing multiplayer games is another activity that makes me feel closer while having fun. Another upside to this is the fact that you save a lot of money, which you otherwise would have spent on dates if you had lived in the same place.
One of the primary issues that arise in an LDR is jealousy, whether it is about a potential threat to your relationship or simply your partner having fun without you. But at the same time, it allows you practice trust and face your insecurities. Conflicts may arise out of this but that in turn teaches you how to communicate your feelings and understand your partner's perspective.
LDR also reduces codependence and allows you to grow as your own individual person. You can invest time in your interests and passions and expand your social circle. You get to know who you are without your partner and develop the self-sufficiency everyone craves.
As emotionally exhausting as it is, I learned to not take any time spent together as granted. The simple things matter more than anything else and this sort of gratefulness is good for the soul and for the relationship. It is a testament to your patience, but the meet up after the time apart gets sweeter each time!