English Medium students' strained relationship with Bangla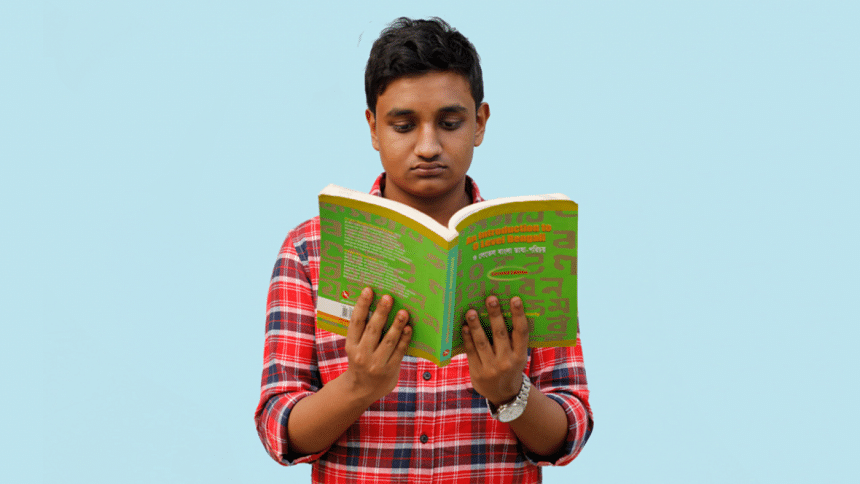 The perception that English Medium students in Bangladesh are incapable of speaking Bangla properly is fairly common. There appears to be a constant grievance amongst the older populace that through their half-baked knowledge of Bangla and their bias towards English, the English Medium students are actively contributing to the degrading authenticity of the Bangla language. While it is a hard pill to swallow, some truth does lie in these sentiments.
The way in which the English Medium curriculum is structured plays a large role in how students perceive and utilise Bangla. An English Medium school, by its very definition, shapes its educational system using English as its primary language. Classes for every subject, except the foreign language courses, are conducted in English. The school authority and the teachers communicate with the students in English and the textbooks and corresponding reading materials are also entirely written in English.
Consequently, there is little room for Bangla and there is an absence of emphasis on its proper learning.
While kindergartens do introduce students to the basics of the Bangla alphabet, it is never placed at the forefront. It is only when students enter the first grade that they get a complete idea of the alphabet. From there onwards, through the primary years of education, the process of learning Bangla progresses at a slower pace.
Up until the fifth grade, most English Medium schools centre their syllabi around the books issued by the National Curriculum and Textbook Board (NCTB). However, the way that these books are used is not in alignment with the way they are used in Bangla Medium schools. Instead of using the entire book to give the students a wide range of ideas, teachers are more likely to selectively teach parts that they deem absolutely necessary for their pupils' understanding. Consequently, the students only learn the bare minimum.
Kabita Karmaker, a primary level Bangla teacher at S.F.X. Greenherald International School and lecturer at Archbishop T.A. Ganguly Teachers' Training College, said, "There is a noticeable lack of encouragement to learn Bangla on your own accord at English Medium schools. Students are rarely asked to read additional books or do supplementary reading. Bangla is definitely not taught in an immersive enough environment."
As a result, students fall behind in learning Bangla properly from the primary level and things become objectively worse in the subsequent years.
There is a stark difference between the way Bangla is taught at the primary level and at the secondary level. While the primary section is heavily reliant on the NCTB books, as soon as students enter middle school, they are suddenly introduced to the O Level curriculum for Bangla. 
From as early as the sixth grade, students are conditioned to learn Bangla in a way that fits the O Level format. Bidhan Kumar Sen, former O Level Bangla teacher at Oxford International School, reflects, "It has come to my notice that the way we teach Bangla for O Levels inadvertently leads students to think this is just another subject for them to ace. They don't view it as a language to learn and excel at, even if it's their mother tongue."
He further added, "The O Level syllabus in reality makes it more difficult for students to learn the Bangla language."
Both the Cambridge and Edexcel O Level examinations only include reading and writing modules. One of the papers focuses on the students' knowledge of a small part of Bangla grammar and their ability to read a passage and answer questions based on said passage. The other paper, which is the writing module, consists of an essay and a letter. Both of these papers are structured in such a way that students don't need to have in-depth knowledge of the language to do well on the test. Rather, it is entirely possible for one to hack their way through O Level Bangla by memorising the pattern of the exams by heart and learning the bare minimum.
Ironically, French and other foreign languages that are offered as second language courses include listening and speaking modules in addition to the reading and writing modules. The inclusion of these aspects means that students are taught such languages with a more holistic approach, which the Bangla syllabus lacks.
The absence of literature in the curriculum is also a glaring issue.  A language is deeply rooted in its corresponding literature. Without a positive understanding of the literature, it can prove to be quite hard to grasp the essence of the language.  
"The Bangla curriculum in English Medium schools is geared towards people learning it as a second language and not their mother tongue," sums up Shanum Sarkar, an AS Level student at Bangladesh International Tutorial. "This means that a lot of us are not interested in Bangla language and literature at all."
Moreover, Bangla is only offered during O Levels. A Level students are not able to pursue a further education in Bangla as the course is not offered to begin with.
While it may lie at the crux of this issue, the educational infrastructure is not solely to be blamed here. The mindset of certain English Medium students, their teachers, and parents are also to blame to a certain extent. English Medium schools have the habit of propagating the idea that model students should, at all times, speak in English. The use of Bangla inside school premises, even when students are communicating amongst themselves, is frowned upon. While this is understandable in and of itself because the goal is to ultimately encourage students to perfect English, the consequences of this are far from innocent.
This practice means individuals within the student body who are weaker in English are looked down upon. If one speaks with too heavy a Bangla accent or resorts to using Bangla entirely, other students tend to develop a negative view of them. It is not uncommon for students to be bullied for these matters either. Even at home, parents are likely to ask their children to try to communicate only in English.
The result of these educational and social discrepancies in the learning and use of Bangla is that a pessimistic view of the language comes to be ingrained in the minds of English Medium students from a very early age. This directly correlates to their inability to master Bangla or even, in many cases, speak it to an acceptable degree.
Zaima is a struggling student, a failed guitarist and a poet in need of better poetic ideas. Send her your sympathies at [email protected]