Is education (still) a privilege?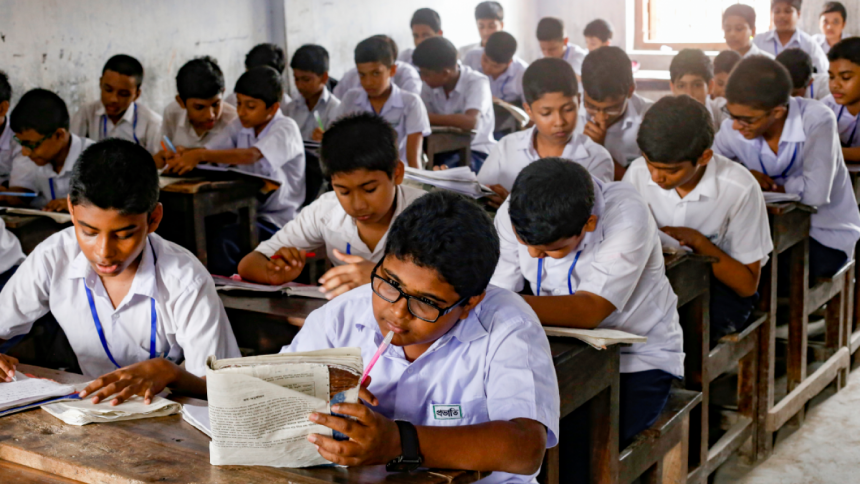 As a developing country, when it comes to the education sector, it can be said that Bangladesh has attained massive strides of improvement. From distributing almost 30 crore books annually, for free, to mandating scholarships for the empowerment of the disenfranchised and minority groups, the government has put in some effort to build its nation's backbone.
However, the presence of children from lower strata of the society on city streets selling flowers, shining shoes or begging makes one ponder – If education and the Internet is indeed accessible, why aren't these children at schools?
The concept of social privilege in education means that an individual with the monetary sufficiency and social status will receive access to the best quality of education. In Bangladesh, education has been socialised so that it reaches the margins. Although it's easy to assume that expanding access to schooling and increasing quality of education would be directly linked to human capital formation, one may be making the mistake of not taking into consideration the notion of "structural inequality".
Structural inequality occurs when an ingrained bias exists in the fabric of organisations, institutions, governments, or social networks, which benefits certain members while marginalising others.
According to a 2016 World Bank report, even after 45 years of independence, Bangladesh has remained a country with significant wealth inequality in all of its forms. The wealth of the country is concentrated in the hands of a tiny group of people, depriving the majority of the population. The top ten percent of earners raised their income share from 21 percent in 1984 to 27 percent in 2010. The lowest 10 percent's income share has dropped from 4.13 percent to 3.99 percent.
Md Iqbal Hossain Mohon, a 31-year-old chauffeur said that in the midst of starting his official job, he wished to finish his education and get a degree. He stated, "I had only completed my education till class five. I wanted to go to night school to get a degree, however, due to being held for long hours in my occupation, I could never attempt to do so."
When asked what had motivated him to go back to school, he replied, "I always wanted to work as a chauffeur for embassies. However, despite my years of experience, I didn't fit the applicant criteria since embassies only hire individuals who've completed their Higher Secondary Certificate (HSC) examination."
This is a perpetual problem for the lower income groups of Dhaka. In the quest of a job and a better life, many come from the mofoshshol areas (city and district outskirts) and rural regions. However, if they have not fulfilled the required education cap, their fates and the type of jobs they get are already decided for them, which is why the cycle of poverty continues.
Many would assume that the Internet is accessible even for these people, and therefore, education. But if one's survival is contingent upon their day's work, even purchasing the amount of Internet required for educational access could put a sizable dent in their income.
Students coming from this strata often fall off the track by getting involved in local gangs or illicit activities. Moyna, a 29-year-old household worker, said, "Although my elder daughter was able to complete her education, I wasn't able to complete my youngest's (son) primary education. He was getting influenced by some local boys and roamed around our slum, skipping school."
Moyna had to take time off her work to make sure her son didn't get involved in any gangs and tried enrolling him back to school, time and time again. This goes to show that lower economic class of people aren't any less aware of the importance of education for their financial and class emancipation.
"I'll try to provide every resource my child requires in this regard to ensure they can stand on their own feet. I don't want them to be barred from opportunities like I was," added Mohon, about his aspirations for his child.
Another issue to take into account is that many children from lower income groups from rural areas are sent to the cities in order to seek work as household help. Domestic workers were retained in the informal sector by the Labour Act of 2013 and the National Child Labour Elimination Policy of 2010. As a result, this industry is exempt from all government rules and oversight. Especially for women, the problem is much worse given many are married-off once they reach 16 years of age, or even younger.
"Many (girls) are married off since their parents are more concerned that if they are 'too old' no one would pursue them in the future. They are merely teenagers," said a 44-year old homemaker who chose to remain anonymous. She shared her own experience with a household worker, whom she had provided basic education (reading and writing) to and said, "She grew up in an orphanage and wanted to live freely. So, instead of completing her SSC and HSC, she got married to someone who had shown her some interest. Now she wishes she had completed her education, since she would've been able to access better job opportunities and earning, since her husband barely earns enough to sustain them."
Especially for individuals within the teaching profession, this turns out to be a difficult spot to be in, as they are responsible for spreading literacy. Many teachers have first-hand experience in witnessing education being denied to children who come from a financially poor background. Some of these teachers take up the mantle of educating these children employed within their households.
Makbula Haque, a senior teacher at a local school, said, "It's both a state level and individual incentive issue if children still have to work in our homes. They should be in schools, since without a degree, no one pays the same heed to a person, even if they've acquired the skills in the sector they're applying to."
Makbula had taught a few of the minor household workers basic English, Bangla and Mathematics. Some of them wished to continue their education from an institution after they reached an intermediate level of understanding in Bangla and English. However, when they reached 15/16 years, the parents would come knocking to get them married off.
"Especially for women, the lack of education makes them more susceptible to receiving abuse and often not being able to protest, since most of these women become completely dependent on their husbands for their survival," remarks Makbula.
The issue of privilege also persists for trans individuals, as most, despite receiving tertiary level education, can neither apply to jobs nor receive a sustainable source of income from any institutions.
Shagorika, a trans person who completed her university education from Faridpur, commented, "We're being denied a right by society, simply because of our gender identities. Most of us resort to begging and some even go as far as to harass individuals for money since it's almost 'do or die' for them."
It cannot be safely concluded if the measures that are being taken by the state are merely enough to address the issue of structured inequality. Even existent measures can prove to be fatal if the issues of poverty and empowerment are not addressed simultaneously.
This ignored population would benefit from a system that would also keep provision for skills-based assessment for employment, despite holding a degree. A priority towards technical education also needs to be emphasised and weighed by all levels of institution, so that these individuals don't draw a line in the sand when they're envisioning a bright, happy future.
As a veteran of SHOUT and a present desk clerk in the same institution, Nazifa mostly spends her days wondering what leisure even means. Send her your commiserations at nazifa@thedailystar.net