Debunking the Myth of the Tortured Artist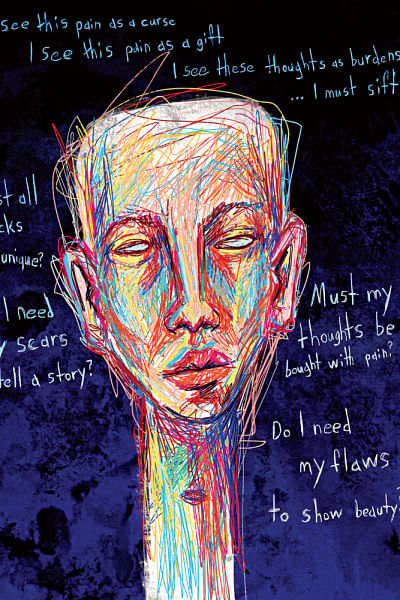 What do Vincent Van Gogh, Sylvia Plath and Kurt Cobain have in common? All three of them fit the stereotype of the "tortured artist": a troubled but immensely gifted person who produces masterpieces from the depths of their tormented soul. Whenever such artists come up in conversation, battles with their inner demons inevitably become part of the discourse, often perceived as the inspiration behind their art. However, is pain necessary to create art?
The abundance of tortured artists in history has romanticised – even normalised – suffering for the sake of art. It has led to the belief that mental illness and altered mental states are conducive to creativity, despite the lack of conclusive research providing concrete evidence. As a result, many artists have experimented with drugs or refused to seek help in order to fuel their art, which can not only hamper their productivity, but also has the potential to jeopardise their careers. Kanye West's recent emotional breakdown and Syd Barrett's untimely retirement from music are a few among countless examples of what this toxic myth can cost to artists.
This doesn't mean that suffering is always incompatible with art, quite the opposite. Art can be a healthy outlet for one's inner woes. Frida Kahlo found an escape from her physical and emotional agony through painting. Using this principle, art therapy helps to treat a wide range of diseases. Hence, it can be presumed that art has a positive effect on the mind. Moreover, it does not always have to stem from a place of anguish; it can be born out of happiness or curiosity. But, some people tend to devalue light-hearted works of art, arising from the false notion that works influenced by happiness don't take as much effort as those inspired by sorrow. Yet, they forget that behind every seemingly effortless piece lies years of practice, which is an invaluable commodity.
Speaking of practice, art is labour: a sentiment that rings true for those who make a living out of it. Creative professionals work hard at their craft, often for long hours and low wages. These conditions naturally impose a lot of stress on them, making the tortured artist myth an unfortunate and unflattering reality for many. Some creative industries, such as those of K-pop and manga, are notorious for their brutal work ethic. Not only do the artists physically suffer from overworking, a heavy toll also befalls their mental health. These factors may lead to writer's block or other forms of burnout, which then adds more stress to struggling artists dependent on their creative output to make ends meet. Therefore, the life of a full-time artist isn't as romantic as it seems.
Being a tortured artist, in the end, is not something to aspire to. These geniuses may give birth to timeless classics, but the obstacles they face to create such masterpieces are hardly worth glorifying. If anything, the trials and tribulations of artists should humbly remind us of their humanity, which is something we all have in common.
Adhora Ahmed tries to make her two cats befriend each other, but in vain. Tell her to give up at [email protected]