Carving out a career in the film industry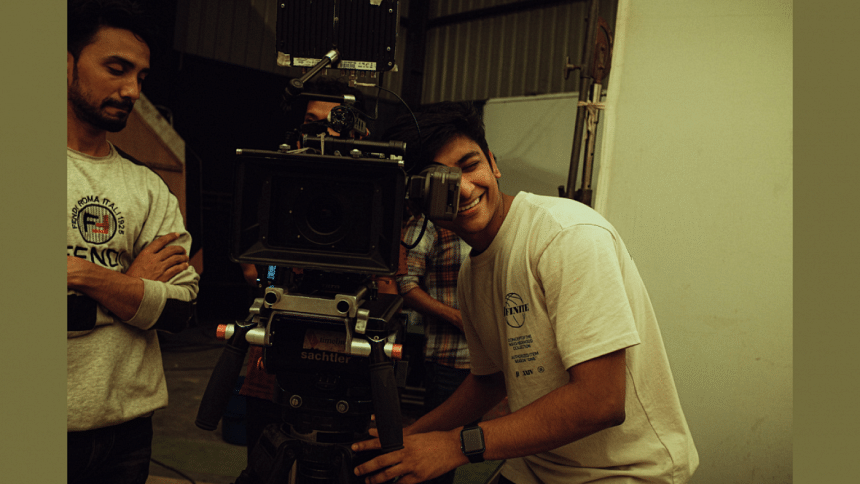 The practice of telling stories is ubiquitous. Tales as old as time don't stick with us because they are mere recollections of events, they stay because they evoke emotions.
Fables about kings, queens, and bishops have been retold a hundred times over but what makes each one distinct from the other is the storyteller itself. This urge to tell stories and to reimagine old worlds anew comes from a very intimate place and young people are beginning to find a space for their tall tales from behind a camera. 
Ashfaque Nipun, writer and director, talks about the source of his inspiration.
"People are the best source of stories. Whether it is the failure of the system or crisis of the masses I am trying to portray, I find inspiration through random people," he said. "I think what makes a story resonate with the audience is when you leave your personal touch in it. When people see their stories being portrayed, they will connect to it."
In every nook and cranny lies a story waiting to be told and filmmakers in Bangladesh are making the most of it. To say, these tales have left an impression, would be an understatement.
Nuhash Humayun's Moshari won the Atlanta Film Festival Jury Prize – an Oscar Qualifying award – for Best Narrative Short. Elsewhere, Abdullah Mohammad Saad's Rehana Maryam Noor received a standing ovation at the Cannes Film Festival. Recognition of such magnitude is vital for an industry that is still developing. It encourages younger people to pursue their passion.
Talat Ahmed, an independent filmmaker talks about what brought him into the practice and the inspiration for his first film, Dheu.
"I went to film school in America and have wanted to make films since I was 17," he said. "For my first project, most people thought it was about mental health but I was intrigued by the procession of Islamic funerals and thought I could make an arthouse film out of it."
Ragheeb Faatih Moazzem, a street photographer turned filmmaker, talks about his beginnings.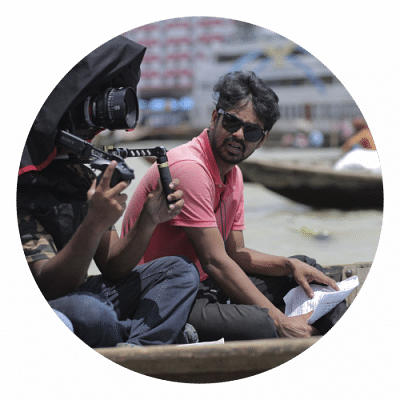 "After practising street photography for almost a decade, I wanted to add more dimensions to my stories. That is where my journey with writing and filmmaking started," he said. "Everything started from photography and pivoted off to other projects with the goal to enjoy the experience. Somewhere along the line, people started taking my work seriously. One thing led to another and I decided that this was what I wanted to do."
For individuals like Ragheeb, filmmaking has been more than a career pursuit. It has allowed him to keep a vow to his younger self that he can work in a field that is always evolving and involves problem-solving. Nonetheless, for the jigsaw puzzle to take its final shape requires an entire group of committed people. From line managers to art directors to costume designers, each member contributes an important part of the final product.
Ummid Ashraf, an artist and colourist in the film industry, reflects on his journey. "It has been a really enjoyable experience. My career, so far, has been really small. So, whatever I initially did was meteoric," he said. "Since then, I have gotten a lot of gigs and got to work on Kaiser and Pett Kata Shaw. One of my grades also ended up on a Hulu film by Nuhash Humayun." 
Uttam Kumar, a veteran in the field of film, stresses the importance of working in the industry before diving right into directing.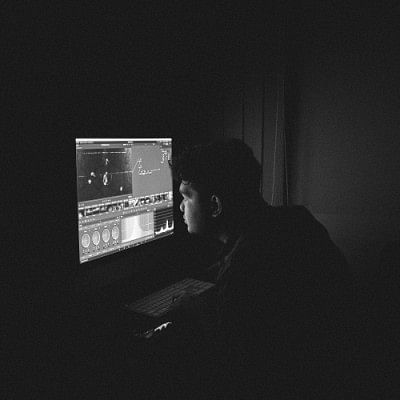 "It is important that anyone who is interested in direction, works in other departments and positions. What you learn in theory might not translate to practice. Whether you work as an assistant director or operate the camera, you will get hands-on knowledge about how all of it works. So, when you work on your own project, you don't need to spend time learning the intricacies of production from scratch," he said.
The emergence of Over-the-top (OTT) media services in Bangladesh has provided some much-needed structure to the industry. In addition, it has opened up more opportunities for people behind the scenes. 
"OTT services streamlined the process in the post-production side of things. We were required to list down who worked in what department. Because there are other specialised departments to work in now, it is a very exciting time to get involved in the industry," said Ashfaque Nipun. "People should try and figure out what their key strengths are, delve into it and devote themselves to it."
However, despite the promising shift in the landscape, there remain gaps in the field.
Uttam talks about the arduous nature of the industry, "I think the biggest issue is the financial aspect of it. Although I have been a part of the industry for a while now, I still go through phases where I wonder what I'm really doing here. I can't just start working some other job now because I have devoted a lot to film. Despite that, I don't really know whether or not I can still continue to work on the scale that I want."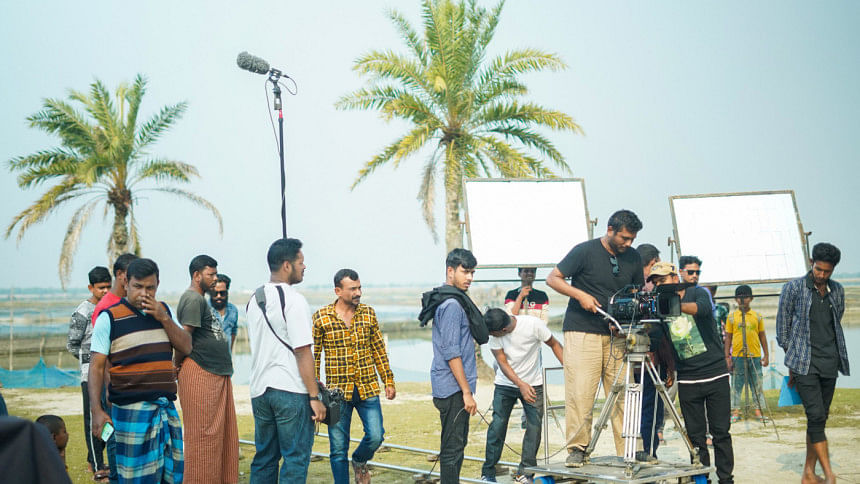 "There is a lack of job security in this practice. It isn't a very feasible career path if you want to provide for your parents or yourself. I also had to put up with the archaic nature of our country's infrastructure and general outlook towards anything creative. Nonetheless, the biggest issue is getting paid on time," Ragheeb lamented. 
Ashfaque Nipun discusses the issues that plague the system from the ground up.
"Practising art in our country is really hard because of the lack of discipline. In the case of filmmaking, there are courses in universities but we don't have a full-fledged educational institution teaching aspiring filmmakers the technicalities. They have to keep in mind that securing funds for a film and the lack of a proper infrastructure are things that plague even experienced directors," he said.
While one can only hope that such issues are taken care of and artists are treated with the respect they deserve, a more ominous and pressing issue appears to be hovering on the horizon.
Ever since the inception of the Digital Security Act (DSA), it has instilled fear not only amongst artists but also the general people as well. An attack on expression has ensued and continued to be monitored with an iron fist.
"The DSA doesn't help anyone except for those who can exploit it. When I was charged for Mahanagar, what message did they intend to send out? What people celebrate about places is its art and culture. Yet, here we are censoring it," remarks Ashfaque. 
Ragheeb believes that the aftermath of vague censorship laws will eventually segregate us from the global platform. "When they shut down a film, not only are they barring the work of the director but also the work of the entire team," he said. 
"Right now, censorship laws are difficult. Recently, a talk was organised by Film Alliance Bangladesh about the reform required in the current landscape. I remember Mostofa Sarwar Farooki talking about how he has spent nearly half a decade trying to release a feature film of his. It's hard enough to make movies, get funding and piece together every little aspect. Imagine then having to spend more time just running around censor boards," added Talat. 
Making art is hard. However, the aspirations of young storytellers cannot be stifled. Through their own volition, they are determined to make their voices heard.
"Reach out to people who work in the industry and tell them why you want to do it. Send them cold messages. It might just work out," Ragheeb said.
Talat reaffirms that the hardest part is just to get started. "Once you can overcome that barrier of getting into it, things will start falling into place," he said. 
"Working in the industry will be tough if you can't bring something fresh. You have to find a niche. Build a small portfolio of work to show. Watch movies. Try to consume art, philosophy, and music. It might sound very obvious but it is a vital part," advises Ummid.
For Ashfaque Nipun, he urged people to be brutally honest with themselves and their art.
"When you start working in the industry, chances are you won't be getting paid the same amount as your friends working in other fields. But if you want to make something out of this, you need to commit, put in work and be vary of your craftsmanship. As you dive deeper, you'll begin to realise that you can't take people for granted. If you don't believe in your vision, how can an entire crew be convinced to share it," he concluded.
 Abir Hossain is a sub-editor at SHOUT. Reach him at [email protected]