Call for a safe DU campus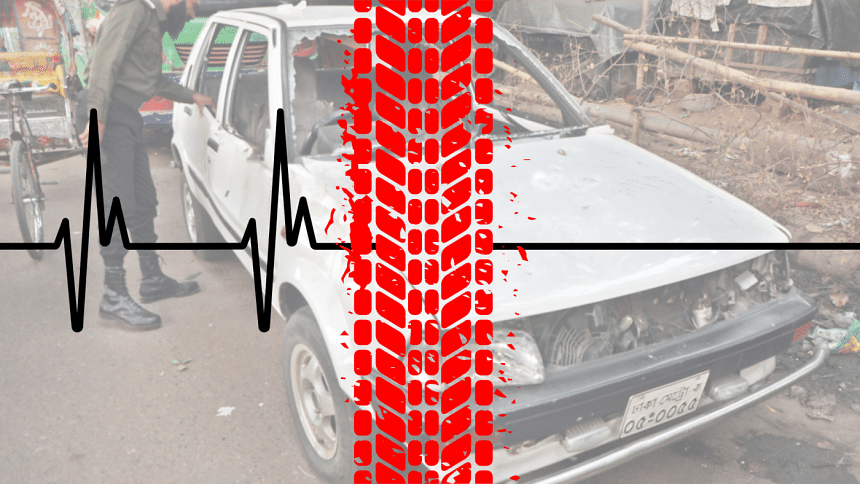 My heart now trembles to say that I'm a student of Dhaka University. After the incident on Friday, with what expression shall I invite one to come to DU? With pride? With a sense of assurance? Or with a sense of dread, of fear, anxiety, unease? With a warning?
On Friday, December 2 at around 4 in the afternoon, a 45-year old woman was dragged by a car for about a kilometre ignoring the cries of onlookers until it was forced to come to a stop near Nilkhet. She died after being taken to Dhaka Medical College Hospital. The driver was a former assistant professor of International Relations at the university who was fired in 2018 over absenteeism and bad professionalism. He was subsequently violently beaten by the gathered crowd.
On the road was not her shattered helmet but the shreds of our conscience. We have murdered our humanity and left it to rot at the sanctuary of democracy and liberty, at the place which we almost romantically call our home.
And now, at the heart of our home, a sense of dread (which has been budding for quite some time) is now taking hold of our hearts: that could have happened to anyone of us. Do we always need to walk around campus with this anxiety? Was this what we had in mind when we came to DU? Do we want our home to be deemed as a place where safety is a joke?
Students have been talking about campus security for a long time. And the demands are the same.
University administration must create a separate security personnel to help students cross at key places, like the narrow strips of roads around the TSC, Curzon Hall, and the roundabouts. Speed limits must be enforced, and those who violate must be immediately penalised. Police and other law enforcement agencies must be stationed at every crossroads. And at all the entrances there must be checkpoints to filter the traffic. Entry of public transports should be restricted. Entire campus must be brought under CCTV surveillance. 
Moreover, this incident has again brought a lot of systemic problems in full display, for instance, the free movement of drug addicts and vagrants, the backlog of complaints at the Proctor's office and the lack of accountability. There couldn't be a better time to address all these problems once and for all.
Friday's incident also reflects the overall condition of road safety in our country. In the past eleven months, the numbers of deaths caused by road accidents has been very well over 6000. This should also be considered as a reminder to the government.  
This road has witnessed revolutions and changes. And that it had to witness something which defies definition is a shame on us all. At a momentous period for both our country and the university, this is providence's way of telling us we still have a long way to go. And we shall do whatever necessary to ensure this lesson doesn't go unheeded.
Dhaka University is still the great university of our country. It's high time it stopped living in its past legacy and started living up to our expectations. The work starts now.  
Ahmad Saleh Abdullah is a student at Dhaka University.