A Beginner's Guide to Nail Art
Everyone loves nice, polished nails. For a beginner, however, starting out with nail art can be fretting when all the tools those YouTube tutorials call for, aren't there at your fingertips. Nail art has been a mainstream fashion trend for quite some time now, and the countless photos plastered over the internet make anyone want to choose this over a plain manicure.
Let's talk about nail polishes. For basic nail designs, you can't go wrong with crème-based varnishes. Nail polishes like this offer a variety of finishes starting from matte to shimmery to holographic. Metallic polishes are a great addition to the arsenal. Glitter or chrome polishes work great to create accent nails.
For starters, buying one of each of the primary colors along with a base coat, topcoat, and a few glitter polishes is enough to create a range of stunning looks. Applying a base coat is a must because it protects the natural nail beds from staining and makes the polish adhere to the surface better. Sealing your design with a top coat gives it a smooth finish and prevents chipping.
When it comes to tools, striping brushes and dotting tools are to you what a katana is to a samurai. Nail art brushes come in different tips and sizes for effortlessly pulling off free-hand designs and intricate patterns. Nail decals, stencils, and stamping plates are easy ways to get the perfect outcome by putting in the least effort. Toothpicks, orange sticks, old eyeliner brushes, and bobby pins work as good substitutes to these handy yet moderately expensive instruments. Besides these, it is necessary to keep nail clippers, Q-tips, adhesive tape, nail buffer, and a nail filer within reach in case you need them. A nail polish correcting pen is a great product to invest in. It makes cleaning up the edges of the nails a piece of cake.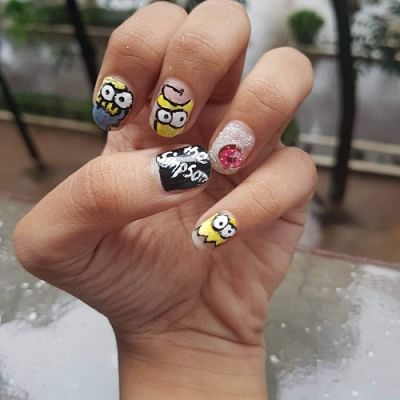 Rhinestones and nail stickers give life to any boring nail art. Caviar beads, metallic studs, and loose glitters add pizazz to lifeless manicures even though they are painful to get off. Invest in good quality, moisturizing nail polish remover, and cotton pads to get a hassle-free clean-up.
Some more tips:
1. Always use a base coat. Always.
2. If you find drawing lines hard, use a toothpick in a stippling motion to form your designs.
3. Do not place tape or any stencils on your nails unless the base is completely dried.
4. Acrylic paints work wonders in drawing characters and designs. Working with polishes can sometimes be challenging.
5. Even if your designs look raggedy, don't be disappointed because topcoats generally hide all imperfections.
6. Don't forget to clean around your cuticles.   
Farnaz Fawad Hasan is a disintegrating pool noodle wanting to stay afloat. Reach her at [email protected]