Bangladesh's Valorant wunderkind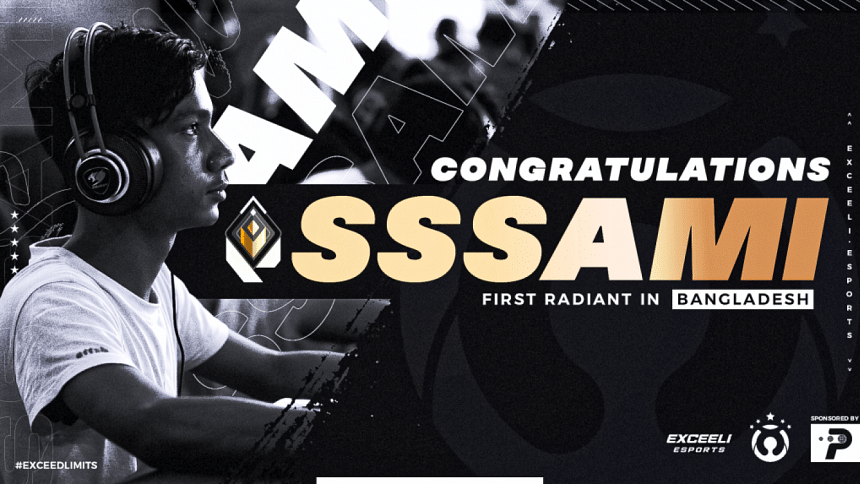 It's been three months since Valorant was made available to gamers all over the world. With a different mix of flavours from popular games, it didn't take time for seasoned and casual gamers to pick up Valorant as their new shooter. With such immense popularity in a very short amount of time, many different Valorant teams and communities formed in Bangladesh, some from the ground up, others formed from pre-existing teams from games such as CS: GO. The Valorant competitive scene has also been quite active with Bangladeshi teams competing on both local and international events.
In a candid interview with SHOUT, Sami Ar Rahman of Exceeli Esports, better known as SSSami shares what it means to be a top Bangladesh-based player.
How well do you think is Valorant doing in the BD eSports scene?
In my opinion it's doing better compared to other gaming communities because of the huge talent pool. Players from different communities like CS: GO, Fortnite, Call of Duty, Dota are all playing Valorant, so I think the future of the Bangladeshi esports scene is very bright. So far, I have won more than three Bangladeshi tournaments which means a lot to me. I used to be a professional CS: GO player. I played it from 2015 to 2020, dominated the national scene for two years from 2018 to 2020 and eventually retired from it to play Valorant professionally. Recently, my team Exceeli Esports grabbed the runners up spot in the VLT Valorant Cup.
Congratulations on being the first Radiant player in Bangladesh. What does this recent achievement mean to you?
To be honest, it feels good but this is just the beginning. I am striving to play, win, and dominate the Asian scene.
So, how hard was the Radiant grind for you?
Very hard because you need to get a long win streak. I had to practice every day to make sure I didn't perform bad and I finally got it after two months of playing.
Speaking of practice, how do you warm up before a competitive game? Any advice for our readers who are aspiring gamers?
I usually play Aim Lab. I use their grid shot and switch track tasks. It's good enough for a quick warm up. Honestly, if you want to be the best you will have to put in the time and effort to make sure your skills are refined and perfected.
We know you as an OP-ing prodigy on streams. Can you give the readers a glimpse on who you are off screen?
I'm a 17-year-old student currently doing my A Levels. Just an avid gamer and a person really fond of tech.
So, what are your future plans when it comes to competitive gaming and/or life as a whole?
My future plan is to become the best in the world at what I do. Even though it is very far but I truly believe I can reach it through dedication and effort. I just want to be the best at what I do. I want nothing else in life. It's my only true goal in life.