Are your faaka Dhaka jokes elitist?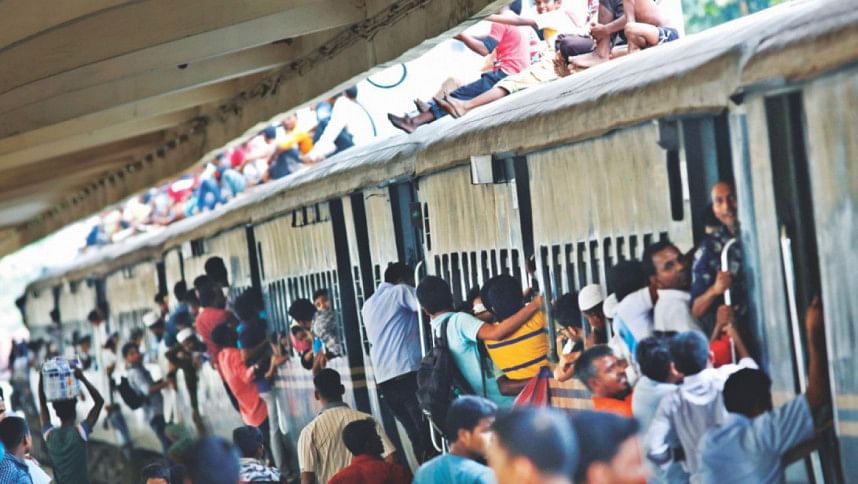 A common and recurring point of discourse among netizens in Dhaka, one that is amplified during the Eid holidays, is that of an empty city. It isn't a surprise though. Every year, hundreds of thousands of people flock to their rural homes during the Eid holidays. Even this year, it was reported that some 12 lakh SIM users left the city on the last working day of Ramadan.
Consequently, a certain telecom service provider's famous and immortal jingle, "Shopno Jabe Bari Amar" takes front and centre stage during this period of time. It's pretty much a seasonal staple, romanticising the arduous journey back home and a vacation that lasts for a week at best. Not to mention that these journeys are hardly safe, with road accidents plying the roads during this time, but that's a can of worms for another day.
Coming back to the running joke of "shopno jabe bari amar, Dhaka shohor hobe khali abar", the notion of a city being liveable for a span of just five or six days, only after most of its population goes away, warrants some consideration. Doesn't it sound like a symptom of a much larger problem?
To dissect what the joke really entails, we must first look at our country's Dhaka-centric infrastructure, and the need for rapid decentralisation.
Everyone who is tied to Dhaka is tied to it either by attachment or, more importantly, by obligation. Working-class people are forced to migrate to the hustle and bustle of this city to look for a suitable livelihood. Students from remote areas around the country flock to the city to pursue their college and university dreams. Urbanisation policies, no matter how robust or small-scale, have always been tied to Dhaka.
Under these circumstances, who is really at fault for our megacity's overpopulation problems? Can you blame the helpless population who are forced to uproot their lives and move to a city that is already on the brink of being unlivable?
Simply put, this seasonal departure isn't as desirable as the age-old jingles have made it seem. It is worth noting that in an ideal world, people wouldn't have to make a 200-kilometre journey through thick and thin to reach their shopno once a year in the first place.
So when we crack jokes about the fantasy of an uncrowded city, one that is portrayed as the perfect utopia, and one that excludes all the people who had no choice but to move here, we're shifting the blame onto the latter ubiquitously. The narrative effectively becomes one where the ones who leave are portrayed as the ones who cause overpopulation and all the 99 other urban problems that we can think of. But at the end of the day, coming to Dhaka has become a necessity, not a personal choice, one that is here to stay.
Even then, one can argue that we are all entitled to express our own opinions and make jokes as we see fit. But if our jokes are a product of a classist mentality and hinge on the vulnerability of those we see as below us, maybe we need to reconsider what we're deriving entertainment from.
Reference:
1. The Daily Star (April 19, 2023). 12.28 lakh SIMs left Dhaka on Apr 18
Send Ayaan anti-air conditioner conspiracy theories at [email protected]