Three stops to Jigatola
Amidst the joyous occasion of Eid greetings and smiles, I stood still in solitude–wearing my red, torn half pants, topless from the navel up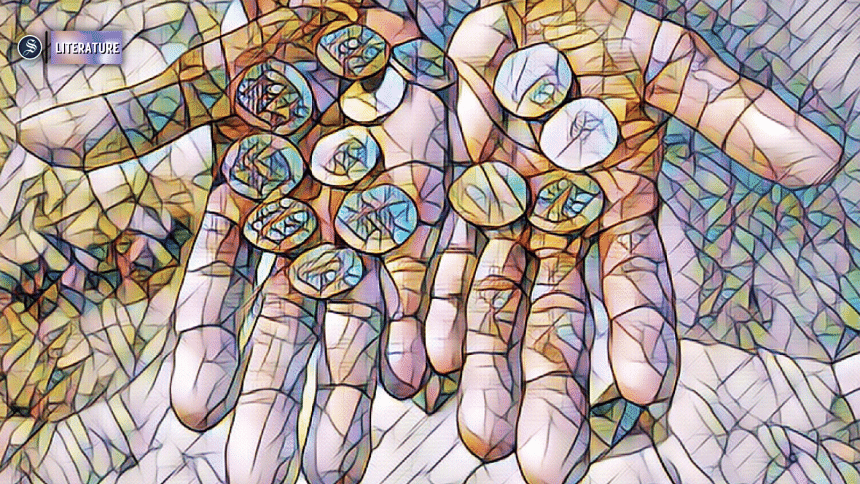 The sound of azaan from the far east north came floating through the sky. Eid's colours chimed in the air, letting joy loose upon the streets of Dhaka. 
I was sleeping near a city pillar, many called it a nation-wide development. To me, it was just another pillar, like many others. Its only purpose was to give me shade on a hot summer day. I was half-asleep when Eid began for everybody but I didn't have much to do. The streets were mostly empty, as the people all over the town went out to celebrate. I had to travel to Jigatola by evening, where Lotifa Khala might have a connection with a local foundation. The foundation promised us warm food, simple, fresh bhaat and alu bhorta. If we were lucky, we might even get to share a boiled egg. 
The dawn awakened on a very regular day. The sun was slowly sizzling again, ready to burn the soil into charcoal. I sat under the pillar wide awake, only to see the scorching sun expose the dirt of the city. As the day passed on, I saw Mumins slowly approaching the Masjid to pray the namaz with 'Tin Takbir'. 
"Assalamuwalaikum wa-rahamatullah", the imam chanted at the end of the Eid namaz. Happiness was let loose, but only to the people who deserved it. 
After the solemn prayer, Muslims around the city gathered on the streets. They wore new Panjabis, all in red, blue, black and white–ironed tip-top from bottom to the neck-up. Their smiles grinned from chin to chin, as they embraced each other in fraternity and joy. Laughter spread throughout the air. But to us, it was just another day, except maybe for some extra bhikkha. 
Amidst this joyous occasion of greetings and smiles, I stood still in solitude–wearing my red, torn half pants, topless from the navel up. My hands were awfully skinny, and my hands were stained from years of harsh living. Marks of dust and decay were visible all over my naked existence. They could tell I was not one of them. And I understood that I did not belong in the midst of those joyous smiles. Although we lived in the same hot plane of the earth, our lives were different by miles. I was a distant soul in their illusion of living. My body was deceased to them, it was a forgotten wasteland. They closed their eyes and I disappeared from their occasion of joy. 
As I was rushing through Mirpur Road towards Jigatola, near Shyamoli square, I saw a group of teenage boys. It seemed they had come out from the dazzling markets after lunch. I stood beside them, overhearing fragments of their conversation. 
"Ei, let's go to Banani, there is a cozy bakery near Sheraton where we can have coffee. Their cappuccino is to die for!"
"Well, we can, but my mom keeps calling me. We were supposed to have lunch together." 
"But it's Eid, Amir! What's the point of Eid without your friends? Aren't we basically like your second family?"
Suddenly, they seemed to notice me. There was a weird set of stares raging between our distances, but the silence was crystal clear. Quickly, they rushed out of the place as a deep blue Toyota came to pick them up. They thought I stood for bhikkhas on the occasion of Eid–an unwelcome disruption from their joyous celebration. A bounce back into reality. I don't blame them for thinking that, because that is truly what we do. And sometimes it's the best that we can do.
Walking through the scorched pathways near Dhanmondi 27, I came face to face with a very favourite place of mine. The over bridge near the mouth of Dhanmondi 27 had been my home for a very long time, till I grew up and started dealing with the grimmer things of life. For livelihood, I needed to go from car to car and beg for gratitude. Many didn't notice me but some gave me a dusted 10 taka note with a sense of favour. But I took the money as my rightful claim. The sky was getting darker, a cloud was approaching greedily from the north corner. Was it going to rain today?
Through the streets of Dhanmondi 6/A, just as I came beneath Anam Rangs Plaza, a very famous bhikkha spot for beggars and tokais around the city, I met a father and a son. They stood in matching blue panjabis with colourful coaties. The sea blue of their clothes set my eyes ablaze. There was a secret smile between them both. The father was middle-aged, and he looked like an officer to me. His hair was cut short and he had a long beard. His son, probably 8 or 9 years old, was receiving his deserved salami–a special ritual of Eid day. The father had 200 bucks in his hand, which he proudly handed over to his son. Shamelessly staring at them, I thought, "This one feeling in life I never had." Salami, for me, was a curious paradox. All my salamis by divine justice had transformed into alms.
The father noticed me and called me up. He offered me some money. I drew my hand out and took the note, acting as if I had done him a favour. One good thing about bhikkhas was that beggars clearly believed the alms given to them were theirs by right. 
Leaving the duo behind, I started walking towards Jigatola. It was a humid afternoon and the shades of cloud had darkened the sky. Dusk had arrived too early. Long, long time since it last rained, and it felt like it was going to pour today. The clouds looked angry, shooting thunder beams at each other. Walking along the footpath near Jigatola, I saw the streets getting empty. People were rushing to their homes. The earth was to be cleansed and purified again. 
The rain goddess had made her chant. A storm raged upon the horizon. I started running to find some shelter. The storm discriminated against none, but some had better shelters than others. The storm came with might and cleansed the city spotless. The rain had tamed the scorching city, and its inhabitants could sigh a breath of relief. With the last rays of light approaching soon, I slowly passed my Eid day. I saw darkness rushing with its veil, to hide the shame of this city, from the roads of Shyamoli to Dhanmondi.
I started my journey again. A little bit faster this time. My famished stomach let me know of its gnawing presence. I was hoping to find my plate of steamed rice with some spicy alu bhorta drenched in mustard oil. I really hope those foundation people show up. They better make it to the Jigatola foundation center today, I deserve to have something for Eid.
KM Arefin is a faculty member at Southeast University and a researcher of postcolonial Bengali literature.