Only books and longing for this year's Eid
Since I did not have a busy itinerary on Eid days, books were my unwitting companions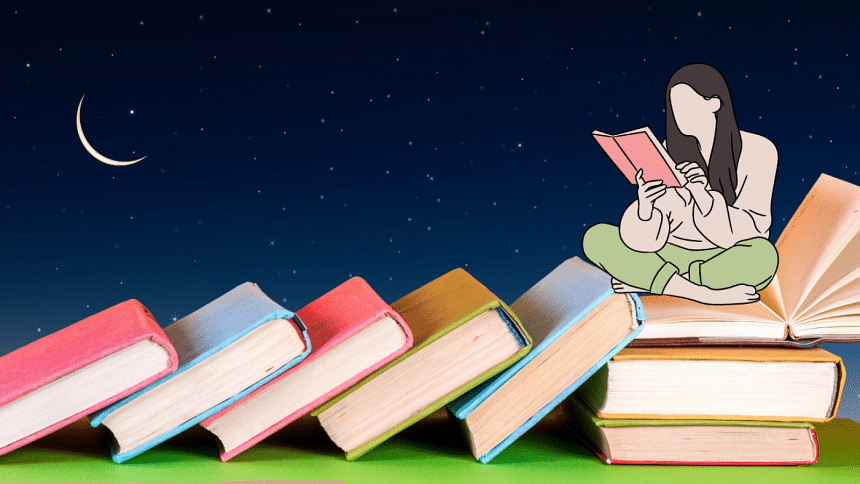 Raisins, cornstarch, vinegar, a book for mother, one inhaler—my futile attempt at listing an inventory needful for the upcoming Eid celebrations. To think, Eid is a mere week away is faintly demoralising. All the more, for I cannot recollect the label of the Vermicelli brand strictly endorsed by father. 
There is a half-full packet of market chowmein in the racks, I should perhaps buy a box or more to last us the entire month. This reminds me, where did I misplace mother's cookbook again? It has to be somewhere near, the last time I made use of it was at the previous day's iftaar to prepare Knafeh. I vaguely remember placing it among my other books, on the shelves. 
The cookbook, in reality, is a compilation of a dozen yellowed scraps of paper. Conjured from the time when mother first started cooking as an adult. The recipes are simple, verily accessible, and neat. Mother, in her beautiful handwriting, has scribbled rather extensive recounts of each procedure. The rice needs to be rinsed thrice with clean water before placing it on a boil. I should check if we have sufficient rice remaining for the week. 
Eid, this year, will be melancholic. And I admit it is a tad hypocritical coming from me. My first time spending a whole festival without the somewhat nagging presence of my parents, and it feels there is hardly any meaning left to be held. If I had to account for every preceding Eid over the past few years, it would be of a despondent new-adult minimising to the damp corner of her otherwise ordinary room, reading. And I could go list by list, of the books I had read on those heavenly days of miserable solitude. 
Our Eid arrived fairly early, preferably with the sun itself. My sister and I would wake up to our mother's cackle, calling us from the kitchen to go take a bath and get ready before father and our younger brother returned from the prayers. We would grunt and strut, throw a couple of words right back at her about how inhumane this tradition was, but would oblige nevertheless. Getting ready, even at the age of 20, to awestruck my father was yet my favourite part of the continuous tradition. 
My accomplishment laid in the manner his eyes creased with happiness, how he would say, "Alright, I approve. Who needs salami here?" It was in the way our mother would run to us, her camera at hand, asking us to stand straight so she could click a handful of our unflattering pictures. We were content, or at least for a while. 
The debates started after we almost wrapped up our breakfast. When I would finish gobbling down mother's special Eid chowmein and ask father if, at year 18, 19 and 20, I was allowed to leave home to spend the rest of the day with my friends. I would reassure him of my punctual reappearance, threaten him with ugly tears, but his response was set in stone. "Family first." And no matter how hard I tried to make him understand that my friends were my family too, it would all be in vain. 
I would retreat to my room bitterly until he came to visit with a rueful smile, playfully forced my nose out of my current read, and caressed my head with his wrinkled hands. Since I did not have a busy itinerary on Eid days, it leaves no question that books were my unwitting companions. Now before you misconceive and retain a less than good impression of my dear father, I should clarify that my bindings were only limited to the 24 hours that comprised the Eid day. And much to my shame, it took me an occasion spent without them to comprehend its significance. 
However, foremost, I suppose I should delve deeper into the books that I specifically read on Eid. There was never a certain genre I predetermined to choose for those days. More often than not, I would carry over my current reads to fill in a void in my time, and to be a cliché, to my chest. But there were times when I would renounce my recent reads because I was in a horribly particular mood. For example: a rainy day dark academia, or a book set in the English countryside. If I were to be even more absurd, I would opt to read a book where the main lead is named Tommy. 
One of my beloved Eid day reads, and ironically for the lead character, Tommy is The Secret Adversary (Tommy and Tuppence Mysteries #1, Waking Lion Press, 1922) by Agatha Christie. I read it last year when the climate was in a twist and it was too muddy to step outside. As I was reading the book—I was sitting near my father then—he peered over his side and asked, "Is it really that good?" His question was gentle, inquisitive, similar to a child enquiring after his older sibling's favourite toy. I distinctly recall answering with a yes, I can picture him with his ink-black brows furrowed as he proceeded to intently listen to me explain the complete premise. 
Earlier this month, as my parents were leaving for Umraah, father presented me with the second book of that Tommy and Tuppence series. While handing me the book, he said, "I hope you enjoy this book like you did the last one. Since this Eid you won't have me on your back, I am leaving it behind to do my job." 
I seek not to dwell on their absence as I make my way to the shelves. My potential Eid reads for this year sit in the empty corner beside a mug I had won at a picnic the other month. Partners in Crime (Tommy and Tuppence Mysteries #2, Harper Collins Publishers, 1929) is also there, reigning on top. Considering the reading slump I am in, I cannot promise that I will be able to get to all of them at once. And I yet have to figure out the name of the Vermicelli brand father had much so recommended. 
Nur-E-Jannat Alif is a Gender Studies major and part-time writer, who dreams of authoring a book someday. Find her at @literatureinsolitude on Instagram or send her your book/movie/television recommendations at [email protected].