Albums still hot for 2020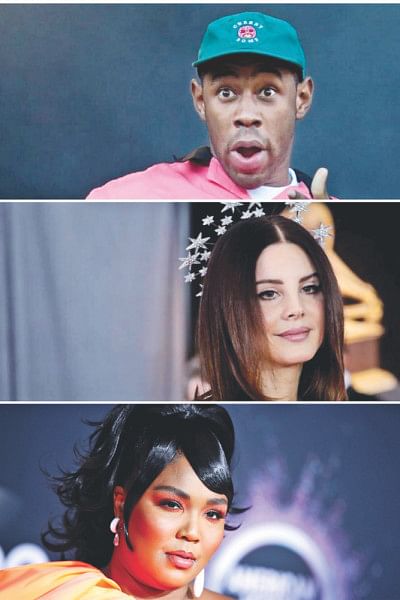 After discovering some fantastic music in 2019, there have been a few albums that I think everyone should continue to appreciate in 2020.
Norman F***ing Rockwell!
Lana Del Rey
From her chillwave take on the Sublime song, "Doin' Time", which almost mimics the glittering water of Long Beach to the heartfelt ballad of nostalgia and grief felt in "The Greatest", there is not one track that felt out of place in Norman F***ing Rockwell.
The album paints an almost ethereal dystopian landscape, plagued by fascist leaders and climate change, through Lana's meandering vocal melodies and her signature poetic lyrics. Tracks like "Norman F***ing Rockwell" and "Hope Is a Dangerous Thing for a Woman Like Me to Have - but I Have It" show the unabashed depth she is willing to dive into as a seasoned songwriter.
 The maturity and vulnerability felt in this album signals that Lana is ready to turn into a legend in the making.
Igor
Tyler, the Creator
The story of this album starts with the song, "IGOR'S THEME", where we are introduced to Igor—a representation of all things toxic and evil. From there on out the listener takes a journey into infatuation, obsession and eventual despair when the hero of the story finds himself wrapped into a web of jealousy, greed and anguish in songs like "I THINK" and "RUNNING OUT OF TIME". This leads the protagonist into a murderous frenzy in the track "NEW MAGIC WAND", before simmering down to defeat and final acceptance in "ARE WE STILL FRIENDS?"
The entire experience is so human that you almost feel like you might have an Igor in you too.
While the lyrics provide a transparent look into Tyler's darkest chasms, the clean yet droningly heavy, off-beat production makes each track a stand-alone banger for days.
Cuz I Love You
Lizzo
The grandeur of Lizzo is what I was instantly hooked on when I listened to her hyper-expressive vocals backed by dense church organs. As she puts it herself, she is "church with twerk", and this album is all about that vibe. 
 Starting with the bombastic ballad title track, she goes into a loveable flex-mode with 80s synth beats and raps about wanting to be a president in "Like a Girl". My personal favourites include "Juice", a naughty admission of all her fabulousness and "Truth Hurts", where she sings about an interesting DNA test she took over a jazzed up wedding tune. 
 This album is unapologetically loud and proud about being in love with oneself and someone else while at the same time flaunting the heartbreak associated with all this adulation.