5 anime movies to binge during your Eid vacation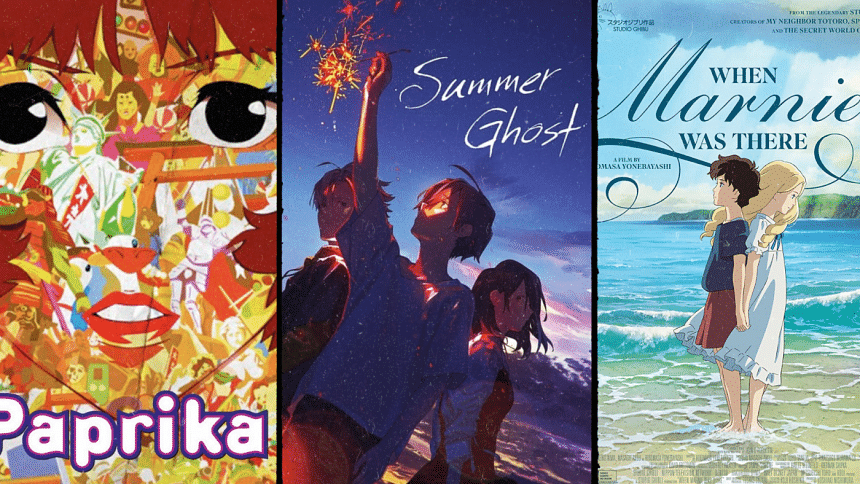 As people prepare to bid adieu to Ramadan and embrace the festivities of Eid, the entire vacation wouldn't really feel complete without a long binge-watching spree. For those planning to stay in or take the vacation slowly, here are five anime movies you can watch to enjoy your time off.
Paprika (2006)
Directed by Satoshi Kon, one of the most influential Japanese directors in history, Paprika is an erratic watch if there ever was one. It has an overarching plot where a psychiatric institute creates a device to tap into users' dreams. While it does show tremendous potential, the machine comes with a set of serious drawbacks that could endanger the lives of everyone attached to it, should it fall into the wrong hands.
While some of his other works focus on a central message or haunting reality, Kon spends his time in Paprika bombarding viewers with a cascade of loopy hallucinations and eccentric visuals. The sinister nature of these sequences also poses a serious dilemma – where do we draw the line between our physical selves and the tools we use?
Summer Ghost (2021)
Clocking in at just 39 minutes long in duration, Summer Ghost centres around the spirit of a girl who allegedly took her own life. It is believed that the "summer ghost" can answer any question, but after a group of three friends succeed in meeting the urban legend, it is revealed that only those who are nearing death can see her.
This short feature film by popular illustrator loundraw narrates a heart-wrenching tale of suffering and dealing with trauma, and is an excellent watch if you're someone who enjoys interpreting open-ended conclusions.
Goodbye, Don Glees! (2022)
Easily one of the biggest dark horses of 2022, Goodbye, Don Glees! presents itself as a tale of youth adventures, but slowly unravels into much more. The misfit-main trio is accused of a major crime, which leads them to understand more about others and the different trajectories they took in their own lives.
This philosophical coming-of-age film spends a ton of time fleshing out its cast but doesn't miss a single beat when it comes to the emotional climax.
When Marnie Was There (2014)
Studio Ghibli's sheer influence and dominance over the world of fantasy anime movies is unreal. However, one of their lesser popular titles, When Marnie Was There, features much fewer fantasy elements than some of its contemporaries. Instead, it follows a young, stoic, and withdrawn girl in the countryside who befriends a bubbly yet somewhat mysterious young girl named Marnie. 
When Marnie Was There is, without a doubt, a beautiful story about self-discovery, navigating adolescence, and friendship in its purest form.
Colorful (2010)
Keiichi Hara's Colorful begins in a train station that lies beyond the other side of death. The protagonist, a nondescript spirit who took his own life, is given another chance to set things straight despite wanting to pass on for good. But instead of being reborn, he is put in the body of a young teenager who also attempted to take his own life, and is tasked with finding out the greatest sin he ever committed. 
The award-winning film uses a brilliant anecdote of colours to display the characters' complex personalities and multifaceted lives in a world that the protagonist wants to, otherwise, view in black and white. It might be a confusing and slow watch at times, but it imparts valuable lessons on self-actualisation and the elaborate lives people lead beyond our own perception. 
Ayaan immerses himself in dinosaur comics and poorly-written manga. Recommend your least favourite reads at [email protected]