EIDA: A new name in the Bangladeshi pop scene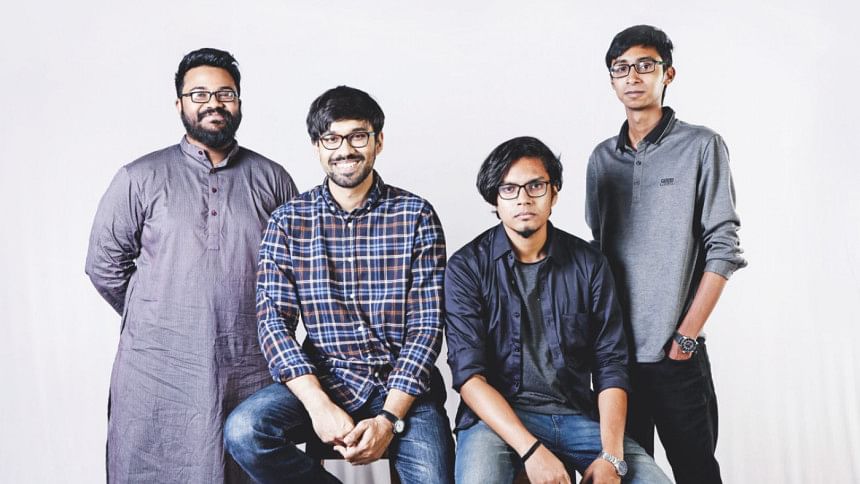 Among the many new indie bands to look out for this year, EIDA has recently entered the scene with their promising indie-pop tunes and sombre melodies.
The band: Sakib Manzur Zihan (lead guitar), Hassan Munhamanna (song-writing, vocals), M Samiul Haque (guitar, vocals), and Mohammad Raian Mahbub Rasha (drums, production), have all been doing metal or rock music for the most part of their musical careers. With EIDA, however, they've come together to drop their first single, "Aurora Dreams", which is far from their usual line of work.
Last week, the four bespectacled young men sat with SHOUT to talk about how they ended up forming a pop band, and their current projects, musical influences and their shared sense of humour.
What exactly is the story behind the name EIDA?
Munhamanna: We wanted a name that would attract both Bangladeshi and international audience. We thought of naming it "Wednesday", but we realised that there might be a lot of other bands named after a day of the week. So one day we were rummaging through band names and I texted Samiul bhai a prospective name, asking, "Eida kemon?"
As if it were an epiphany, Saimul bhai sent us two voice notes suggesting we should name the band "EIDA".
Apart from your mutual love for humour, what encouraged you all to form this band?
Samiul: Sometime around mid-December, I decided to take some time off from work and write songs for a solo album. I took a two-week long break and began writing music. I had written a quarter of a song when Munhamanna texted saying he wanted to come over to help me finish this song. Coincidentally, Zihan decided to drop by the same day. The three of us jammed together and within two weeks we'd written and completed four songs. After that my intentions shifted towards making a band with these guys.
Zihan: I've been following Samiul bhai's work for a while now, and he really inspired me to explore artists like John Mayer and The 1975. So when the opportunity showed up to make songs with Samiul bhai, I didn't even have to think twice and everything happened as naturally as it possibly could.
Rasha: Zihan and I have been working on making music together since 2012. When these guys were done composing their songs, Zihan reached out to me to produce the songs for them. While working on the songs, I started making inputs for each song and eventually became a part of this band as well.
How would you define your personal musical influences?
Munhamanna: I've been experimenting with different types of music over the last few years. Currently, I am heavily influenced by indie-folk music. Beirut, Ben Howard, Postal Services, Gorillaz would be some bands that have had major influence in my music.
Samiul: I would say my biggest influence is John Mayer. When it comes to guitar playing, Brazilian guitarist Mateus Asato is a huge inspiration for me as well. Other influences include Goo Goo Dolls, Sufjan Stevens, The 1975 and also metal bands like Iron Maiden.
Zihan: Personally, I'm very influenced by grunge music. My favourites include acts like Nirvana or Alice in Chains. But at the same time I am also a big fan of Bangla pop music, and foreign artists like The Backstreet Boys. And considering how long I've been following him, Samiul bhai has been a big inspiration for me as well.
Rasha: I've mostly been influenced by grunge music like Zihan. My inspirations include Audioslave, Alice in Chains, Iron Maiden etc. In terms of Bangladeshi bands I'd say Black and Nemesis are big inspirations for me.
In the past, each of you have been associated with acts that had a more rock or metal sound. EIDA, however, has a distinctly pop sound. Why did you choose to make that transition?
Zihan: Even though we all come from a rock or metal background, we wanted to try something new. It wasn't really much of a transition though because each of us try to keep an open mind when it comes to making music. Rasha is also an integral reason for that because he has a really good ear for music and is very capable as a producer who can push boundaries.
Samiul: I wouldn't define our band with a specific genre either. However, you could say it is inclined towards pop music. Through this band we are trying to make songs that are easy to listen to but we also want our songs to have rich melodies and well thought-out structures. In a way I would say we are trying to make sophisticated pop music through this project.
What's the story behind your first single, Aurora Dreams?
Munhamanna: It started when we went to Rasha's house to work on this other song. While jamming, I was trying to come up with melodies on the guitar. Samiul bhai liked what I was playing and began humming to the melody. Soon, Rasha chimed in and played three chords. Samiul bhai began writing the lyrics and that's how Aurora Dreams was created. You could say it was a happy mistake.
Samiul: While humming, I said the word "aurora" and Munhamanna instantly stopped me and said that the song should be about aurora lights in remembrance of his girlfriend who was in Finland at the time and witnessing the Aurora Borealis was in her bucket list. We wrote the song in about thirty minutes and within the next few hours the entire song was ready.
Are you happy with the response you've received so far?
Zihan: Well, we are a new band, and none of us are known faces in the scene, so I wouldn't say we were expecting to reach a lot of people. Regardless of that I would say we are satisfied because all the responses have been very positive.
What can we expect from EIDA this year?
Samiul: We are planning on releasing more songs this year, and we are looking forward to doing shows around Dhaka. We are also planning to drop our first EP titled Pop Songs for No One by the end of this year. After the responses we've received so far, we are excited to see how people enjoy our music because at the end of the day, we're just some guys making music and having fun while we are at it.
EIDA recently released their second single "What it Means".
Find out more about the band and their music on www.facebook.com/eidatheband