It isn't romantic
Isn't it romantic – no, actually. It really isn't. Sure it is a romantic comedy with a very happy ending but there are certain things that let it down. For someone who has seen their fair share of movies from this genre – and cried multiple times and daydreamed through countless classes – this movie barely checked all the boxes of a good, honest romcom.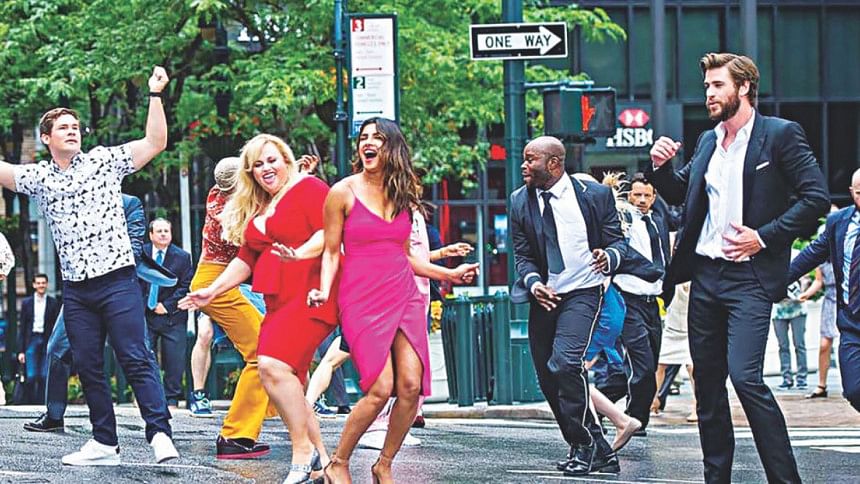 The story follows the life of a female architect who lives alone and is married to her career. She also believes that relationships are meaningless and worthless and that all romantic comedies are horrendous and an oversimplification of an otherwise very difficult life. Until one day, she hits her head (obviously) and is transported to a parallel universe where everything is a little too perfect and as corny as every single romcom out there. While Hollywood should be applauded for opening up the platform for young girls who feel invisible, it has to learn that there are better ways of doing this than showing a girl who is either extremely romantic in her endeavours or completely against it. There is a middle ground which they really need to explore more.
Starring Rebel Wilson, Liam Hemsworth, Adam Devine, and everyone's favourite Bollywood diva, Priyanka Chopra playing, well, a diva – the movie feels like a twin sister to Amy Schumer's 'I Feel Pretty',  a much more sappy and whiny one, though. It is a movie about self-discovery, loving yourself, and realising who the love of your life is and then running 'half a marathon' to stop his wedding.
Technically, the movie pokes fun at all the clichés of a romcom. In the process it ends up being stuck in a loop because it invites us into this extravagant world where all the clichés of every single romcom out there occurs within literally forty-five minutes. From singing to choreographed dance routines, to a date in the rain and with ice-cream, and everything else in between, the movie leaves the viewers in a confused mess as to what it is trying to be: a romcom or a satire of a romcom.
However, it is not all bad. Rebel Wilson really carried the weight of the movie on her shoulders while her co-actors pitched in from time to time with witty one-liners. Despite its many drawbacks, the movie is fast-paced and does not linger on a single moment for too long. It will definitely have you laughing in its entirety and make you feel as though you had a really good time. Well, as long as you can put aside your own insecurities. Otherwise it will probably just remind you of why you are so depressed all the time.
If you are in the market for a romcom, maybe you should look elsewhere. If you want to just have a laugh and keep nodding excitedly through Wilson's montage of why romantic comedies are a waste of time, then you are in the right place. Certainly it is not one of best movies out there but the cinematography, the background, the nostalgic music of 'Oh, Pretty Woman' and 'A Thousand Miles' is rather inviting and will make you want to continue watching it. Let's face it, the actors do a fairly good job, too, and the singing and dancing are not all that bad either.
Subaita likes cats and dogs and everything that hops. Send her your favourite animal videos and pictures at [email protected]