Baby Steps
A Realistic and Relatable Manga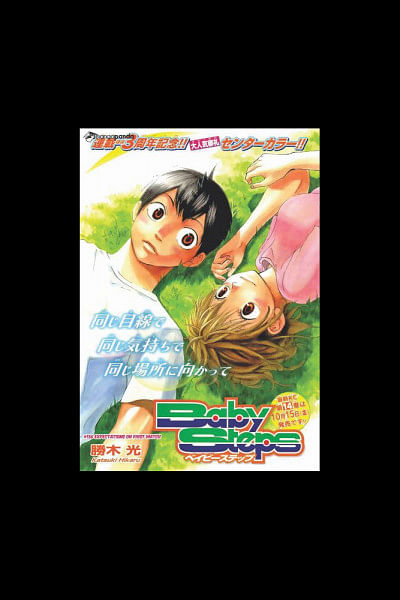 First released: 2007
Volumes: 36
Status: Ongoing
Sports manga like Kuroko no Basket, Eyeshield 21, Prince of Tennis depict Japanese schoolchildren as practically superhuman. They use magical super-moves, gain skills at a god-like pace and act as if the world's survival depends on high school sports competitions.  Baby Steps is a breath of fresh air for those who have had enough of that particular type of manga. 
Unusual name aside, the manga also differentiates itself though its artistic direction. 
Baby Steps follows Eiichiro Maruo, a diligent student who takes exhaustive notes of every class. As a result, he is a top class student and is known as "All A's" Eiichiro, or Ei-chan. When he starts to grow bored of this lifestyle, he searches for an outlet where he can engage in physical exercise. 
The inspiration of his beautiful classmate Natsu (aka Nat-chan) leads him to the local Southern Tennis Club (STC), where he is at first overwhelmed by the physical rigours of the sport. But his nature of observing things, noting them down and working diligently to overcome his weaknesses 
Soon he grows to love the game and through his nature, starts improving rapidly. He goes on to a journey of becoming the best tennis player he can be. 
Baby Steps has a lot in common with manga like Slam Dunk and Major. The sport is shown realistically, the practical problems are treated in a sincere manner and the character relationships are believable. 
The life of a teenage tennis enthusiast is shown with all its ups and downs, including practical concerns of pursuing tennis as a profession. All the tough decision making and sleepless nights have been depicted sincerely. All the rivals are treated as actual characters, not one-dimensional obstacles to be passed and forgotten. No evil character or outright villain is shown. The hero wins and loses matches at a realistic rate.
Even the small amounts of romantic elements shown are treated in this restrained and tasteful manner. The romances are sweet, not-sudden, organic and don't detract from the main plot.
All of this is not to say that the manga is boring. It provides its thrills through close, but realistic, matches of good tennis. And Maruo is very easy to root for because he is so believable. 
Baby Steps won the prestigious Kodansha Manga Award, which is a testament to its greatness. The only small point I have a problem with is how the flow of time within the manga can be a little confusing to follow.If you want to enjoy Baby Steps but don't want to read hundreds of chapters, you can watch the anime which has had two seasons released so far. Overall, Baby Steps is an engaging and relatable manga. Even if you are not particularly a fan of tennis, the story and the craftsmanship of Baby Steps will draw you in. 
Novo Manzoor is an athlete. He surfs the web all day. You can reach him at: [email protected]