Let Repto be your teacher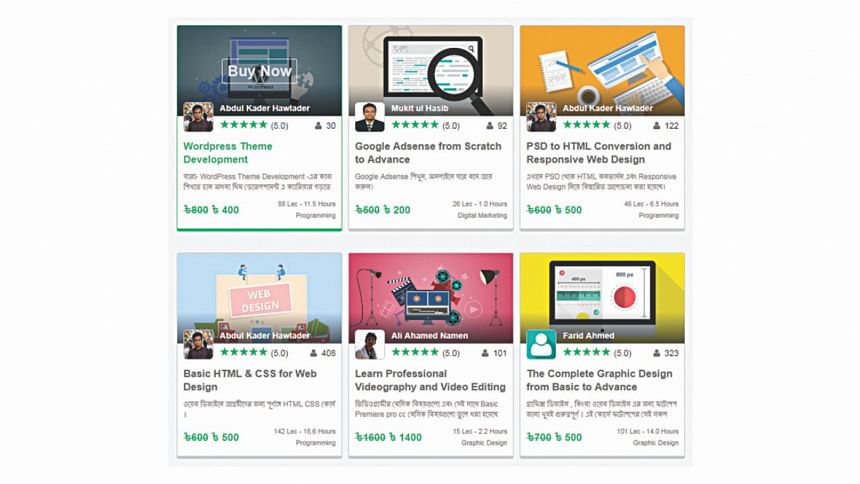 How incredible would it be if you could acquire essential skills for graphic designing, social media marketing, programming, and even learn academic subjects like English without having to make arduous journeys to and from coaching centres or seminars? Wouldn't it be even more amazing if you could gain all these skills at your own pace and in your native language?
That is exactly what Repto has to offer on their website edu.repto.co. It is an online skill development platform where all is taught in Bangla by Bangladeshi industry experts and teachers. It has over 80 active courses that are designed to provide students with special skills and qualities required in the job market – one that is becoming progressively competitive with the passage of time.
Repto is the brainchild of its 21 year old founder, Istiyak Sheyam, whose dream is to revolutionise the education system in Bangladesh. He mentioned, "When I was in college, I realised that our academic curriculum teaches us obsolete and impractical knowledge most of the time, none of which is skill-oriented and have no practical use in the real world." Such a predicament is what motivated him to create this platform. There is a dearth of specialised skill-based institutions both in and out of Dhaka; Repto aims to provide such skills to people all over the country.
The best part about Repto is its user friendliness. The layout of the site is neat and organised as it displays all the course categories in plain view, which makes it easy to navigate. The courses are shown as thumbnails, with clearly stated details such as lecture hours, length and cost. 
After making an account, you can select any course of your interest. The lecturers use updated software for their courses and seem to have ample knowledge about the subject material. There are quite a few free courses, too. These courses are usually series of short lectures. The paid courses are much more in-depth. Every paid course offers a free trial period during which you can access over 15 lecture videos, directly ask questions to the lecturers by using the student dashboard, or get instantaneous support from the real time chat and call options. They hold live classes and solutions seminars as well. 
If you choose to buy the full courses, you will have access to all the lectures, necessary files and slides. The payment procedure is fairly simple. You can use mobile payment system like bKash, credit card or internet banking. The price range is commonly between BDT 200 and 2500. Most courses fall within a budget of BDT 1000.
Currently, there is no evaluation method or certification for completing the courses. However, according to Sheyam, they are working with organisations and international certification providers in order to develop credible and acceptable evaluation and certification processes in the future. 
Overall, the Repto team is doing a pretty good job in satiating the appetite for knowledge of the Bangladeshi youth. Semester break and winter holidays are coming - why not spend a few hours each day to learn a new skill that might give you an edge on others?
Farah Masud is a humanbean and that is all you need to know about her. Please don't try to contact her anywhere, especially not in person.