Racing Towards Dreams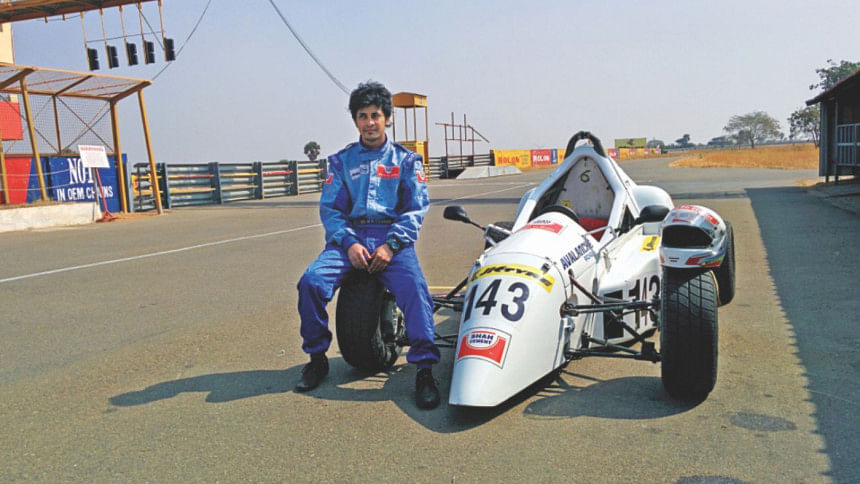 "It's easy to find your passion, really. You have to identify what attracts you – to the point that you start feeling selfishly possessive about it," says Mahfujur Rahman Tushar, the first Bangladeshi to partake in the F4 Racing arena. "If, for instance, you ask for my cell phone to play with it, I'll probably give it to you.
However, I'll feel concerned if you ask for my car. I feel possessive about it, because I care about it too much. My passion for cars and racing is what drives me."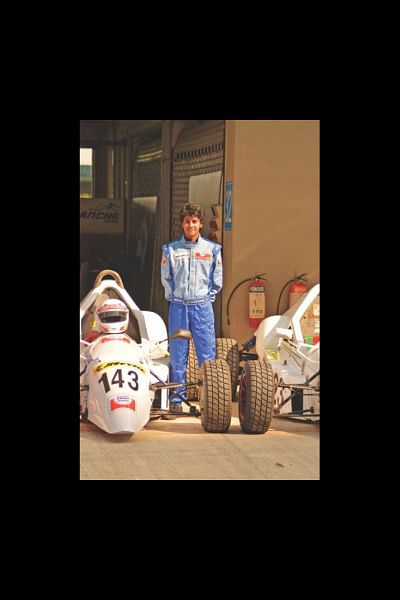 With a diploma in automobile engineering and currently pursuing his undergrad in English at University of Liberal Arts Bangladesh (ULAB), Tushar has participated in six F4 races already. To continue his race to the top, he needs sponsors. He had to humbly reject invitations to participate in Asia F4 Cup held in Malaysia because of inadequate financial backing. 
"Finding a sponsor who is equally passionate about racing and sees potential of churning out benefits from it is difficult, especially in Bangladesh where Formula Racing is not widely popular yet," he says.
But this is only one of the many challenges Tushar has faced on his journey so far. Receiving his secondary education under the Madrasah Board, he did not have access to TV or most other widely popular media. 
"When I saw the first Formula race on TV, I knew this is what I wanted to do. My love for speed and cars shot up to a level of obsession, in a way that my peers and even my seniors thought I was going crazy. I was, to be honest, and it is this 'craziness' that strengthens my resolve to make it to the top."
"I covered the walls of my hostel room with drawings of various cars. One day my hostel supervisor found out and treated me harshly because he was concerned I may be derailing. But that did nothing to stop me," Tushar recalls. "In fact, that helped me reconfirm my undying passion for racing."
He once participated in a Need for Speed gaming competition. With mediocre performance, he saw some people even making fun of him. But he was determined to further test his mettle. After finishing higher secondary education, he participated in a casual go-karting competition at Fantasy Kingdom. In his very first attempt, he came third. He eventually won bigger competitions in even bigger stages. With support from his family, Tushar made his journey to India to further enhance his skills on real testing grounds. With his initial journey a failure, he finally got in contact with Federation Motor Sports Club of India (FMSCI), where he trained and made it to the F4 racing arena.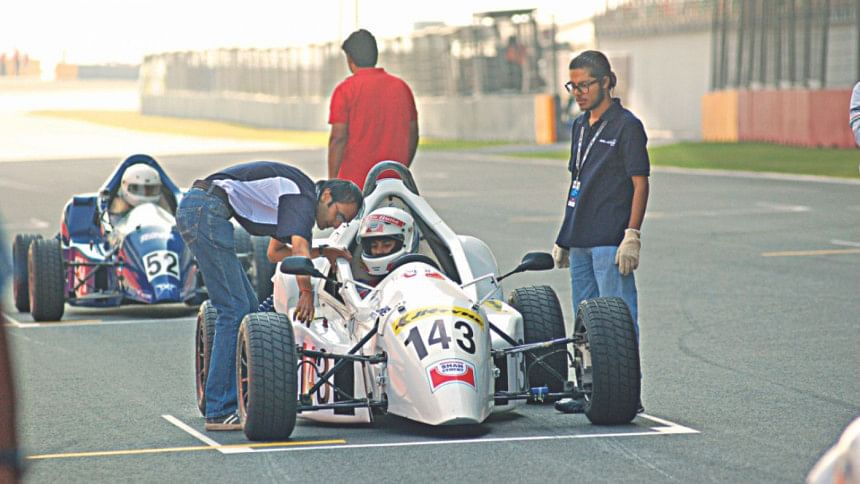 He recalls once before a race, he was introduced as the "Bangladeshi Narayan Karthikeyan". Karthikeyan is the most prominent South Asian racer on the Formula 1 tracks. Tushar considers it his biggest achievement yet.
Already backed with the experience of five Formula 4 participations, Tushar dreams of a flourishing racing culture in Bangladesh. 
"But it has to be responsible. You do not have the right to put others' well-being at stake while pursuing your passion." He does not support the reckless "street races" that often cause accidents. Already working on forming a club with willing and talented racers, Tushar wants to arrange a place with support from pertinent authorities that would allow high-octane thrill seekers to quench their thirst for speed. He has a few places in mind, and is looking for patrons to help his cause.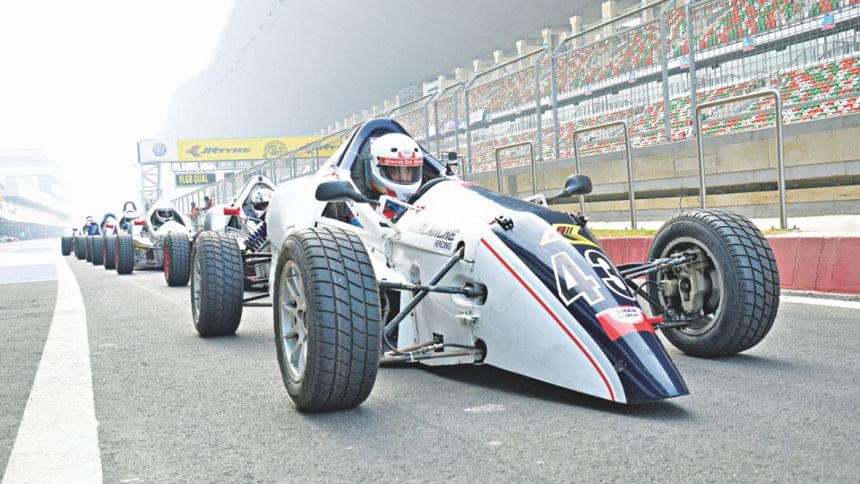 "Of course it is!" he exclaims when asked if it's possible to groom Formula racers in Bangladesh. He refers to the rise of Indian racers where he finds inspiration. In 1988, some people used to chalk out a small boundary on the streets where they would race with go-kart cars on a very small scale. Today, Vijay Mallya, the Indian business tycoon who provides patronage to a whole F1 team which participates in Formula races around the world, backs many talented young racers. Tushar believes there are many aspiring racers like him in Bangladesh who would be willing to take this as a profession once they are given proper support.
Formula racing is expensive. Tushar, who has already participated in various F4 racing competitions, is now waiting to up his game with the help of a sponsor. But at least in India, it is relatively much more affordable than in other countries. It is a good way to start, and Tushar is hopeful. He is confident that with proper support, he will one day make it to the top, and possibly reach the levels of his favourite racer – Michael Schumacher. With what he has achieved till now despite limitations, and with a passion-driven heart and rock-hard determination, one just can't write him off.