Judging yourself with the Dunning-Kruger effect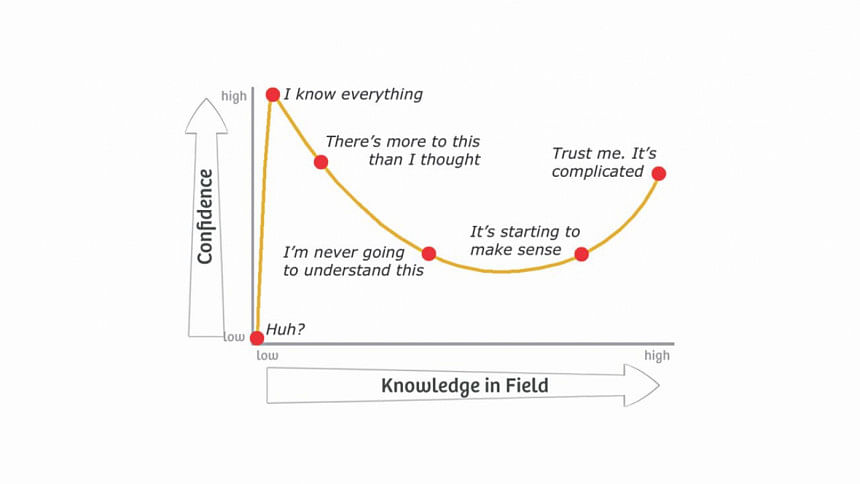 "One of the painful things about our time is that those who feel certainty are stupid, and those with any imagination and understanding are filled with doubt and indecision."
 – Bertrand Russell
Self-reflection isn't the easiest task to take on. Neither is the concept of self-critique, but it is one of the core components of what helps artists improve.  
However, people often have difficulty, even lapses in judgment when looking over one's own work. And the problem isn't limited to artists. The failure to judge your own personal development objectively can be a barrier in the way to self improvement.
It doesn't require rocket science to figure out why we're terrible at judging ourselves, and so fail to properly estimate our own skills and talent. Criticism is hard to digest when coming from a third party. Actively criticising yourself seems like improbable hyperbole.
However, if you're someone who would like to understand the science behind it, let me present to you the Dunning-Kruger (DK) effect. Similar to most cognitive biases, you're most likely to be unaware of the DK effect.
The basic idea of the DK effect is that you overestimate your own abilities at any number of variables – your humour, intelligence and writing skill – the end result being that your overconfidence will get the best of you.
David Dunning and Justin Kruger used 65 participants in their experiment. The participants were required to judge a series of jokes. What Dunning and Kruger observed was that some of these participants were extremely bad at judging the jokes.
This group of participants was also the one that claimed to have excellent judgment of humour. Dunning and Kruger attributed these people at being incompetent at assessing what other people would find funny.
As a result, the study showed that these incompetent group and poor performers in general, tend to overestimate their own abilities. To further add to the problem was the fact that, this group also failed to recognise the skill of other people.
The combined effect resulted in the incompetent group of people not only over estimating themselves, but also underestimating more skilled individuals.
Now, whether you're an artist, writer, musician or just a student trying to improve your grades, being self-aware enough to realise the DK effect can help you accelerate your progress in your field.
An easy way to counter the DK effect is to first drop any inflated value of self worth. Bring yourself down to ground zero, where you see yourself as someone with no skill. Then, ideally, get feedback from your peers as well as experts in the field.
Even after these steps, you might still find yourself unwilling to take the criticism that others have given you. Don't. If there's anything the DK effect should leave you with, is breaking down your perception of your own skill and taking a more humble approach results in better long term effects.
Experts in their field attest to the fact that, when they look back on their past work, they find themselves disappointed to the point of cringing. Self-reflection and the realisation of the DK effect are stepping stones on the way to success in any field of work.