Storytellers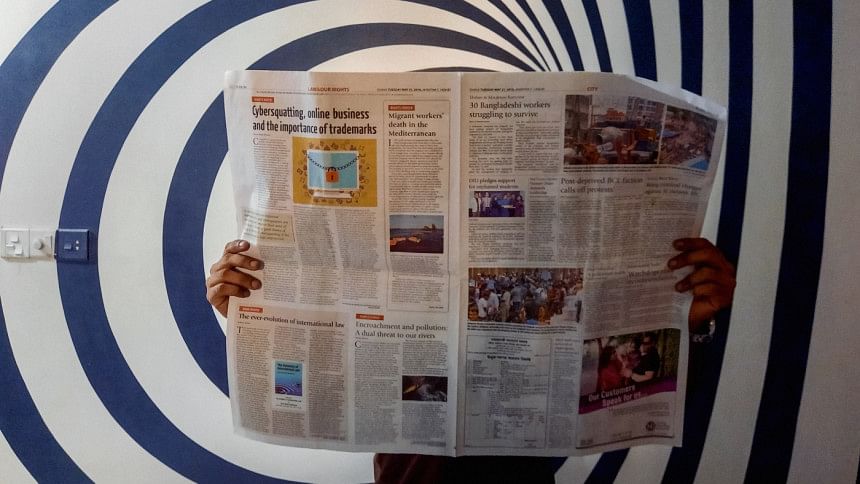 "Asif bhai, come take a look," shouted Rizwan, "It's been leaking for a few hours now."
"Must be the pipes again," said Asif on his way out, "You're new here, aren't you? It leaks like this once every month. It dries up pretty quick so I don't really bother checking."
Rizwan was all alone after Asif left. It was his second week as a security guard on the night shift. Something about leaking pipes in an old office building really creeped him out. He tried concentrating on the sermon he was listening to on his phone but the sound of droplets hitting the carpet pierced through the silence. He stared up towards the wall and saw a drop hitting the ground. As it hit the ground, the sound of the drop morphed into a giant screech as it reached Rizwan.
Rizwan got up and stood under the spot where it was leaking. He stretched his arm out and a drop fell on his palm. It was a dark and gooey fluid and the longer he stared into the droplet, the wider it spread across his palm, engulfing, and devouring his skin cells. The silence grew louder than ever. He didn't even realise the buzz in his ear until it stopped. He could hear a large thump upstairs. 
He walked up the stairs and reached the door to an old storage unit. When he opened the door, the 5x5 unit was suddenly a large hall. With large printers, steel rollers and printing plates, the place reeked of ink. Rizwan could hear someone stack a bunch of papers behind the printers. Walking his way through stacks of papers covered in spider webs and dust, Rizwan saw an old man. The man had a hump on his back and his fingers were pitch black, probably covered in ink. 
"I'm sorry, did I wake you up?" said the man as he kept writing something, "I'll be done in 20 minutes."
"No, I wasn't sleeping," said a startled Rizwan, "Excuse me, do you work here?"
"I used to," smiled the old man, "I used to own this entire place. Before it was an insurance company, a garment factory, and now a bank. Back when this place had a life of its own." 
"What was it before?" asked Rizwan. 
"It was where people crafted stories, my boy!" the old man looked at Rizwan with a grin. He walked slowly towards Rizwan with glittering eyes, "It's where they weaved dreams. Storytellers from all across the city would gather together on the last Saturday of every month and tell the most beautiful stories. We'd handpick 15 of them from hundreds and publish them. Readers would wait the entire month in anticipation to get their hands on the monthly issue of Storytellers. I'd go out after Fazr on our publication day and see school kids run out to the nearest hawker. I'll never forget their shimmering eyes as they flipped through the pages, staring at the illustrations and intoxicated by the smell of fresh ink."
"And then the money-men stepped in," sighed the old man, "Unfortunately, smiles on a few school kids weren't worth running the magazine. They proposed some radical changes which I didn't adhere to and they pulled out. The banks won't provide a loan to a dying magazine and it was hard to keep the writers around without wages. I put my house on mortgage and took another loan but it was already too late."
"And I guess that's when you closed shop," said Rizwan.
"Does it look like I've closed shop!" laughed the old man, "We chose 15 stories every month back then. But the rest of them? Those stories can't go untold! I've been here for the last 30 years after the financiers pulled out and have been publishing a single copy of Storytellers every month with stories I discarded back then. Someone somewhere had a story to tell and I can't let them go untold, my boy!"
The old man walked towards the ink drum and picked up a knife. "I might've stopped existing 28 years back but my soul can't rest until Storytellers tells every story it has to tell," said the old man as he ran the knife along his palm. Blood and sweat dripped into the drum as he stretched his hand out. 
"Ink's too expensive, you see. I haven't got much left in my body. I must publish all of them before I run out."
Rizwan took a copy of Storytellers from the tray. The old man drew all the illustrations himself. The letters were indistinct and reddish with smudges all across the page. Rizwan stroked the title with his fingers and licked the tip of his thumb. It wasn't ink that was leaking from the pipe downstairs. 
Remind Ifti to be quieter at [email protected]