THE DIVINE CASCADES
Nafakhum and Amiakhum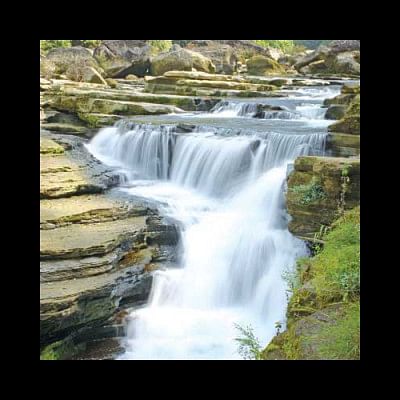 Hunting for a waterfall is definitely one of the most exciting adventures out there. There is an overwhelming pleasure in getting lost completely amidst the serenity of nature, traversing through some of captivating landscapes across hills, rivers and streams and finally rewarding oneself with the euphoria of discovering a heavenly cascade.
WATERFALLS: NAFAKHUM AND AMIAKHUM
Already quite familiar with the adventure-lovers of the country, these two waterfalls located in the south-eastern extremes of the hill tracts district of Bandarban are sure to delight a young soul seeking for nirvana. Nafakhum located in Thanchi Upazilla of Bandarban, is affectionately called "the Niagara of Bangladesh", and the latter, Amiakhum, is almost unanimously renowned as the "most beautiful waterfall" of the country.
HOW TO GO
The trek doesn't start right away after you reach Bandarban. Board on a Chander Gari to start your journey to the south-east. The ride from Bandarban to Thanchi takes 3 hours or so, and it goes through the highest highway of Bangladesh, called "Peak 69", with the highest elevation of 690 metres. The journey on the highway is itself a memorable one – with snakelike asphalt roads going uphill and downhill giving you an eerie feeling. 
At Thanchi, a journey by boat awaits you. Also you have to take a guide from here on. He will fix a boat for you that resembles the canoes from the Amazon. The exciting cruise takes you through the lovely little river of Sangu, where you see massive rocks and boulders scattered all across the length of the river. There is a place called Boropathor, where huge boulders narrow the width of the river. It's like the gateway to a paradise. Also, something like a set from "Jurassic Park"… without the dinosaurs.
Spend the night at Remakri. It's a small bazaar where you can stay in guest houses. You can do that at Tindu as well, but Remakri gives you a head start. Trek starts from here. 
After two hours of relatively easy trekking, you will be at Nafakhum. It's a 20-25 ft water-drop across the Remakri canal. Throughout the year, there is substantial flow of water in this beautiful cascade.
From there head on to Husaipara. It's a four-hour trek. The detailed route plan is outlined in the itinerary. These are little villages/paras where you can get accommodation and food easily. The local people are very simple and friendly.
Next day starts with the most demanding segment of the trek. After a one-hour trek to Notunpara, the trail goes downhill and then uphill. May be physically a little exhausting for beginners, but when the payoff is getting to see the most beautiful waterfall of your country, every discomfort becomes trivial.
After two hours of trek, you'll be staring at Amiakhum, awestruck. It's heavenly. It's refreshing. 
PROBABLE ITINERARY:
Day 0 (Night) – Dhaka – Bandarban (night-coach)
Day 1 – Bandarban – Thanchi – Tindu – Remakri
Day 2 – Remakri – Nafakhum – Jinapara – Husai para
Day 3 – Husaipara - Notunpara – Amiakhum – Notunpara
Day 4 – Notunpara – Thanchi (Via Poddo Jhiri) – Bandarban –
Day 4(Night) – Bandarban – Dhaka (Night-coach)
TRAVEL EXPENSES:
Dhaka – Bandarban bus-fare: 650 – 800 Taka
Bandarban – Thanchi Chander Gari fare – 3000 (negotiable) [One vehicle is sufficient for groups of 10 people or even more]. Bus is also available.
Guide expense: 500 Taka/day
Accommodation expense at local homes: 150 Taka/person/night