Sampreeti-E-Progati Boot Camp and Workshop
Prevention of violent extremism through societal harmony
As recent news trends and stories show, humanity is facing tough challenges every day. The hardships of the disadvantaged, the doubts in the minds of youth, the abuse of power by those in authority — all this and more are contributing to a world without harmony and peace. The dialogue among people is slowly muted, the messages remain undelivered. Violence ensues, lives are lost.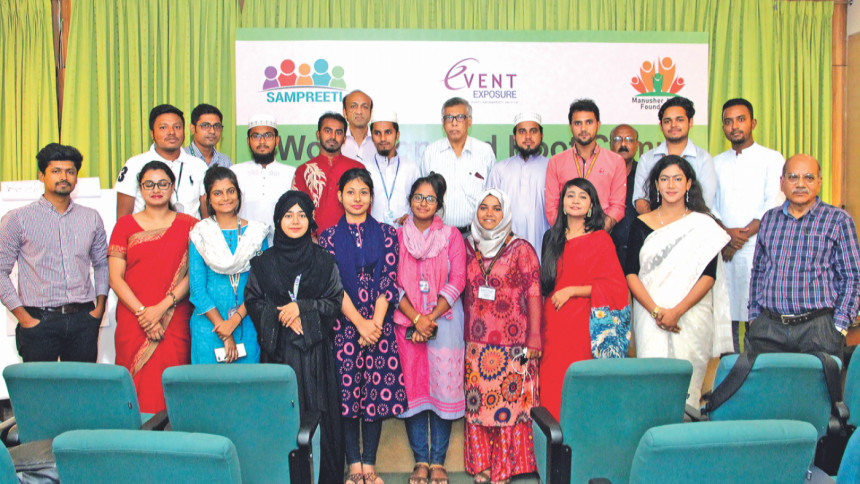 The campaign "Sampreeti-E-Progati", supported by Manusher Jonno Foundation and organised by Event Exposure, recently concluded after months of planning, campus activation rounds, an immersive workshop and boot camp and a grand finale.
Such a project had never been undertaken by any organisation. Under the broad topics of "harmony" and "violent extremism", the project acted as a platform for the youth to speak their minds. These young members of the society shared their stories, opinions and suggestions; the open mic speech competition aimed to create "Harmony Ambassadors" in academic institutions.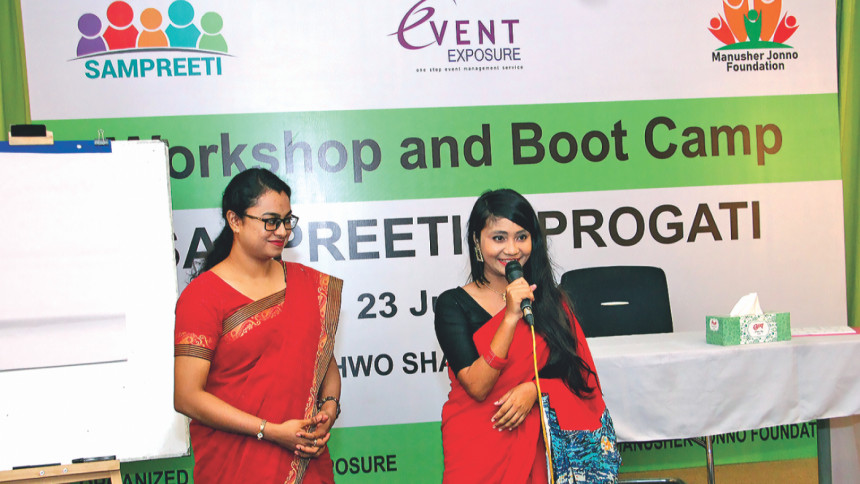 The campus activation rounds of the project began a few months ago. The organisers, Event Exposure, arranged in-house open mic speech competitions at eight private universities: Asian University of Bangladesh, City University, Eastern University, Northern University, Stamford University, Southeast University, University of Asia Pacific, and World University of Bangladesh. Added to this list was College of Home Economics, Madrasah-e-Alia Dhaka, Uttar Badda Islamia Kamil Madrasah, and Misbahul Ulum Kamil Madrasah.
Interested participants registered and spoke on the podium for a given amount of time, on a given topic. The jury panel consisted of representatives from the organisers and faculty members from respective institutions. At the end of the day, a total of two participants from each institute were selected to attend a boot camp and workshop ahead of the grand finale.
The boot camp and workshop was held at Bishwo Shahitto Kendro on July 23, 2019. The venue adorned banners and festoons carrying wise words and quotes from important historical figures, intended to plants the seeds of positivity and courage in the young minds.
The highly informative and interactive event of that day included sessions by renowned university professors and industry experts; knowledge was disseminated on topics that included international context and radicalisation in Bangladesh, cyber safety and security, possibilities of youth in social harmony, and many more. The speakers at the event mentioned that Bangladesh was going through turbulent times and how hope and harmony could work as a preventative tool against violence and extremism.
The day began with the student participants introducing themselves to the present audience as the guests took their respective seats. An introductory video created with the numerous stories of the campus activation round was then displayed.
The first session was conducted by Umme Wara, Assistant Professor, Department of Criminology, University of Dhaka. Her topic was "Violent extremism in Bangladesh and its international context". She introduced the students to some keywords and their definitions, explaining different concepts in the process. As part of this session, she presented the participants with many cases, creating a problem-solving environment overall. The students, too, came up with their own interpretations and solutions.
After a short break, the second session took place. This was conducted by Deputy Program Manager of SAMPREETI project Shahjadi Begum. She illustrated the basics of preventing violent extremism to the participants. Emphasising on how harmony among people living in societies could act as a tool to combat radicalisation and build good relationships, the speaker connected with the audience.
The next session, albeit after a hearty lunch, grabbed full attention of the participants. Nazrul Haider, Associate Professor and Head of Health Informatics at Bangladesh University of Health Sciences, prepared a wonderful presentation on the topic "Violent extremism and cyber safety and security". He explained how generations have been impacted by information and technology, and that the future is very much at risk, referring to recent trends in cybercrime attacks. However, he believed in the youth's power to change the future for the better.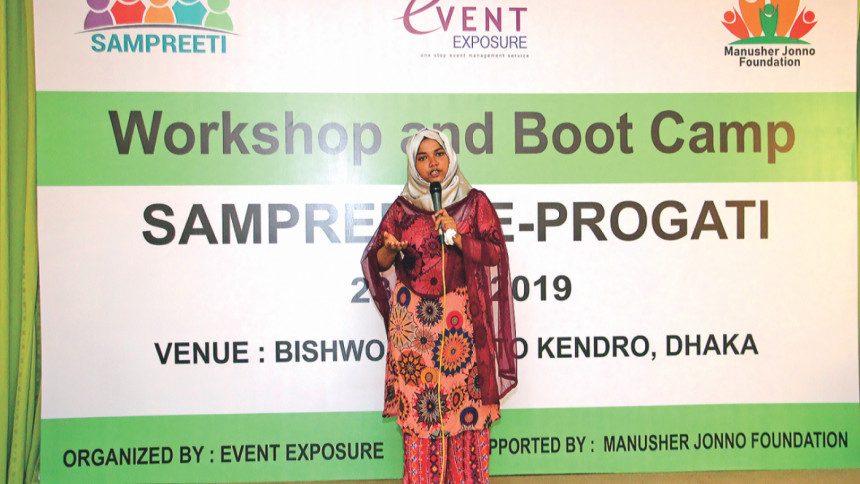 At last but not the least, the event was graced by the presence of Md Touhidul Islam, Associate Professor and Chairperson, Department of Peace and Conflict Studies, Faculty of Social Sciences, University of Dhaka. In his short but effective speech, he spoke on the topic "The possibilities of youth in social harmony". He commented on how mutual respect was the primary condition to promote peace and prosperity in a society. Touching on subjects regarding religion and radicalisation, he shared his own message to the young members to take it as a challenge to identify and correct the immoralities we see around ourselves.
The last segment of the day saw every participant take a few minutes to share their emotions and experiences at the workshop and boot camp. They thanked and praised the organisers in coming up with such an idea. It was announced there and then that all the 24 Ambassadors had qualified for the final round — making sure no one went home disappointed, with prizes still up for grabs on the final day. A photo session marked the end of the day's agenda.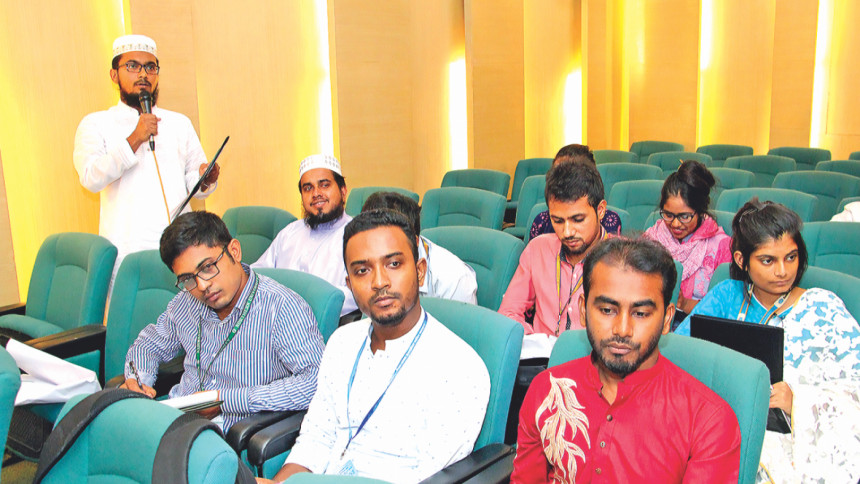 On July 27, the contestants delivered their speeches in front of judges at the grand finale on the topic "Role of family and religion in preventing violent extremism". The jury panel included veteran television, film and theatre actor Khairul Alam Sabuj, popular movie star Ferdous Ahmed, and chief advisor of Event Exposure Ashoke Ranjan Dutta.
Khairul Alam Sabuj said, "Such an event is very relevant on this day and age. We, as human beings, need to find the truth for ourselves. This programme has been a great initiative to give the youth a platform to speak their mind about a key topic."
"I have learned so much from my parents, teachers, and friends all my life. Our lives are defined by humanity, relationships, and the faith we have. I believe this event is an eye-opener. But we must not stop here, for these messages needs to be spread to the masses and only the youth can do that to its best capacity," said Ferdous Ahmed in his speech.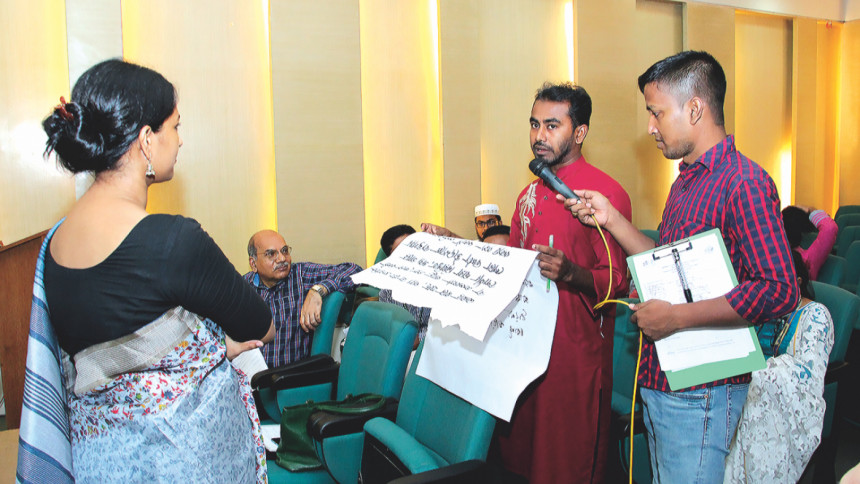 Also present at the event was Shahjadi Begum. She emphasised on the role Manusher Jonno Foundation played in this project, and commented, "Organisations rarely work on agendas that bring topics like harmony and violent extremism together, to find solutions to problems we face on a daily basis. We are proud to have undertaken this project that we plan on expanding in the coming years, as we reach out to more and more youth across the country. We want the youth to take it as a responsibility and carry the message forward."
Mahmuda Sarwar Srabony of Southeast University was declared champion of the open mic speech competition, winning a prize money worth BDT 50,000.
"As an ambassador, I will use my network and resources to tell others what I have learned by taking part in this project. To initiate a conversation would be the main goal. Furthermore, I would like to opine that such a programme should reach the most remote regions of the country. The government authorities should ensure that we connect to the grassroots in order to prevent any semblance of terrorism and violent activities," shared Srabony.
"We would like to thank Manusher Jonno Foundation for giving us the opportunity to help execute this campaign. We extend our gratitude to our guests and partners, as we look forward to do big in the future with this event. This project comes with a message that serves all of humanity, so everybody present here is a winner," expressed Mirza Wahiduzzaman, CEO, Event Exposure.
Kazi Akib Bin Asad is Sub-editor and Events Coordinator of SHOUT, The Daily Star.