AUW and Chevron launch Science Summer School 2019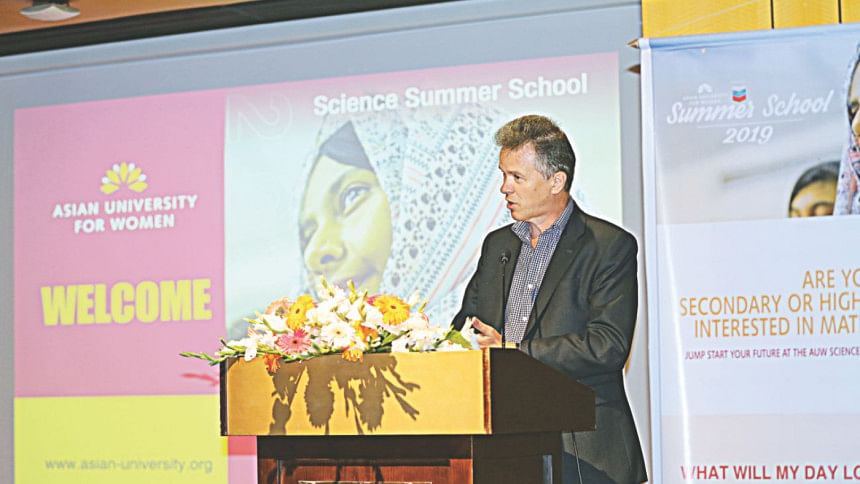 On March 25, 2019, Asian University for Women (AUW) announced the launch of their first Science Summer School programme, powered by Chevron, at Amari Dhaka in Gulshan. The programme hopes to help young women reach their professional goals in the fields of science, technology, engineering and mathematics.
The event welcomed representatives from 17 different English medium and English version schools of Dhaka including International School Dhaka, Maple Leaf International School, BAF Shaheen College among others.
Rubana Huq, member of AUW Board of Trustees and MD, Mohammadi Group was present as the chief guest during the event. In her speech she said about the Science Summer School, "This programme is going to empower aspiring female scientists and help them take their careers to the next level. AUW does not come with compulsion, but with a lot of love and with innovation and I hope this particular programme will be a success."
Special guests included Ismail Hussain Chowdhury, Director, PGPA, Chevron Bangladesh, and Dr. Dave Dowland, Registrar, AUW among others. The ceremony was hosted by Suman Chatterjee, Director of Marketing and Recruitment, AUW.
During the five-week-long summer school, students will be able to take mathematics and physics lessons, receive mentorship from industry experts, while gaining access to the various student facilities available at the AUW campus. The programme aims to prepare students and allow them to assess the possibilities of pursuing a career in STEM.
The programme will be open for a total of 80 female students who have completed either their SSC or O Levels. Graduates of this programme will receive a certificate of merit from AUW and Chevron. The top performing students will also receive invitations to enrol at AUW for its undergraduate programmes and may also be able to receive partial or full scholarship, depending on their financial needs. The highest ranking student of the programme will be receiving the AUW-Chevron Emerging Women Leader in STEM award.
The curriculum will include classical mechanics, electricity and magnetism, bioinformatics, mathematics and SAT exam preparation. All classes will be taught by visiting teachers from Stanford University and Massachusetts Institute of Technology (MIT). The application can be done through mail or online by April 30, 2019.
AUW is a regional institution, dedicated to women's education and leadership development across Asia. The university currently consists of students from 17 different countries with 72 percent of the students studying with a full or near-full scholarship, funded by private donors from around the world. The permanent campus of the university is located in Chattogram.
Chevron is one of the world's largest integrated energy companies and is involved in virtually every facet of the energy industry. It is the largest producer of natural gas in Bangladesh, building long-term partnerships that lead to development of various communities across the country. The Science Summer School programme is funded by Chevron Bangladesh as part of their corporate social responsibility.