A DAY FOR FUTURE HEALTHCARE PROVIDERS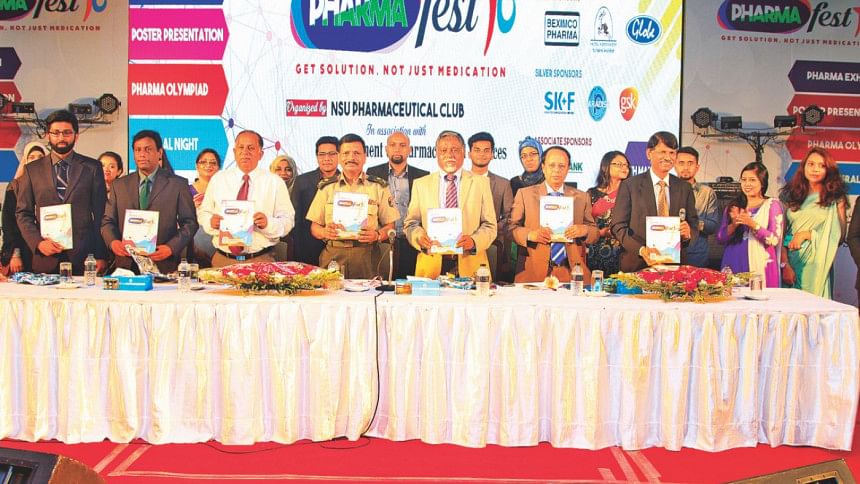 On March 28, 2016, the Plaza Area of North South University (NSU) became the spectacular venue for NSU Pharmaceutical Club's most important annual event "PHARMA FEST 2016". The title sponsor of the event was General Pharmaceuticals Ltd. 
The event was aimed at allowing the students of the Department of Pharmaceutical Sciences of NSU, and other renowned universities, to meet and network with leading pharmaceutical companies of the country, and also to exchange innovative ideas with the companies and medical healthcare providers.
The Pharma Fest is by far the most important event of NSU Pharmaceutical Club and is organised in association with the Department of Pharmaceutical Sciences. Since its debut in 2010, this event has brought together all aspects of medical healthcare and healthy lifestyle closer to the public and students of the university. The theme of this year's Pharma Fest was "Get Solution, Not Just Medication"- to signify the duties of all medical healthcare practitioners.
Professor Dr. Hasan Mahmud Reza, the Chairman of the Pharmaceutical Sciences Department, NSU said, "A healthy lifestyle is not solely dependent on the care of medical healthcare practitioners, but also greatly relies on the combined effort of every other industry. Every initiative that is ever taken is to improve the quality of our lives, that's why I am so proud that General Pharmaceuticals Ltd was able to help us express this to the public."
The event was a day-long programme, and it began with an opening ceremony with an inspirational inaugural speech from the chief guest Major General Md. Mustafizur Rahman, DG, DGDA. Special guest Professor Dr. Atiqul Islam, Vice Chancellor, North South University presented a directional speech to the audiences. The session was chaired by Professor Dr. G U Ahsan, Dean, School of Health and Life Sciences. The event also showed an exhibition by many pharmaceutical and lifestyle companies along with the students' projects, followed by a pharma Olympiad and poster exhibition.
At the closing ceremony, the Chairman of the Board of Trustees, NSU, M A Kashem and Professor Dr. Gour Gobinda Goswami also spoke about the success of the Pharma Fest 2016.
The event concluded with a vibrant cultural evening, which consisted of music, drama, and a fashion show entitled "The Pharma Walk" along with a performance by musical guests Shironamhin.