University students cripple Dhaka with anti-VAT demo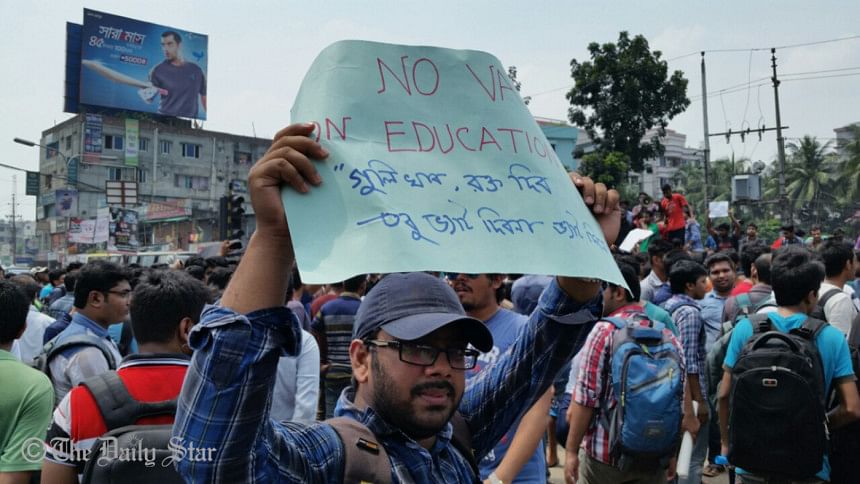 -- Students of East West, North South, Brac, Independent, Stamford, Daffodil demo for hours
-- They demand withdrawal of the 7.5 percent VAT imposed on tuition fees
-- Demonstrators block roads in Rampura, Mohakhali, Bashundhara, Dhanmondi
-- Protests spread through Chittagong, Sylhet
--Demonstartion ends for today, to be continued tomorrow from 10:00am
Private university students took to the streets across Dhaka today demanding withdrawal of the 7.5 percent VAT imposed on tuition fees.
They blockaded streets in Rampura, Mohakhali, Barihdara, Dhanmondi and other areas in the city.
Several thousand commuters are stranded on the roads stricken by the demonstrations carried out by the students across several key points in the capital.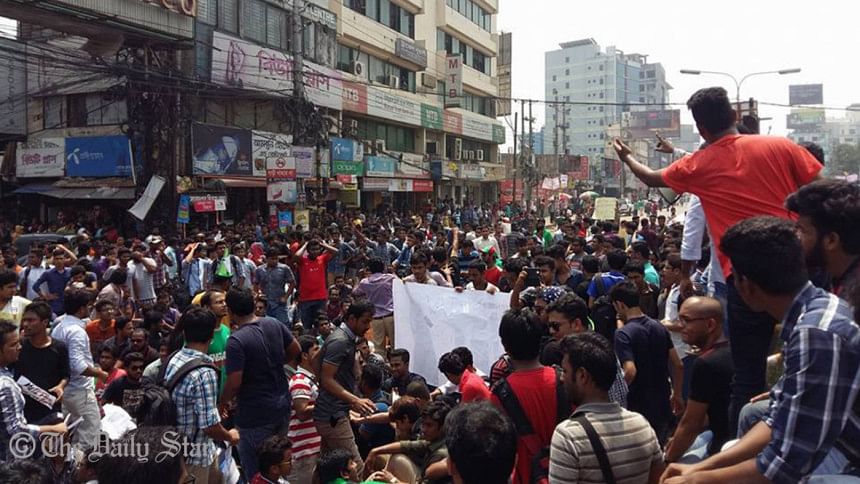 The mass protest came a day after police opened fire on an anti-VAT demonstration of East West University in Rampura – where at least 35 people were injured, many of whom were shot.
The protest has spread throughout the country. Private university students across Chittagong and Sylhet too took to the streets and demonstrated for hours.
#NoVatOnEducation We are covering the protest #LIVE from different places of the capital. Inbox us your photos, videos and opinions to share them with the world. You can also email us your contents to [email protected]: Kazi Tahsin Agaz Apurbo

Posted by The Star Weekend on Thursday, September 10, 2015
They were all continuing demonstration since last reported.
ALSO READ: 35 hurt as students, cops clash in Dhaka over VAT on tuition
Students of East West continued their demonstration from around 11:10am. Chanting anti-VAT slogans, they took position near Rampura bridge and choked out the traffic on busy road.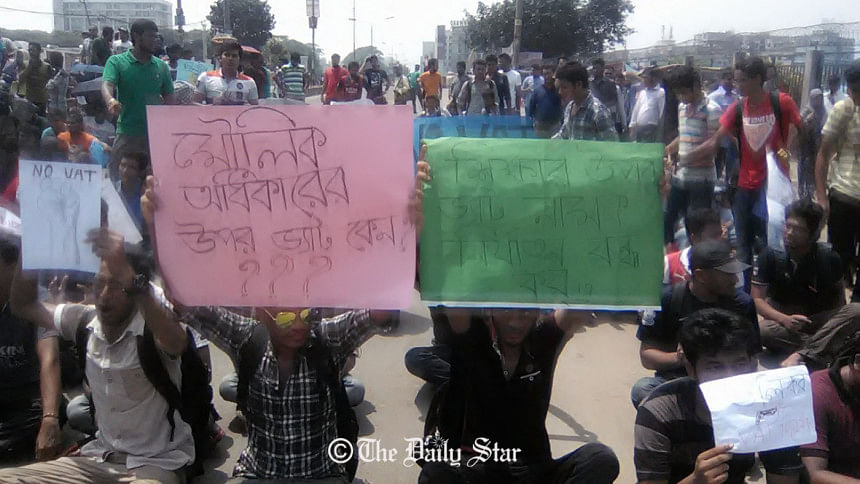 Students of Brac University, American International University of Bangladesh and South East University marched on the streets of Mohakhali and Gulshan on same demands.
Hundreds from North South and Independent universities sat-in on Progoti Sarani, bearing placards and chanting slogans, at Bashundhara around 11:15am.
Students of Stamford University blockaded Dhanmondi's Satmasjid road from 10:30am, Dhanmondi Police Station Officer-in-Charge Nur-E-Azam said.
Daffodil university students blockaded Mirpur Road in Sukrabad area.
In Chittagong city, hundreds of students blockaded GEC intersection protesting against the VAT around noon, our local correspondent reports.
The gathering caused a big tailback around the area in port city since last reported.
In Sylhet, students obstructed Court Point, Chourasta, Surma Point and Taltola areas around 10:30am causing traffic congestion, our local correspondent reports.
The government slapped 7.5 percent VAT for private universities in the latest budget. The decision drew widespread criticism among the students and guardians.
Students of several private universities have demonstrated against the move. The High Court has been moved against the government's "discriminatory" action.
The private university students have ended their demonstartions around 6:00pm, but will continue on tomorrow from 10:00am.