35 hurt as students, cops clash over VAT
Pvt university deputy registrar injured as cops fire rubber bullets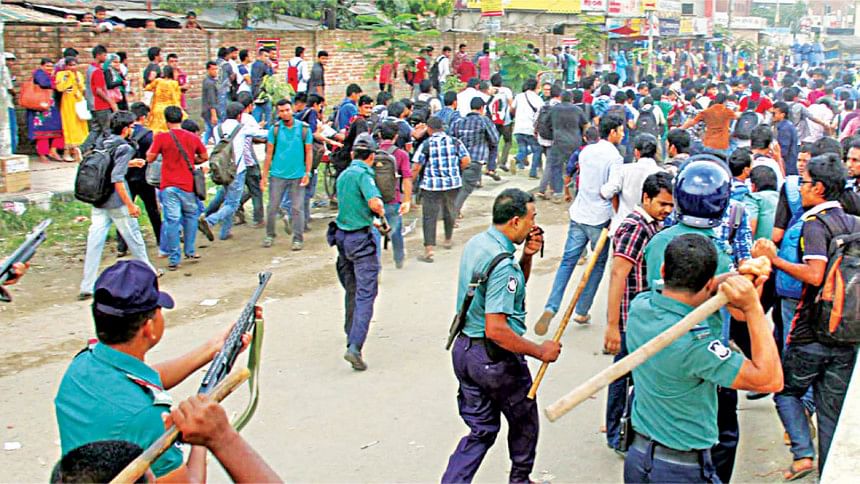 At least 35 people were injured in a clash between students of East West University and police in the capital's Badda area yesterday. The students were demonstrating against the VAT imposed on tuition fees of private universities.
Most of the injured were students of the university, said staff of a nearby hospital where the injured took treatment.
Some of those hurt, including the university's Deputy Registrar Mashfiqur Rahman, were shot with rubber bullets, said the institution's Vice-Chancellor Ahmed Shafee.
He alleged that police fired rubber bullets without any provocation.
"The students were coming back after I had talked to them. It was then that police opened fire. It's a very unfortunate incident," he told The Daily Star over the phone.
Several hundred students took to the streets at Aftabnagar near Rampura Bridge around 1:30pm, demanding withdrawal of a 7.5 percent VAT on tuition fees.
They blocked Badda-Rampura road for about half an hour, causing huge tailbacks on adjacent roads. At one point, they blocked the Rampura Bridge, said witnesses.
Abhishek Rahman, a student of the university who was hurt, said they were chanting slogans around 2:00pm when the police charged truncheons and opened fire.
The injured were rushed to nearby Farazi Hospital, he added.
Deputy Registrar Mashfiqur was later shifted to United Hospital for better treatment, students said.
Palash, in-charge of X-ray department at Farazi Hospital, said they examined 22 injured and found that some of them suffered rubber bullet wounds in different parts of their bodies.
Mostaq Ahmed, assistant commissioner (Gulshan zone) of Dhaka Metropolitan Police, said police charged truncheons as the students were obstructing the road and became rowdy.
He claimed that police fired blank shots to bring the situation under control.
Badda Police Station's Officer-in-Charge MA Jalil was injured when students hurled brick chunks at them, he added.
Several hundred students returned to the spot in the evening again and continued demonstration till 9:15pm. They announced a fresh programme for 9:00am today at the same place.
Meanwhile, a number of students from North South University, American International University-Bangladesh (AIUB), University of Information Technology and Sciences (UITS), United International University (UIU), Brac University and Stamford University expressed solidarity with the agitation.
In the budget for fiscal 2015-16, the government has imposed the 7.5 percent VAT on tuition fees of private universities. The decision has provoked outrage from students and guardians, and students of several private universities have been demonstrating against it.