Netflix's Inside Job confirms all your conspiracy theories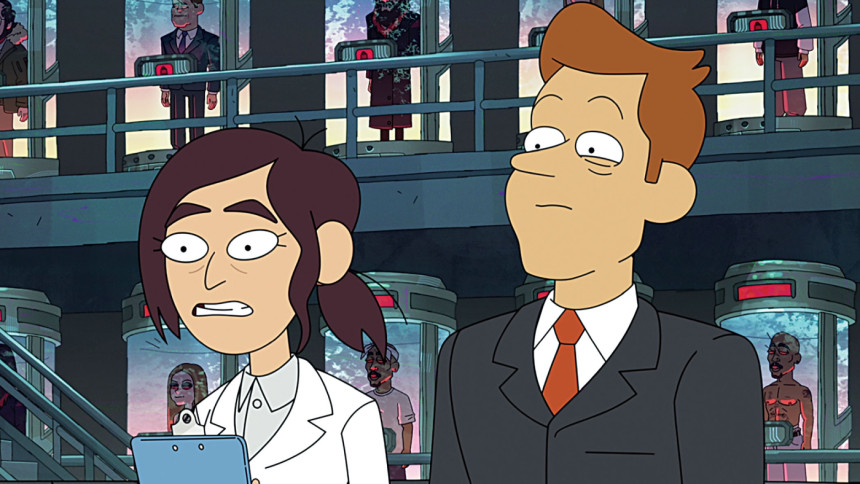 A product of creator Shion Takeuchi and executive producer Alex Hirsch (creator of Gravity Falls), Inside Job is Netflix's newest animated TV show with a promising plot and a large chunk of potential storylines. A show riddled with adult sci-fi humour, over the top propaganda, and wacky characters.
We follow Reagan Ridley, voiced by Lizzy Caplan, who is a genius scientist working in Cognito Inc., a company that organises the world's deepest darkest secrets on behalf of the shadow government which is basically the Deep State. Reagan, daughter of the former CEO of Cognito Inc. Rand Ridley, voiced by Christian Slater, is desperately trying to become the new CEO. Throughout the show, we follow her dream as she makes innovative new inventions while being introduced to outlandish and over-the-top characters.
Inside Job follows the general trend of Netflix animations as it starts off with putting the main characters into the harshest situations possible. As the show progresses, it evolves into a more heartwarming and down-to-Earth relatable show which reflects the more human side of the characters, notably of the main protagonist.
In my opinion, the finale was the best episode as it explored why some characters are the way they are.
In case of humour, it is much more than a roast on conspiracy theories and mothmen complaining that the coffee machine is broken. It also mocks many iconic movies like E.T. in quite notably in the funniest episode in the whole season. It is also quite evident that the show takes inspiration from Rick and Morty with its similar animation style. The plot also reminded me of Futurama and shows even better potential with many storylines still left to explore.
However, Inside Job lacks on quite a few aspects. The show seems to lose track from the core on many occasions, diverting from one thing to another. Even though the last episode focuses totally on the core, the show could have done a better job at establishing that throughout the season.
Another aspect, which is a weak spot of the show, is Rand Ridley, the father. Rand could have been more than just a cliché drunk and irresponsible father who just does predictable things. He had the potential to be a character with proper growth, depth and sentiment but instead he was just made flat and full of common tropes.
Overall, Inside Job is a fun show with a good balance of humour and emotions. Some moments are predictable, but the end will leave you wanting more. Currently the first season consists of 10 episodes which are 30 minutes long each. If you are looking for something new to watch, give this a go.
Abhoy Hriddo is trying to figure out if his next-door neighbour is one of the lizard people while juggling his first-year university assignments. Reach him at abhoyhriddo@gmail.com