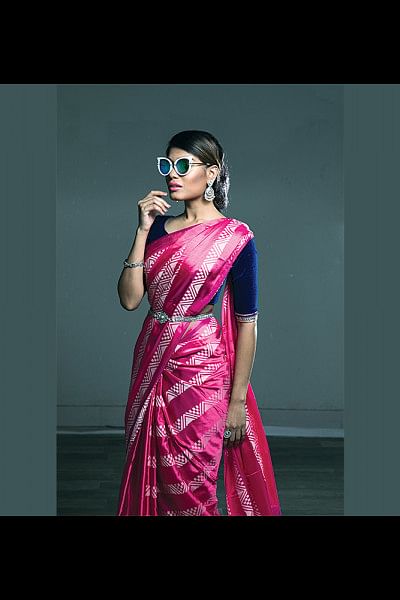 Here's a common scenario — you are picking jewellery for a semi-formal outing, or for work and suddenly you are stuck. Your earrings are either too long or too large. Your go-to usual ear-top sits there like 'meh' and you are left wondering why you always have to buy the ones that catch your eye, instead of going for functionality.
Browsing the Pinterest boards and 5-minute videos only leave you to dread the DIY way of style, but is it really so challenging?
First of all, supply wise, you are pretty much covered. Think beads and earring findings (these refer to the metal hooks, or the bases as well as the little hoop links) first. Online pages and craft shops sell a wide variety of jewellery crafting supplies. You can either order through them or request for a specific product – like bronze tinted earring hooks, or wooden bases to work on.
While it can be challenging to navigate the huge number of crafts supply pages of social media, here are a few to get yourself started. Do remember that these pages do not always have all items at stock, also you will have to enquire and abide by their rules.
CRAFT MATERIAL BUY/SELL
An open group that has variety of crafting materials listed from other groups and pages. The page also helps members by answering questions on offered items.
www.facebook.com/groups/152063645397516
SIMPLE CRAFT MATERIALS
A page dedicated to unique beads and related products.
https://www.facebook.com/Simple-Craft-Materials-1636244460006653
HANDY CRAFT GARDEN CRAFT MATERIAL SELL
Has an interesting selection of jewellery connectors and separators as well as small charms.
https://www.facebook.com/shabahandycraft
Besides these, New Market and Chandni Chawk are there to cater your needs as well. But rather than sticking to these, try to develop an eye for re-purposing. For example, right before Baishakh or any other festivity, the street side vendors sell a good collection of bead necklaces.
Usually, their finishing is not too good, but the beads that are used have one advantage-- they all have been stringed and are ready for future jewellery projects. Plus, you get a good selection of colours without having to buy a whole jar of beads. This also applies for earrings that are not well-designed but have a good hook or additional decorative items.
Next is the tricky 'hardware' part.
Out of all types of jewellery making, earrings require the most skill and time. It is essential in this case to get good tools like pliers in round nose, flat shapes plus good wire cutters. The trick here is to head to the hardware store and start building up one tool at a time.
Daraz.com has a number of choices on these types of tools as well. Also, glue being a key element, it's necessary to test out which works best with what type of material. You cannot expect a medium hold glue to work well with stones, or a heavy set-up. Get used to the tools and their many uses for maximum designing capacity.
Finally, for thread and needle, the usually available products can make do for beginners and even up to intermediate DIY-ers.
If you are looking for durable threads, opt for embroidery threads instead of the regular spooled ones. For needles, the small, thin needles from the good old circular needle set from your grandmother's sewing box can work wonders.
If you want to upgrade, look out for needles that do not have a 'bump' in the eye or the place the thread goes through. For a durable finish, always condition the thread by taking a good length of it and running it through clear, hard wax.
As for your end product, practice and your own creativity are ultimately the deciding factors. For earrings, there is a wide berth of choices — from simple traditional beads to paper, tassels, ribbons and even leaves and small plastic toys can be incorporated into one-of-a-kind creations! No special occasion is too big for a self-designed earring.