Youth on Wheels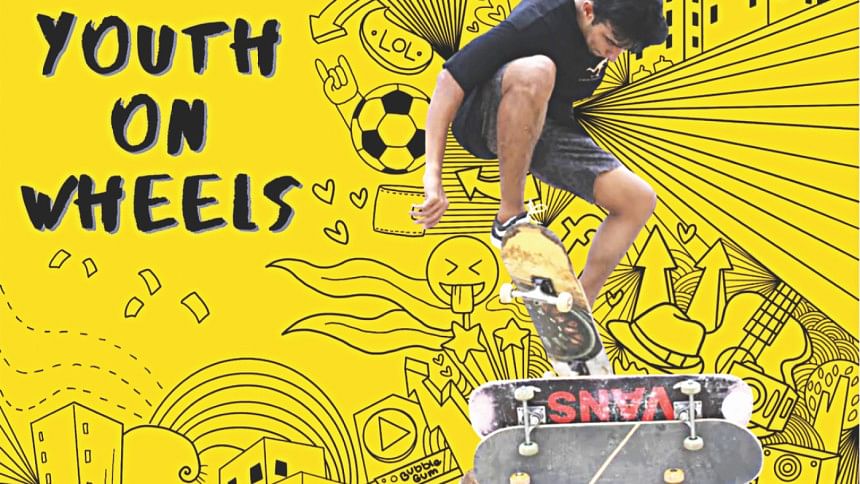 "It's not just a sport, it is food for the soul," enthuses Tanveer Alim as he describes what skateboarding means to him. Sport, art and community all combined into one adrenaline-fuelled activity, skateboarding could emerge as a major form of self-expression for Bangladeshi adolescents.
Self-expression is a curious fascination for the youthful, sometimes bordering on obsession. From their hair to their shoes, adolescents around the world are in a constant battle between their desire to stand out and their need to fit in. This need for self-expression is what moulds the generation as a whole. They invariably represent a faction that is vastly different from the rest of society.
With them, the youth bring into society their various interests, forming subcultures within the existing culture. We have seen this happen all over the world—the youth developing their own code of conduct, their own norms and sometimes even their own vocabulary. A popular urban subculture that is primarily youth driven is street culture.
Street culture is not limited to a specific location or a section of people. It frequently bleeds into art, pop culture, fashion, literature, music and even food. Although the term "street culture" originated in the US the concept has been around for far longer, and Bangladesh has its very own version. From delectable street food and bustling roadside night markets to street cricket and bicycle stunts, our street culture is a rich cornucopia of activity and hospitability. A budding addition to this scene is emerging in the form of skateboarding.
THE BEGINNINGS
Tanveer Alim, 21, who has been skateboarding for over a decade now, is one of the earliest skateboarders in Bangladesh. From his very first time cruising on the board, he realised that he was hooked.
"It was like love at first sight," he jokes. He was influenced heavily by the video game "Tony Hawk's American Wasteland", as well as the YouTube channels ThrasherMagazine and Transworld Skateboarding.
After skateboarding on his own for a while, he looked up skateboarding communities online, and discovered Susie Halsell, a Californian philanthropist who taught underprivileged children how to skate. She led him to Rezwan Chowdhury, who would go on to become Alim's best friend and long term skating partner, and Al Rahim Hossain.
The three of them began to skate together, uploading their activities on YouTube. Then in 2015, seemingly out of the blue, they were contacted by two Czech documenters who were part of the One Blood Project, and wanted to know if they would be interested in producing a film regarding skateboarding in Bangladesh. The boys enthusiastically agreed, and the film was shot over the course of a week.
After the documentary was released, Alim decided to try his luck and sent it to RIDE Channel on YouTube. The channel was operated by his long time idol, Tony Hawk, who is widely considered a legend in the field of skateboarding. "They featured our video on their channel! It was a dream come true," says Alim.
Eventually, as they formed a Facebook page, Number 32 Skateboarding, and exhibited their skills, a community began to form.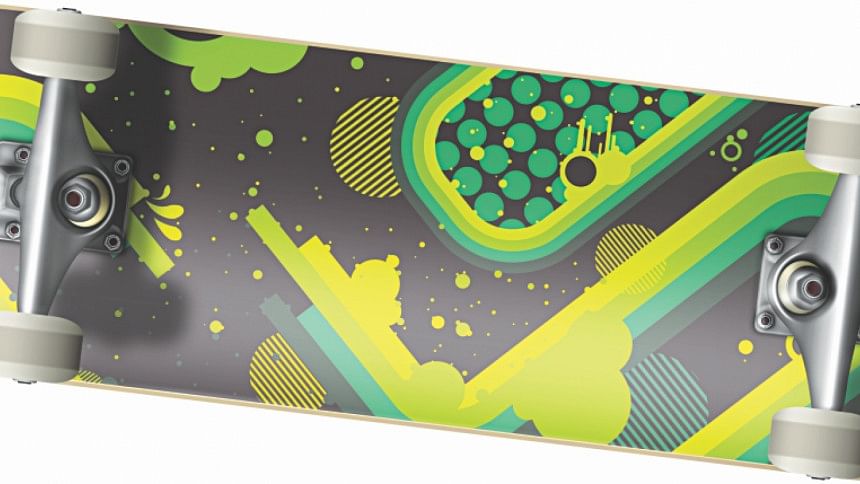 DOB SKATESHOP: THE BREAKTHROUGH
The skateboarding community did not truly become what it is now till an actual brick-and-mortar store opened locally. Before that, "there were a lot of interested people, but they left because of lack of equipment," says Chowdhury. Alim recalls days when they would just sit around because they were waiting for their replacement boards to arrive.
Finally in 2017, Alimul Islam with his brother Shahriar Arif, founded Bangladesh's first and only exclusive skateboard store, DOB SkateShop. The store, located in Khilkhet, hosts all kinds of boards. They have their own website www.dhakaonlinebazar.com for ordering skateboards and getting them delivered. This store was the necessary breakthrough needed for the community to thrive. With the arrival of the skate shop the number of skaters began to grow.
"Skateboarding is on the rise in Dhaka," says Alimul Islam, "We started our journey in 2017 and sold only eight skateboards that year. In 2018, we sold forty. We are improving gradually. 2019 is the best year for us so far, because we have already sold more skateboards than the last two years combined."
PERCEPTION OF SKATEBOARDING
Even with this rag-tag team of skateboarders roaming the streets of Dhaka, it took a long time for skateboarding to become even remotely known in the city. The educated urban population, especially those vaguely familiar with foreign culture have an idea of what the action sport is, but a majority of the population remain oblivious to the concept.
However adults who know the sport and understand its value can be encouraging.
"Some of my uncles think I shouldn't be skating," says Abdullah Al Kafi, who has been skating seriously for the last four years, "But my parents are super supportive."
Rezwan Chowdhury, back on a skateboard now from a recent injury, talks about his parents' attitude towards his passion for skateboarding. "My parents know all I do is skate. They've accepted it," says Chowdhury.
With skateboarding announced as an official sport for the Summer Olympics in Tokyo 2020, perceptions regarding the sport may become more favourable. "We hope that someday we may represent our country by this sport in international games like the X Games, SLS, and the Olympics," says Islam.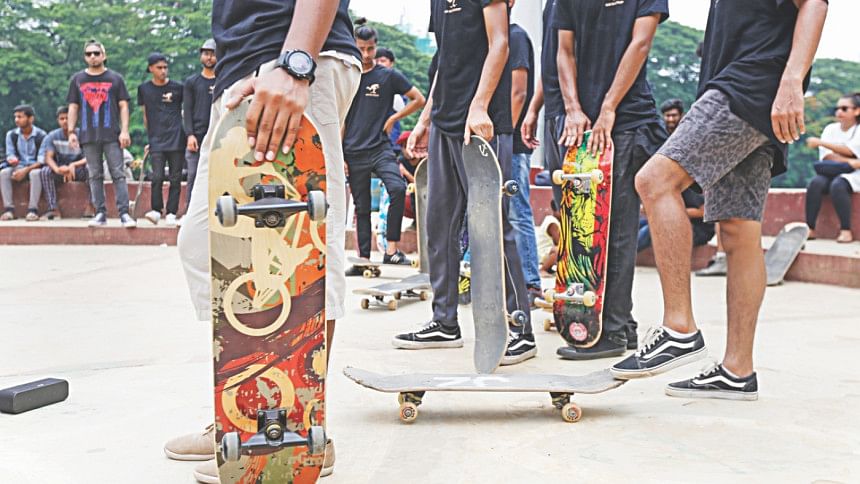 SKATEBOARDING CULTURE WITHIN THE COMMUNITY
Skateboarders have generally been associated with non-conformity and rebellion. Kafi acknowledges that skateboarders abroad are linked with certain undesirable activities. He goes on to state, "Since it's a new concept here, we're trying to take on only the positivity surrounding the sport."
The current community of skateboarders may be rebellious and influenced by punk culture, yet they have some strict boundaries.
"No graffiti," ensures Ichiro Azeez, another long term skateboarder. He goes on to express that the skateboarders are not involved in any form of vandalism, and do not want to harm the society in any way. "However, we can be just a bit reckless," he admits.
This rebellious nature makes an appearance during their shenanigans when they are unfoundedly prohibited from skateboarding in a certain area.
"If someone tells us not to skate somewhere, we'll go back in an hour and skate there again," confides Alim.
There are two "crews", according to Kafi, Number 32 Skateboarding in Dhanmondi, and a newer crew, Skaters Union (SKAU) in Bashundhara Residential Area. There exists some healthy competition between the crews, but there is also a strong bond between them and they make sure to skate together once a month.
It is a highly welcoming community, and anyone with a skateboard is taken in with open arms. Number 32 also teaches interested newcomers in the form of providing guidelines and tips. "If you've got a board, come aboard," says Alim.
LOCAL AVENUES FOR SKATEBOARDING
Dhaka streets are not famous for being friendly to pedestrians, let alone skateboarders. Therefore some locations have become the preferred areas to skate, such as Dhanmondi Lake, Zia Uddyan, Sohrawardi Uddyan, and so on.
At the moment, there are no skate parks in the city. However, hope is aplenty among these youths, and they have found support from some external sources as well. Aysha Monica, Project Director for Bangladesh Street Kids Aid (BSKA), a Californian non-profit, explains their initiative. Founded in 2017 by the same Susie Halsell who held a crucial role in the beginning of the skateboarding community, BSKA works with vulnerable underprivileged kids. They use skateboarding as an incentive to educate these children, and bring them away from any undesirable habits they may have fallen into.
When asked why they chose skateboarding over other sports, Monica elaborates, "Skateboarding requires intense focus and balance. It develops a child morally and makes them more confident. We are hoping they can bring that balance into their regular lives as well."
Furthermore, Monica reveals they have acquired some land for the first skate park in the country, and are now in the process of acquiring authorisation.
June 21 was Go Skateboarding Day and this year it was celebrated for the first time in Bangladesh with an event organised by the Facebook group Bangladesh Skateboarders Community. A large number of skaters participated in the event, which included a group skating session, and a Best Trick Showcase.
Alim and Chowdhury also reveal that on July 19, 2019 the community has planned to organise a skate art event at Jatra Biroti. There will be artists painting on skateboards, an open air concert is to be arranged, and they are also planning to perform some skateboard tricks for the crowd.
SECURITY CONCERNS
Skateboarding has always been considered a relatively risky sport. However, Monica argues that all sports involve a certain amount of risk.
Alim ensures that if learnt in a proper way, taking small steps and making sure not to take risks that one is not ready for, skateboarding can be learnt relatively risk-free. He adds that the concern for the safety of new learners is vital and that once they have a skate park, they will attempt to provide safety gear there as well.
Society has forever struggled to contain the youth. That hormone-fuelled age is not known for being easily controlled. To rebel is the norm. However, viewing all forms of rebellion with disapproval is where society stumbles. For the youth, rebellion is just another form of self-expression. The two become interchangeable, and sometimes combine with their concept of life itself. That is what we see happening with skateboarding. Although still in the amateur stages, it could very well become a major form of self-expression for the youth of the nation in the years to come, bringing with it all the colourful nuances associated with street culture and identity.
Rabita Saleh is a perfectionist/workaholic. Email feedback to this generally boring person at [email protected]