The Mediocre Millennial Creative Agency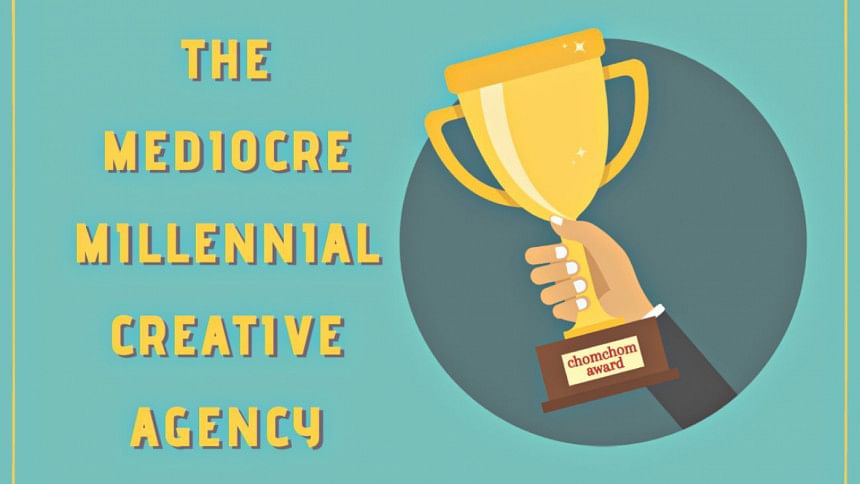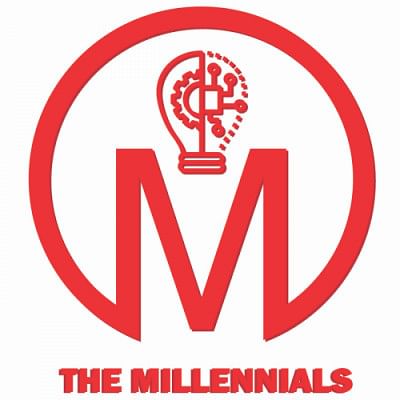 After winning the second runner-up slot in CreatHive 3.0, Arif, Shabab and Shiuli's team "Game of Thrones Pun" from Institute of Creative Administration (ICA) decided they can go even further. Seeing his teammates in a new light, Arif tells them "Hey! This agency stuff is pretty easy. I'll get the clients, Shabab can do the designs and… uhmm, Shiuli… can come with me to the meetings!"
And thus, for the 5677th time, another creative agency was formed by a group of final-year BBA students.
Final year is a difficult time. You don't know what you want to do with your life. The nine-to-five job life seems lucrative, but why be corporate slaves when you can run your own agency, they thought.
"We'll be providing end-to-end digital solutions. We don't even need an office, man. We've all got laptops. We'll just go to West End, order a chai tea latte with extra whipped cream and caramel drizzle, and get everything done! I really don't know why you need an office in this day and age of decentralised digital teams," said Arif.
Thrice every week, the three friends went to West End, laptops and lattes in hand, their brains full of ideas. Shabab designed a logo and the business cards. The agency's Instagram page gathered about 500 followers, but one could argue that people followed that account solely because they uploaded pictures of Shiuli posing with coffee.
Soon enough, everyone at ICA was talking about the new agency. Juniors showed up to ask for jobs. Seniors showed up to offer advice. Arif realised that it was finally time to get some work.
"How are we going to get clients? Don't you think West End should hire us for all the free publicity we're doing for them?" asked Shiuli while taking the 100th #potd at the cafe.
"A friend of mine from school makes handmade jewellery, but she doesn't know marketing. We could help her out, take some pictures, do social media management…"
"What? Do you think we're some dumb agency that works for small businesses?" Arif cut Shabab off. "Either we go big or go home. It's time to use the ICA alumni network. It's the best business school in the neighbourhood, every graduate works at French-Canadian Detergent Bangladesh (FCDB)."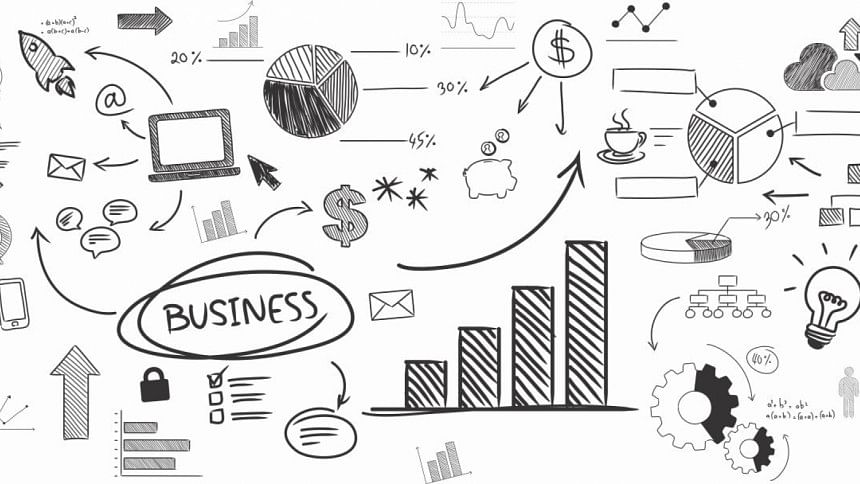 Arif was right. ICA alumni were in top positions across all big companies. Unfortunately, since it was the middle of the year, no company worth their salt was looking for agencies. That did little to stop them from searching for clients, though. After messaging every member of the Facebook alumni group, only one person responded and the rest removed Arif from their friend lists. It was Tanvir bhai from the BBA 19th batch. He started his career in FCDB but as per tradition, he changed jobs once every two years until he ended up in Sunny Flexyourdata Limited, one of the leading telecom operators.
"Hey, Arif. I saw the message. You opened a digital agency, is it?"
And there it was. The elusive multinational corporation gig. Arif could practically see the four figures in his bank account turn into seven figures. Without further ado, Arif showed up at Tanvir bhai's office in Gulshan. He was sitting across him now.
"We don't really have much of a budget allocated anymore since it's the middle of the year so make sure the quotation is in line," said Tanvir bhai.
"How much are we looking at, bhaia? If you don't mind me asking, that is."
"Say, around fifteen thousand a month. That's a good amount for a new agency like you!"
Now was Arif's time to shine. All those listicles he read on The Wall Street Journal and TechCrunch started zooming around in his head. He took a deep breath and called upon his entrepreneurship inspirations Mark Zuckerberg, Guy Fieri, and Elon Musk. He was prepared for negotiations. He had trained all semester for this.
"Bhaia, isn't that a little too low?" Arif asked.
"That's the problem with your generation, Arif. We give you an inch, and you guys end up wanting an entire yard. Just do this one properly and we will enlist you as a vendor from next year. Let's start small first and then you will get more work in the future, okay?" Tanvir's voice boomed across the table.
"Okay, bhaia. We will come next week with the presentation," replied Tanvir.
Sunny Flexyourdata Limited were persistent. They kept calling at odd hours, asking Shabab to tweak the logo by 67 degrees. Arif's sweet talk and Shiuli's charm were wasted on them. Soon enough, their loud phone calls and constant bickering was no longer welcome at West End.
Shiuli's neighbours had a small attic that they'd been trying to rent out. The landlord figured that an agency would be less chaotic than a coaching centre, so the trio moved in with their laptops, K-pop posters, and hearts full of hope. They had to turn to tong er cha, because Taltola doesn't have a posh cafe.
With their initial investment, they decided to buy the one thing that completes an office — a PS4. Sure, they had to make a few sacrifices; the furniture was made up of second-hand rejects from Jatrabari and they had to starve themselves at lunch hours, but it was worth it.
After a few games of FIFA, they finally decided to get to work. "Look, it's impossible for me to do all of this by myself. Either you two have to learn Illustrator or get me some more designers," Shabab said.
"But we can't pay them," said Arif, who was on his 11th FIFA match of the day. He was tired of Shabab's pestering.
Shiuli knew something the boys didn't. She had worked at a few agencies in her freshman year, but she never got paid a penny.
"Look guys, wealth is temporary. Money comes and goes. But exposure… exposure is priceless," she emphasised, "That will be our currency."
They put up recruitment circulars in ICA. Naive freshmen applied, and Arif hand-picked two kids who were hardworking, but too polite to ever ask for real money. Tabassum and Shaikh joined the team as copywriter and designer. They changed their work info on Facebook, received 89 comments that said congratulations, and finally showed up to the dingy attic at Taltola.
"The country's 53rd ride-sharing app is about to launch, and I feel this gig should be ours, as we're the 5677th marketing agency. We've got to prepare a pitch deck. It has to be dynamic and agile. We will contextually materialise experiential neurotic marketing tactics," said Arif. He seemed so inspirational at that moment, Tabassum and Shaikh couldn't wait to grow up and be like their favourite senior bhaia. "It takes him two seconds to put every buzzword into one sentence. That is such a special skill," Shaikh thought.
Everyone got to work. There were brainstorming sessions where even Shiuli came up with brilliant ideas. Shabab and Shaikh designed so many visuals that their carpal tunnels were permanently damaged. Tabassum filled an entire diary with copy ideas. Arif told everyone that they were surely going to get this client.
Finally, it was time to bid.
"Okay, guys. Only three agencies are bidding and the other two are big, old agencies. There's no chance in hell they can bid lower than us," Arif said at the end of his 30-minute long pep talk.
But the marketing industry works in mysterious ways. It does not follow the rest of the world. One big and old agency, called Synthesizen, not only bid to do the work for free, they promised to buy a camel for 53rd ride-sharing company's CEO. Naturally, they got the client.
This came as a big shock to everyone but Shiuli. She remembered working at Synthesizen as an intern. "They have no concept of money. Everything they do, it's for exposure," she explained.
"But we're getting paid in exposure," Tabassum said.
"Do you have a problem with that? Why don't you go work at a bigger agency then?" Arif snapped. "They're going to give you some more exposure. Money is a foreign concept here, Tabassum. The sooner you make peace with that the better.
For the first time since their trade license was made, Shabab interjected.
"Hey, Arif... Shiuli, could we please have a meeting between us?"
Like most start-ups, their office had an open-plan layout with no partitions. However, at the end of the attic room, makeshift curtains were set up and Arif closed the curtains for the private meeting.
"I... I don't think this is... uhmm... how we should be running the business, Arif," said Shabab nervously.
"What do you mean, Shabab? I landed our telco client single-handedly and you're telling me that I don't know how to run a business?" asked Arif, incredulous.
"Well, I saw the latest budget plan and it doesn't make sense. Three of us share one office laptop. Don't you think we could postpone your business trip to Bali for next year?" Shabab asked meekly.
"Oh wow, so you think you can run the business better than I do? Why don't you take the role of CEO, founder and Head of Business Development, then?" said Arif, his nostrils flaring up.
"That's not what I mea—"
"NOW THAT WE HAVE MONEY, THIS IS HOW YOU STAB ME IN THE BACK, SHABAB? AFTER ALL I'VE DONE FOR YOU TWO?" yelled Arif.
"Really, now..." Shabab began.
But Arif was already out of the attic.
"Bhaia, is everything okay?" asked Tabassum, peeking through the curtains at Shabab.
***
Five years have passed since the agency disbanded. Arif's social media will tell you that he's spending an amazing time at FCDB, but he's only making those posts so that his supervisor notices him. Social media presence is a KPI at his company.
But Arif has always been clever. He took it one step further by making motivational videos where he talks about the failure of his digital agency and how he rose up from the ashes. He has become that senior who keeps giving unwarranted advice.
His hair's started falling off. Hair gel has been his best friend since the fallout with Shabab, but that's another story you can learn from his next video.