THE LOVE OF MUSIC
Pinto Ghosh and his wife Shukonna Mazumder Ghosh had already proven their musical talents with their own respective music careers, but with the 'Tomake Chai' track, they proved that they can be just as good when working together. In this interview with Rafi Hossain, the dynamic duo talks about how they met and their careers.
Rafi Hossain: Welcome to Uncensored with Rafi Hossain. Today, we are joined by two extremely talented musicians, Pinto Ghosh and Shukonna Mazumder Ghosh. Their music is very popular among music lovers nowadays. Pinto and Shukonna, thank you for giving us your time. 
Pinto Ghosh: Thank you so much for having us. We are very happy to be here and talk to you. 
Rafi: How did you two come together? Did you know each other before?
Shukonna Ghosh: I was once on a reality show where I got the chance to sing with Chirkutt, and that was where I first met Pinto. During that time, both of our families were looking for someone for us to marry, so we told our parents about each other and that is how we got together. What really brought us together was our love for music. I was a very cynical person when I was younger, and I never would have believed that I could ever fall in love with someone. I was very interested with the kind of music he was involved with, so that made me more interested in him. We would talk a lot, but it was as if we never ran out of topics to talk about. We always talked about music. Even now, we talk about music most of the time. 
Pinto Ghosh: At that time, I was facing a lot of pressure from my family to get married. So, I decided that if I must marry, I should marry someone who is a right fit for me. For me, the most important thing in life is music. I spend most of my waking hours being involved with music. There have even been instances where I forgot to eat because I was practising music. So, I needed someone who would understand that, and also be like that. That is why I felt that Shukonna was a right fit for me, and once we started our life together, I knew that I had made the right choice.
Rafi: Now that you both have shown the audience that you can make amazing songs together, will this limit you both from expanding your horizon?
Shukonna: No, absolutely not. We have never felt that just because we made something amazing together, it should limit us. We will still continue to work with other amazing musicians and continue expanding our horizons. There are many rumors circulating about how I will not do playbacks with other singers, but that is absolutely not true. I am even working on some songs with Tanveer Alam Shawjeeb currently. We have some differences in the types of music we make, and I want to continue working with what I prefer making. The same goes for him here. He is also working on some projects, and his work will appear on Bishwo Shundori which I did not sing. So, we both are going to continue working with other people. However, I must add that when we made Tomake Chai for the film Fagun Haway, I never expected to receive such love from audience. I am very grateful to everyone that told me how much they loved the song and also to the people who are listening to it. 
Pinto: We are together, but we like to keep our work lives separate. About the song we did for Fagun Haway, it is an interesting story. I made a demo for the song from home and gave it to the filmmaker Tauquir Ahmed. He really liked the song, and I even told him that I should try some other vocalists with it, but he was adamant that I do it in the style of the demo with Shukonna.
Rafi: Pinto, what was the first movie that you gave your music to?
Pinto: I first did the background score for Dub Satar by Nurul Alam Atique. I also did the background score for Monpura. Aside from these, I also did playback for some FDC based films. I have been fortunate enough to do the music for many other films. I was the music director in Ochena Hridoy, which was also Shukonna's debut of having her song on a film. 
Rafi: What was the first song that brought you to the spotlight, Pinto?

Pinto: It is a very funny story. The first song I made which gained popularity was actually stolen from me. This was back in 2006 or 2007, and I was making a song for a film. The whole team of the film was a lot of newcomers, including myself. So, when the film went into postproduction, it took us around two years to finish. During that time, the song which I made was already released, and a lot of people had heard it and made covers of it. People thought that it was by an Indian artist, and since we did not know much about copyrights, someone else came and claimed the song. I did not know how to handle those things back then. I was very hurt at the time. What hurt the most was that the person who stole it never mentioned my name, and just recorded the whole thing in their own voice. However, when the film was released on YouTube, I saw that the song on it was the version I made.  My journey in music has been filled with ups and downs. So, whenever someone asks me to tell my story, I am always a little confused as to how I should say it.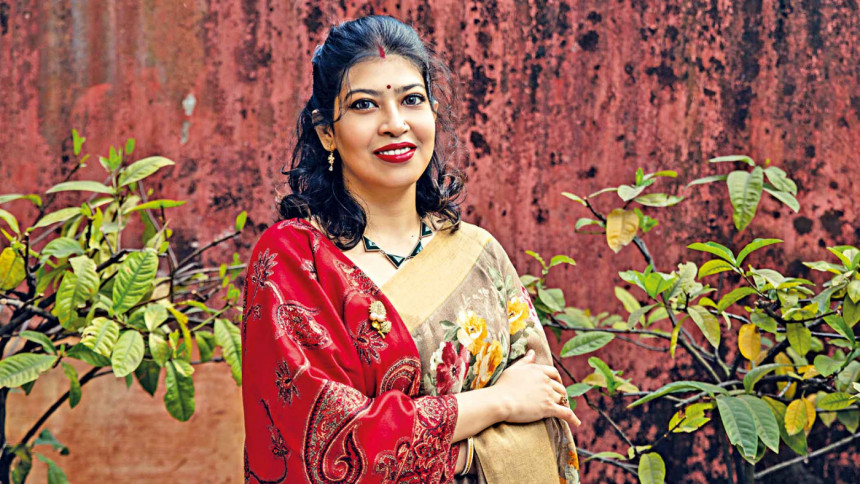 Rafi: Do you have any final message for the readers?
Pinto: I am very grateful to those who have continued to support me over the years and will continue to support me. Please promote Bangla music, and especially the Bangla songs which you enjoy. I would request people to share Bangladeshi songs more than songs from other countries. If we share good content on social media, more people will find good Bangla songs, and that will help the music scene in our country. Since a lot of music is released nowadays, people might not find many good Bangla songs. So, please support Bangladeshi music by spreading good songs. I also want to ask people to take care of their health, especially since we are in a global pandemic now.
Shukonna: I will also ask everyone to take care of themselves and their families. Please take care of your hearing, as musicians like us who work to give you entertainment need you to listen to our music. So, please make sure not to expose your ears to loud noises. I also want to ask everyone to support our music. We are living in a very difficult time now, so please take care of yourselves, and keep on fighting.