A DIFFERENT KIND OF STREETWEAR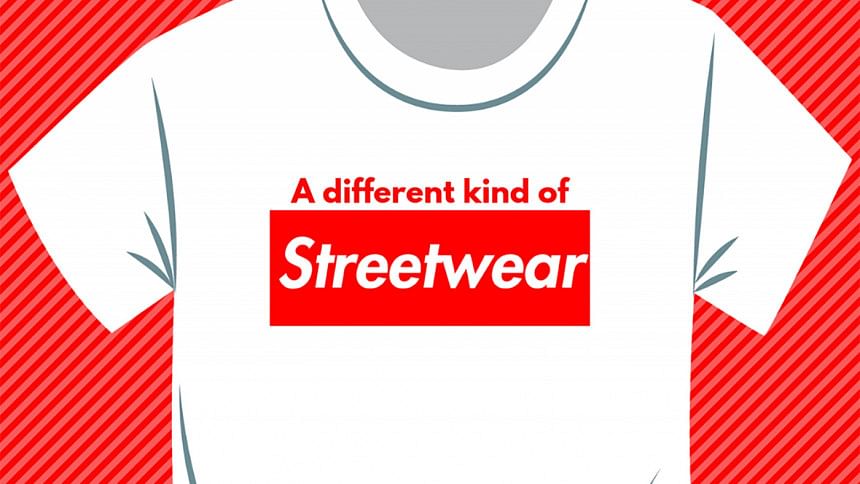 Street vendors are a defining part of Dhaka. And in these roadside businesses, the cheap clothing industry is booming. It's a shopper's dream; you can find almost every possible clothing item at shockingly affordable rates.
So, if you're on a budget and trying to get the best bang for your buck, going to these vendors for your clothing needs is a fantastic option. To test out these places ourselves, we decided to take on a little challenge. We'll be hitting the street vendor hotspots to purchase two complete outfits.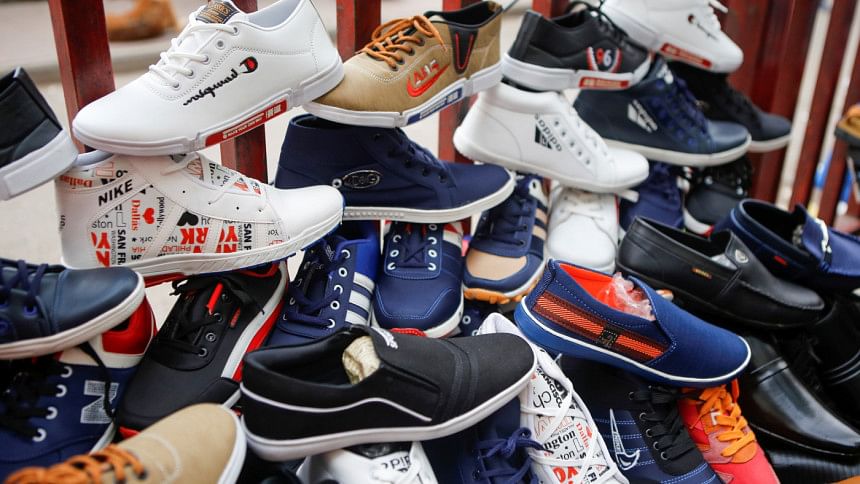 PICKING THE PLACE
Hotspots for street-side clothing are spread out across the entire city of Dhaka. For our menswear needs, we decided to hit up the area around Science Laboratory on Mirpur Road, in front of the popular Priyangon Shopping Centre. The place was packed with vendors and pedestrians who stopped to buy from those very vendors, and a few people with nothing better to do simply wandering around. And for the ladies wear, we went all out to navigate the nooks and crannies of Mohammadpur and Lalmatia. It was risky, it was scary, and it was hot. Our search came to an end around the residential area of Katasur, and around Lalmatia Mohila College, where we finally found the treasure chest (or van, if you will). The clothes were placed in heaps on both three-wheeler vans and on sidewalks. It was time to get our hands dirty.
A quick inspection reveals that looks can be deceiving, as these low effort supermarkets contained pieces from world renowned "brands". These vendors even go the extra mile to bring you apparels from "Abibas," "Barsenola" and "Microsoft" (?), which are so rare that you won't find them even in the fanciest of stores.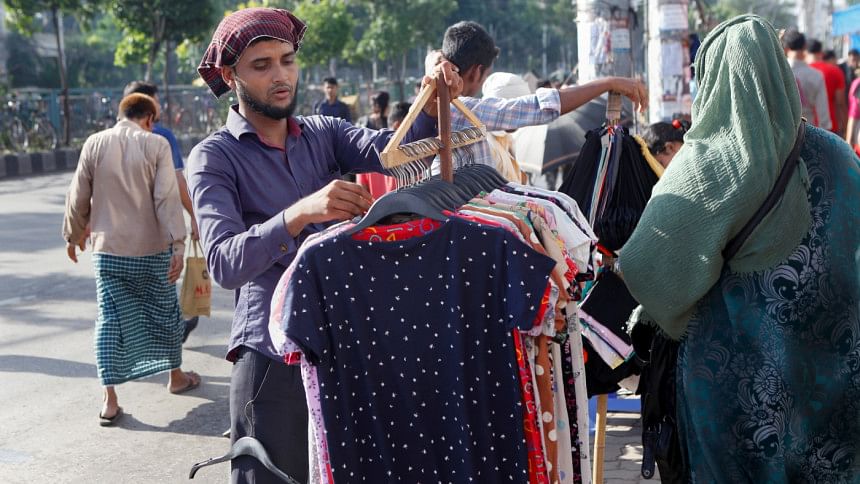 FINDING THE RIGHT CLOTHES
Tops
The first rule of buying clothes from these places is that you have to pick the right ones. It's pretty much given that you're going to have to compromise a bit in quality. We wouldn't recommend buying dress shirts from here, but they're a fantastic place for t-shirts. However, most t-shirts for women are generally of very poor quality. They might not last over a week, and if you're lucky, maybe a month. The thing that most girls do is go for men's t-shirts. They're made of thicker fabric, and won't rip due to simple movements. Furthermore, they're not only limited to pink flowers and crowns as designs.
Usually, going for the basic solids or simple patterns is your safest option, as the printed ones will turn into a mess after a couple of washes. There were a lot of fantastic designs, but we had to be very picky. We really didn't want to throw our t-shirt in the washer only to have it shrink in half. Even though shirts and other tops aren't the most durable options, they're still a good choice if you can take care of them.
After some scrutinising and bargaining, we decided on an orange t-shirt with black stripes. It was comfortable and still fitted well enough to look good. For our ladies top, we got a light blue shirt with floral prints that's perfect for summer.
Pro-tip: If you're willing to travel to spots like the ones opposite to Dhaka College, where they sell export rejects, you'll find branded tops for almost one-tenth of what they're sold for at high-end shopping malls for the same quality!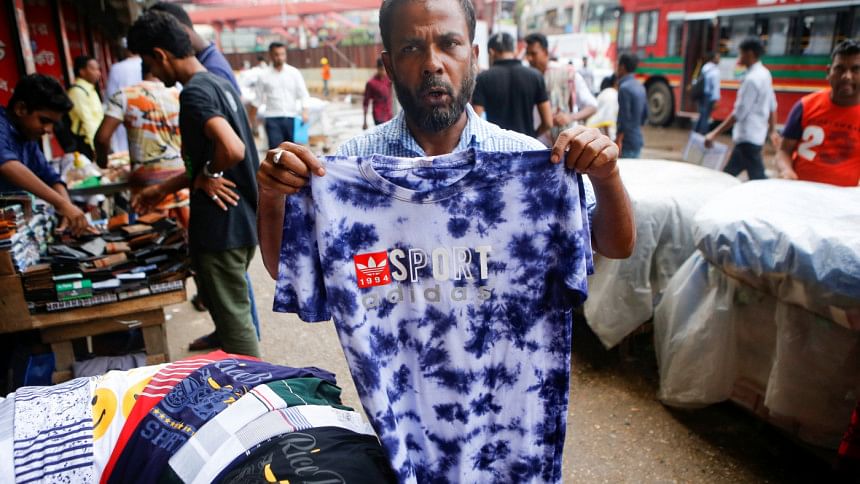 Bottoms
With our shirts in the shopping bag, it was time to buy bottoms. For guys, you'll find a lot of jeans and chinos. While you might be tempted to go for them as they look really good and just like their branded counterparts which are ten times more expensive, it's best not to. These won't be able hold up the stress of everyday use. Unless you don't mind having your pants ripped in public every now and then, you should steer clear.
Instead, we recommend joggers or sweatpants. The fabric and the roomy nature makes them more robust compared to your other options. They pair up great with t-shirts and their sporty look is sure to bring out your inner jock. We picked a plain black jogger as it's incredibly versatile, and that made the orange colour on our t-shirt pop.  
On the other hand, for girls, the most prominent article found were leggings. And we found a lot of leggings. We also found the type that looked like jeans but didn't have pockets (because why would the female species ever require a pocket, right?) called "jeggings". The jeans that we found were a big NO because of how rough and uncomfortable the fabric was. Other types included palazzos which are incredibly comfy trousers, and skirts which tear a little every time you touch them.
We ended up getting dark blue jeggings because they're good for everyday use and you can pair them with both t-shirts and traditional kurtas.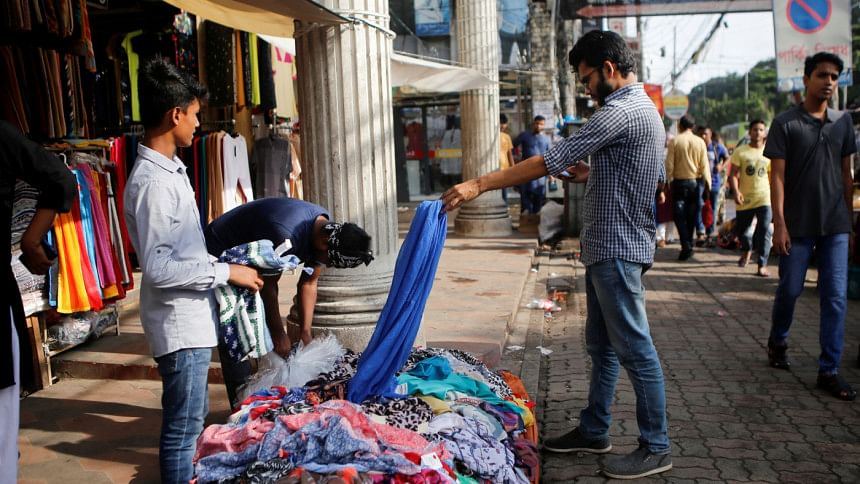 Footwear
For footwear, we were able to find a pair of slides in black with orange stripes that went really well with everything else. Slides and sandals are the only way to go here. Never buy leather shoes from places like this, rather invest in quality ones from proper stores for those.
However, there were quite a few vans around Mohammadpur area. Ranging from slides with both the Adidas and Nike logo on a pair, to "original" branded Keds, we found it all. After seeing such an overwhelming collection of haute couture items, we opted for some plain slides considering the utility.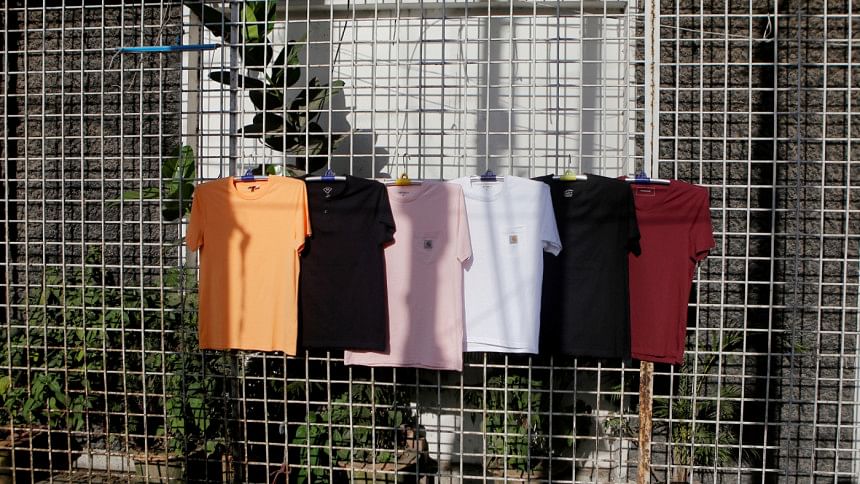 BARGAINING
Buying anything from street vendors come with some intensive and often ridiculous bargaining. If you're not experienced in this area, starting from a third of the asked price can be used as a rule of thumb.
From there, it's all about small increments, putting on your poker face and flexing on them about how the next guy is selling the same thing for half the price. After a couple of the iconic "walk away" moves you picked up from all those shopping trips with your mom, the vendors finally settle on a more reasonable price.
The orange t-shirt we bought was priced at BDT 380. After some foreplay, the vendor waved their white flag and agreed to sell it for BDT 150.
On the contrary, a lot of vendors for women carry a "Fixed Price" sign. For example, one man was selling any and every item for BDT 50 each. The top we bought went for BDT 200; here's the plot twist – that was the most expensive thing on the entire collection! The cutest cropped tops and t-shirts were available from BDT 30 onwards. Yes, pick up your jaw, you read that right. 
The black sweatpants had a tiny bit of loose black string hanging out at one end which we then overplayed to get the asking price of BDT 550 down to 270. We bought the jeggings easily for BDT 150 when they asked for 300 because of the sheer amount of alternatives (and their competition) present around us.
The slides were a little hard to bargain for as the vendor didn't have any competition around. We had to buy the pair for BDT 100, which is still quite reasonable. On the other hand, since it was a little hard to get the size right for the ladies' slides, we settled for BDT 120.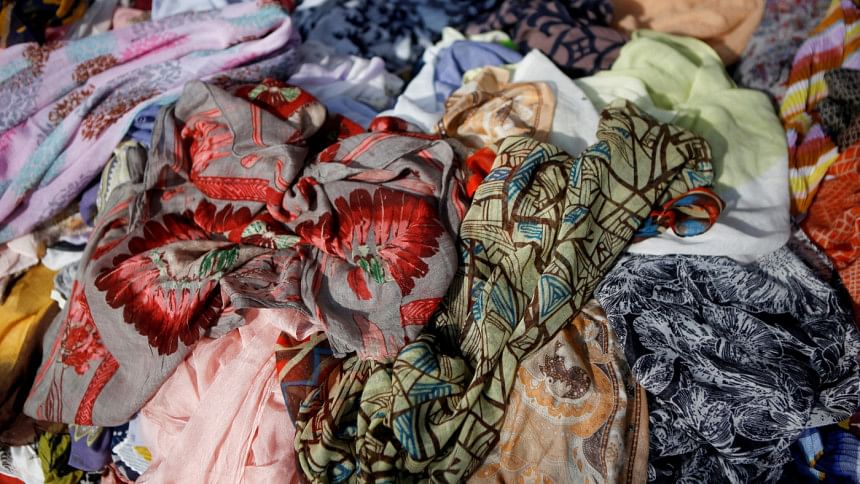 FINAL THOUGHTS
In the end, we were quite happy with the outfits we put together, and that too for such a reasonable total. The first few attempts might result in failed purchases but with practice and determination, anyone can develop an eye for spotting the right things.
Remember to look out for defects because those are the very reasons you'll get clothes that cheap. Just pick the one with the defect you can easily get fixed. Furthermore, it's also possible to apply some DIY techniques and peak the clothes a little.
The experience itself is nothing like you've witnessed before: there's a lot of sweating, pushing around, and digging through endless piles of clothes. And if you like the same thing as someone else, there's a tussle too. It'll truly prepare you for any war or challenge you might have to face later in life.
The biggest appeal in buying from here is that they sell pieces that look just like the ones from well-established brands, at a fraction of the price. So if you're short on money but still want to look good, definitely hit one of these places up.
Coming from us, some of the best self-proclaimed fashion gurus: it'll be worth it.
Aahir Mrittika likes to believe she's a Mohammadpur local, but she's actually a nerd. Catch her studying at [email protected]
Mushfiqur Rahman Shanto is a lost and confused soul going through his early twenties' crisis. Send him life advice at [email protected]