The Penniless Travellers of Bangladesh
48 Hours in Bandarban
With our ever-expanding bucket lists, rife with extreme sports and exotic locations, we often lose sight of the beauty that exists in our own backyard. Sure, who wouldn't want to spend the next weekend sipping an authentic Café au Lait in a dainty French bistro? As charming as that may be, sometimes, there's just no alternative to the inexplicable joy of exploring home. But when time is limited and so is your wallet, you have to keep your desires in check - but to what extent? That is, exactly what I set out to find on my two-day trip to Bandarban - with a budget of four thousand. Yikes.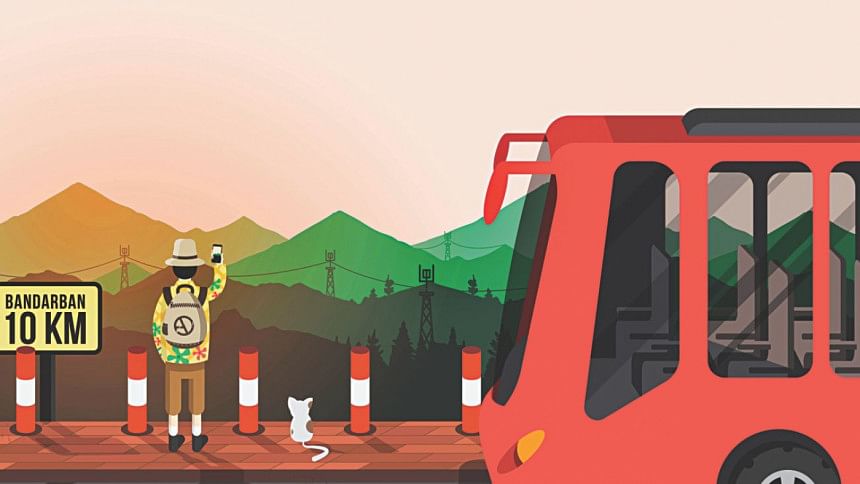 Before you write me off as The Nutty Professor, let me remind you that I've undertaken this feat to satiate your wanderlust. You won't have to survive solely on shada bhaat and dal, I promise. 
AC BUSES ARE FOR THE WEAK

When travelling on a budget, you have to forgo some of the simple luxuries in life. If you've never travelled in a non-AC bus, brace yourself - it's going to be an uncomfortable ride. While I'm not a veteran, prior experience has taught me to stock my backpack with enough bottled water to last the night. Wet tissues and hand sanitisers come in handy often, but most importantly, remember to design a 'travel playlist' with your favourite songs. Music makes everything better, even the horror of a non-AC bus during scorching Bangladeshi summers. A ticket courtesy of Shyamoli Paribahan costs approximately BDT 700. 
Eight hours later, we were winding through the viridescent hills dotting the landscape of Bandarban. The hillsides saw grazing cows, goats, and the occasional chicken running amuck and before I knew it, an unfathomable sense of calm took over me. Miles upon miles of greenery, a rarity in Dhaka, envelopes you on all sides. No matter how tired you are from the bus journey, do take a second to soak in the view - you will fall in love. And fall hard.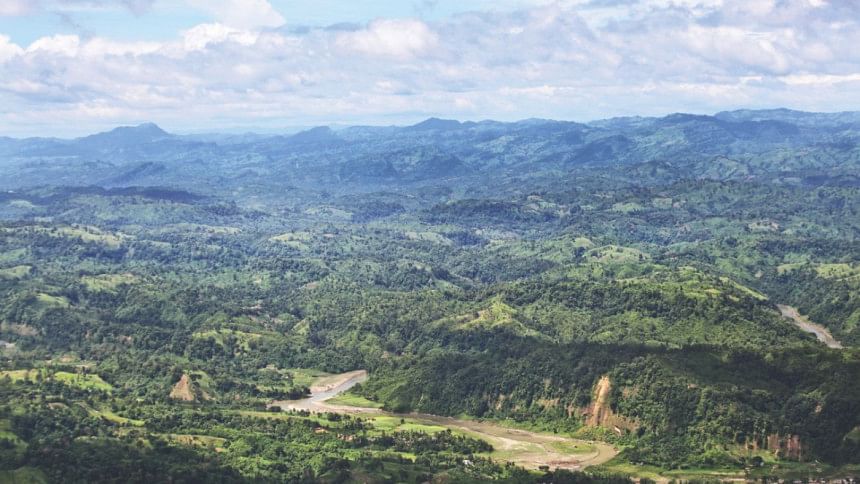 PHOTOS: AHNAF AKEEF & DARSHAN CHAKMA
DON'T SKIMP ON ACCOMMODATIONS

At the end of the day, safety should be your primary concern - especially if you're travelling with a female companion. Bandarban is infamous for its instances of civil unrest over the years. Make the best use of your funds when choosing accommodations. Hotel Plaza Bandarban is one of the best in the region, providing single-bed non-AC rooms for approximately BDT 600-800, depending on your haggling skills. If, like me, you prefer travelling with friends, a double-bed non-AC room will cost around BDT 600-900 in total.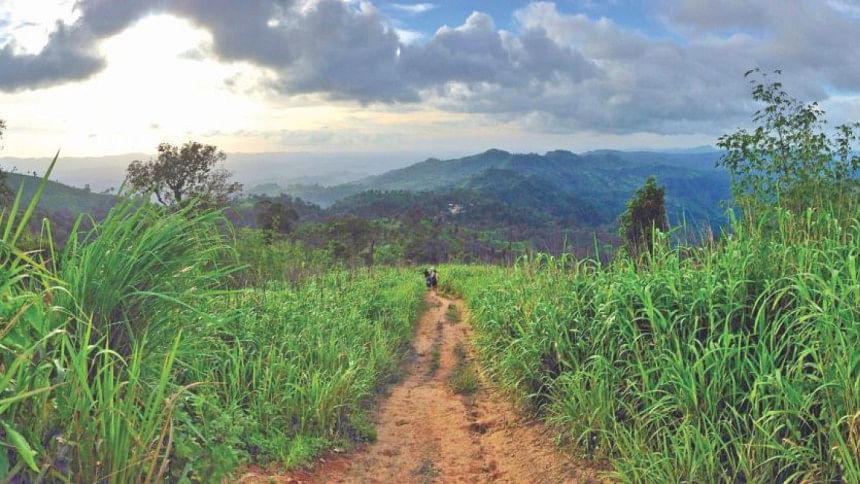 WHY CUT BACK ON FOOD?

Tajing Dong Cafe is a quaint little restaurant located in the heart of the town, serving excellent food at low prices. A breakfast of 2 parathas, 1 omelette, a bowl of veggies, dal, and a bottle of water costs roughly BDT 89. While this combination is quite fulfilling, if you're a meat-lover like I am, an additional bowl of chicken curry will cost you BDT 170. And trust me when I say this, I've never gotten greater value for money. The greatest appeal of the cafe is the seemingly unseen alcove situated towards the backend, with a table that seats 7-8 people. It's hidden from the other diners and is perfect for loud conversations among friends. 
Another affordable option is the Meghdut Cafe which serves a select set of options for breakfast, lunch, and dinner. A grilled chicken costs BDT 100 apiece, and if you're on the hunt for something non-native, try the Oscar Poulet at BDT 50 per bowl. While Plaza Bandarban has a great restaurant of its own, I preferred hiking the extra mile to try something new. If you're on a tighter schedule, lunch at the hotel restaurant consisting of rice, chicken curry, veggies, and dal will cost approximately BDT 1300 for 7 people.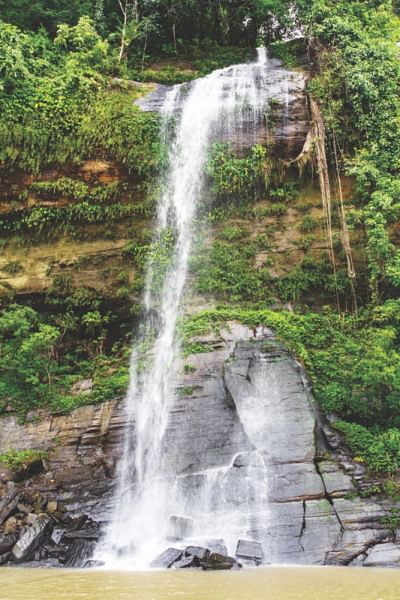 GETTING AROUND

If you're on a trip with friends, there's no better way to travel than a chader gari. There's just something about these devilish vehicles that convinces even the most anxious among us to sit atop the metal handles and feel the rushing wind in their hair. But chader garis are the most expensive investment during budget trips, especially if you reserve one for friends/family. If you're a lone wolf travelling within a 10-km radius, a local chader gari charges BDT 100-200 per head. A reserved vehicle costs approximately BDT 2000 for half a day, same distance. Travelling to Ruma on a local chader gari costs around BDT 300-400 per head, whereas reservations cost BDT 3000. Be prepared to haggle if you want the best rates. 
It's an ethereal experience that brings out the child in you. I would recommend listening to Hans Zimmer's "Cornfield Chase" from the OST of Interstellar during this experience - it transports you to a dreamland where you can float through the eternal cosmos. 
FRIDAY

SHOILO PROPAT

Shoilo Propat is a picturesque waterfall located 4 km from Bandarban, on the road to Thanchi. It's a remarkable treat for the senses, with its crystal-clear waters cascading over shades of earthy emerald. If, like me, you've harboured fantasies of being a mermaid in another lifetime, Shoilo Propat provides the perfect opportunity for a refreshing dip on a sweltering summer afternoon. 
Being shallow, the pool is suitable for floating rather than swimming. But if you're feeling particularly brave hearted, you can try diving into the shallow quarry, with the locals cheering you on. While it's a popular sport for the locals, they're seasoned at this high-risk feat. For the average Joe, I wouldn't recommend this. You'll often catch sight of a water bottle or a plastic wrapper floating by its lonesome, but no matter how tempted you are, refrain from littering in the area. Shoilo Propat is an ecological gem - not your personal trash can. 
There is a small market near Shoilo Propat where locals sell various hand-crafted shawls, thamis, ornaments, and handloom products. You might want to start preparing for the upcoming winter with a beautiful hand-made shawl. 
A HAVEN IN THE CLOUDS

Situated 15 minutes away from the centre of the city, Nilachol provides the perfect panorama of an endless tapestry of greenery. The hilltop is interspersed with numerous walkways and benches that provide spectacular views of the wilderness. Every now and then, a sudden gust of wind instills you with the most calming sense of oneness with nature. You can explore the area on foot or grab a bench close to the edge, playing a game of 'I spy' with your significant other or sing to your heart's content with friends like I did. Don't waste too much time taking photographs or selfies - breathe in the magnificence of the beauty around you. Otherwise, you'll be missing out on an otherworldly experience.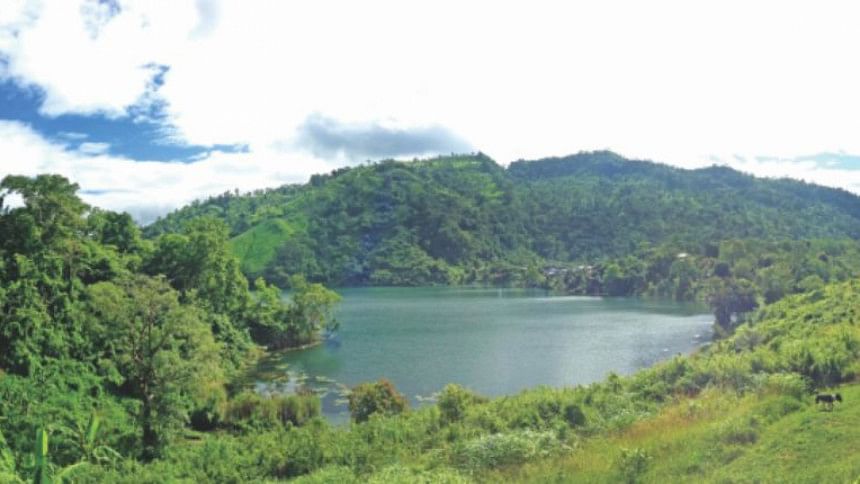 SATURDAY

RIJUK JHORNA

Located 66 km southeast from Bandarban is Rijuk Jhorna - a waterfall nestled amidst a rock formation in the Ruma upazila. The waterfall itself is a 40-45 minute boat ride from the rock-strewn shores of Ruma. The boat ride costs BDT 150 per head, depending on the number of passengers, whereas, reserving the boat will cost you approximately BDT 800. Rijuk is a breathtaking, uninterrupted waterfall almost 300 ft. high. It plunges from a steep hilltop, shrouded by an intricate web of vines and foliage. Local communities have built settlements on the steep slopes of the hill, although they're concealed from the public eye. It's possible to climb the hill and trace the source - a feat that requires tremendous physical strength. 
If you want to swim, you can safely leave your belongings by the shore and take a dip in the plunge pool. If you stand or sit on the rocky outcroppings directly beneath the waterfall like I did, the roaring water hits you with the force of a hailstorm. While it's an exhilarating experience, the sheer strength of the downpour leaves you breathless within minutes. I'd recommend trying this for 60 seconds only. If you're feeling particularly foolhardy, you could try climbing the rocks, but do so cautiously as the rocks are rather slippery. 
What can I say? I tend to do reckless things when my parents aren't watching. 
HONOURABLE MENTIONS

While I've been eager to visit Shorno Mondir for a while now, it's been closed indefinitely for renovation purposes. You can still catch a glimpse of its glistening golden spire from afar. I'd recommend walking to the pagoda at the crack of dawn and watching the first rays of the sun hit the roof in a kaleidoscope of coloured light. 
Boga Lake and Thanchi are almost an entire day's worth of road travel and trekking each - far too time-intensive for a 48-hour trip. Both are worth a separate trip to Bandarban altogether. 
As a first-time traveller to Bandarban, I was absolutely blown away to witness nature in its purest form, untainted by modern distortions. An avid believer in voyaging, I've found a certain primal comfort in most off-grid locations in the Chittagong Hill Tracts. The journey can best be described as soul-searching; every step takes you further into the wilderness, beyond anything you're prepared for. For a meagre BDT 3800 the entire trip sounds too good to be true, especially with costs coming down to as much as BDT 2500 if you're extra conservative. 
Whether a travel enthusiast or the occasional tourist, anyone should have a trip to Bandarban on his/her immediate-to-do-list. Regardless of what you expect, rest assured - the trip will certainly be memorable.
Mithi Chowdhury is a dog-loving-movie-watching-mediocrity-fearing normal person. Either that or a penguin Find out at [email protected]