IUB organises Career Day with participation from 110 institutions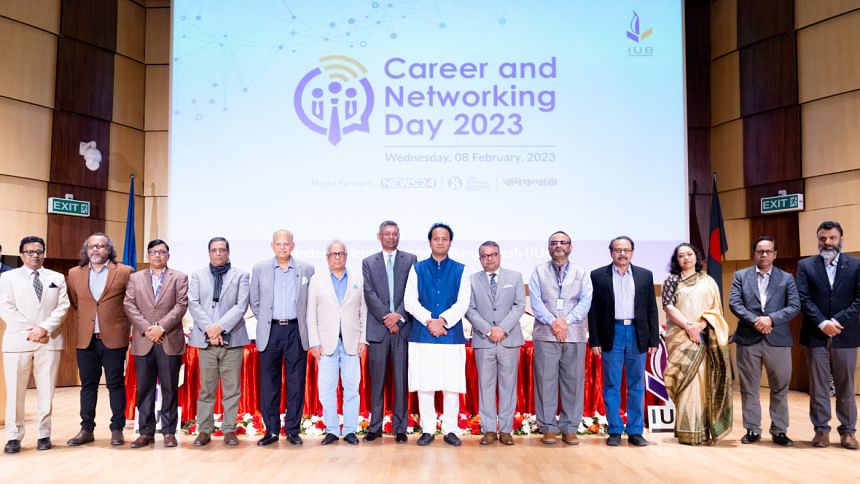 Independent University, Bangladesh (IUB) organised a day-long Career and Networking Day on February 8 amid participation from 110 companies and institutions from different sectors. Deputy Minister for Education Mohibul Hassan Chowdhoury, MP, visited the stalls and spoke in the closing ceremony as the Chief Guest. The event was organised at the IUB campus by the Office of Career Guidance, Placement and Alumni Relations Office (CGP&AR).
Mohibul Hassan Chowdhoury said, "No matter what their majors are, there is no chance of remaining unemployed after graduating if students do various skills training. Students in other countries engage themselves in income generating activities besides studies. There was a time when certificates were enough to get jobs. Now, employers prioritise skills. The university authorities should take steps to acquaint their students with the 'world of work'. This can be done to a large extent by bringing in professionals to share their experience in the classrooms."
In his speech, IUB BoT Chairman Abdul Hai Sarker called upon the students to make the most out of the facilities available at the university. To the teachers he said, "Our students should be developed in a way so that they can be successful in their work life after they complete their studies."
IUB VC Tanweer Hasan, PhD, said, "Industry-academia collaboration is a nationally discussed topic now. One of the main aims of this event was to have the students we so carefully groom, be at the centre of the job market. This does not only limit to Dhaka, but all over the world. Having an event like this helps students network and explore, and helps us tailor our students to the companies' needs. We are also calling it the 'friend-raising' day because this also is an opportunity for IUB to build sustainable relationships with participating institutions which will eventually benefit the students in the long-run."
IUB Pro VC Prof. Niaz Ahmed Khan, PhD said, "In addition to establishing a connection between our students and their future employers, this event is also a celebration of diversity. The 110 institutions that participated in this event represent very diverse sectors including intergovernmental agencies, NGOs and CBOs, banks and financial institutions, telecom, IT and ITES, and so on. It is a truly remarkable congregation, not just for our students, but for IUB as well."